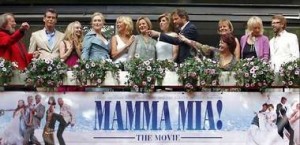 A few days ago three of the four ABBA members turned up for the premiere held in London. Friday evening it was Stockholm's turn and this time Agnetha Fältskog made ABBA complete by her appearance. It was the first time in 22 years that they were all seen together in public.
For many years there has been talk about when it would happen – when would we see them all together again? It was suppose to happen at the premiere of the musical version of Mamma Mia, but Agnetha Fältskog cancelled at the last moment. It didn't happen in London Monday evening either and people were rightfully doubting, but hoping that Stockholm's premiere of the Mamma Mia film would be the time – and after 22 years it finally happen at hotel Rival in Stockholm. Agnetha who prefers to live a life outside the media focus decided to forget about the press for this one evening and give us all what we have been waiting for – a short reuniting!
In the picture above you see from left: ABBA's Benny Andersson, Pierce
Brosnan, Amanda Seyfried, Mery Streep, ABBA's Agnetha Fältskog, ABBA's
AnniFrid Reuss, Christine Baranski, Colin Firth, Mona Nörklit, Phyllida
Lloyd, Judy Craymer, ABBA's Björn Ulvaeus and Dominic Cooper.
More than 30 million people in 160 cities around the world saw the musical version of Mamma Mia and the film edition will be similar to the musical. It is the story of single mother Donna and her daughter Sophie who live on a Greek Island. Sophie is about to get married and Donna invites old friends who she hasn't seen for years to the Island. During 24 hours a lot of things will happen and new love as well as old love will grow…
The leading roles in the film are played by well-known names such as Meryl Streep, Amanda Seyfried, Pierce Brosnan and Colin Firth.
 
Should anyone be in doubt ABBA won the Eurovision Song Contest in 1974 with the song called Waterloo. This was the first out of currently four victories for Sweden. Below you can watch the video of this Eurovision performance plus their smash hit Mamma Mia which the musical and the film are named after.