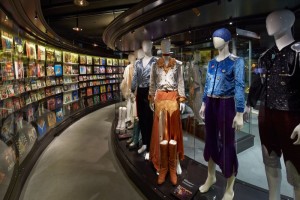 Malmö might be the capital of the Eurovision Song Contest these days, but not everything happens there. In Stockholm the ABBA Museum opened the 7th of May. A lot of efforts have been made in order to make the exhibition a special experience for the visitors. 
It is almost forty years since the rose to fame winning the Eurovision Song Contest. Although they had some minor hits before, it was the victory in 1974 with the song Waterloo that started their successful career – one of the greatest in music history. It has been estimated that ABBA has sold more than 37 million albums and singles.
And being an important part of music history a new ABBA Museum at Djurgården in Stockholm has opened.
"The new museum will give a complete picture of the band, the music and the incredible success we experienced in the '70s and '80s, something that we haven't been able to present until now. It will be like an experience-based music documentary that invites the visitor backstage as well as on and in front of the stage", says Björn Ulvaeus.
And the museum will be quite an experience for the visitors, as It offers an interactive journey through the history of ABBA. The visitor will get close to the band by experiencing what it is like to be the fifth member of ABBA, get on stage together with the other members, enter the Polar studio and see what he or she looks like in ABBA's legendary costumes, and much much more. The four members of ABBA even give their own personal stories through the museum audio guide.
Another highlight in the exhibition is a self-playing piano which is linked up to Benny's studio. If the visitor is lucky, the red light will flash and the piano (Benny) will start playing while he or she is there.
The group's entry from Melodifestivalen 1973, Ring Ring, is celebrated by a red telephone and only four people in the entire world have the phone number.