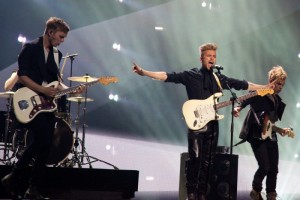 Just when you think things can't get any better, A Friend in London  manage to outdo themselves, making their qualification a dead cert and leaving many Danes present in the arena extremely proud.
The Danes are proving to be something of a dark horse in this year's contest with a song that is so understated that you don't even know how much it grows on you. They've taken what initially was a very good first rehearsal and made it into something fantastic.
The fab foursome chose to stick with the same choice of outfit, which for lead singer Tim must be sweltering hot in thiose leather pants in the hall. Just as well he's also decided to keep on the same black backless shirt!
The monochrome backdrop effect remains, although they have changed the imagery to a spiderweb lattice kind of effect with the prominent diamond imagery now toned down to the background. This is one of few acts to make full use of the huge lighting rig positioned above the stage, which flashes white and is raised and lowered to great effect. At the very beginning, all the stage is in darkness with only lead singer Tim illuminated, creating a blinding of an opener for the Danish act.
The singer makes much better use of the stage, as during today's run through he kicked the giant balloon off stage before running off stage and down the catwalk to the satellite stage amongst the audience which looked superb. Equally impressive is the fact that all the running didn't seem to affect his breathing, Tim giving repeatedly good vocals on each run through.
In my view
This is starting to shape up as one of my favourites for the whole competition; dependable, anthemic, clean and classy – all of the ingredients a winning entry should have – don't rule out Copenhagen as a possibility for next year!

The opinion expressed in "In my view" are those of the author and are not necessarily the one of EuroVisionary.com.