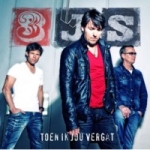 Popular Dutch group 3JS were the sole performers in this year's Dutch final, performing 5 numbers of which Je Vecht Nooit Alleen was chosen as the runaway winner by both the jury panel and televotes cast. Now they have released their third single from the national final.
Following their success in the Nationaal Songestival with Je Vecht Nooit Alleen, the song went on to become a smash hit and at the same time to acheive a remarkable feat – as a single it topped the Dutch charts on two separate occasions in both Dutch and English versions, spending a whopping total of 17 weeks on the charts. Second placed song De Stroom (The Current) was released in June, peaking at number 12 and spending 4 weeks on the charts.
The trio from Volendam, 3JS, have just released their third single from the national final, Toen Ik Jou Vergat (When I Forgot You) which had placed second last in the final. To promote their newest offering, the group have been making regular appearances on TV lately, featuring amongst other things in a docusoap De Zomer Voorbij and a showing of their theatre tour Akoesteren.
The physical single release on Friday features two bonus tracks as well the music video for the song. A special edition of their latest album, Dromers en Dwazen (Dreamers and Fools) was re-released and repackaged following their appearance in the national final containing the five songs performed. The album had previously earned a gold disc, spending a staggering 76 weeks on the Dutch album charts. Having already 3 best selling albums to their name, no doubt the career of the 3JS will continue to go from strength to strength.
Below you can see Toen Ik Jou Vergat as it was performed in the national final.