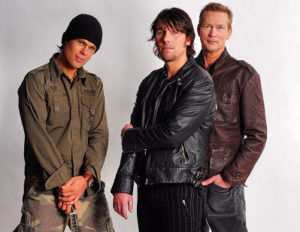 It was already anounced Lena will be representing Germany in next year's Eurovision Song Contest. Today the Dutch representatives for the 2011 contest were introduced. 3JS, a band from Volendam, will perform a Dutch song.
This year Sieneke performed 'Ik ben verliefd' for the Netherlands, but it didn't turn out to be a success. Next year the song will be again sung in Dutch, but this time it will be performed by the band 3JS. The group was internally chosen by Dutch broadcaster TROS.
3JS was founded eight years ago. The name of the band refers to the first names of the three band members: Jan Dulles, Jaap Kwakman and Jaap de Witte. "The last years we got more interested in the contest. This year we really loved the performances of Germany, Belgium and Denmark. We realized our band could easily get between one of those acts. The fact that a jury decides too, is also very important. Having good lyrics and a good composition are now more important than wearing the biggest dress or to be a monster", says the band from the Dutch town Volendam.
The band will contact different producers and write five songs. Then they will present their songs to the Dutch people. Together one song will be chosen.