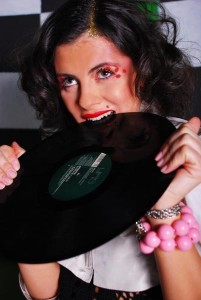 Tina recieved the highest points from the Romanian jury with her song Pleaca, and is therefore favourite to represent Romania at the 2009 Eurovision Song Contest. EuroVisionary talked to her about her song and the upcoming national final. 
Tina (Ecaterina Geru) is 23 years old and is formerly a member of the band Pops. She achieved the highest score from the jury – 92 points for the song Pleaca (Go) composed by Cornel Ilie from the band Vank.
Tina accepted an invitation to give an interview exclusively for our website:
First of all tell us a few words about yourself and your musical career. Who is Tina?

My identity started in Chisinau (the capital of Moldova) in a childrens folk group and continued with my departure from home, where I carried in my bags adolescence and great plans for Romania. The experience from the band Pops has confirmed to me that the absolute euphoria will only be felt on the stage, so I continued to accumulate new experiences on which to build my first album, which is to express the essence of my personality. It's a simple story so far …. and I want to be like this.
How did you come to colaborate with Cornel Ilie from the band Vank?
By a happy accident. I think I have a lot of luck professionally.
There are some bands in Romania that really have something to say and there is really a handful of composers. One of them is my good friend and music producer, Cornel Ilie.
In the last 3 years, we have had in the National Selection a lot of scandals concerning plagiarism. Are you ready for such a competition?
I don't like scandals. I am here to show what I can, and to prove all my work until now.
Who came up with the idea of Eurovision participation?

Cornel is the one with the idea. He trusts me but for both….:))
What do you know about Eurovision Song Contest?

It is a competition that deserves participation if you want to make a difference with your music.
What will you do to prepare for the semifinal show?
In my opinion, a strong message should be at least 60% of the show. We will have some surprises for all.
Have you thought about doing an English version of the song if you are chosen to represent Romania in Moscow?

Yes, we are thinking about this. But in the National Selection, we are going to sing in Romanian. The people from Romania  must understand the message of our song.
The song Pleaca offers us some lyrics in Russian. Has it any connection with the fact that this year's Eurovision will be held in Moscow ?
Yes. That is true, and I hope the people will like it.
What is the story of this song?

The story of the song is the inside fight of a person in love.
The organisers of Eurovision in Romania changed rules to prohibit the participation of foreign composers and writers who may wish to take part in the national selection of Romania. How you a view on this decission?

I think the word "National" is saying it all, right?
Eurovision Song Contest rules were changed even at international level. This year will see the reintroduction of the jury votes. Do you think this is an advantage for Romania?

I cant tell. I will see this year.