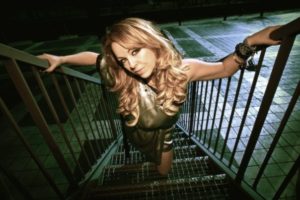 Danish born Susanne Georgi will be representing Andorra at the 2009 Eurovision Song Contest. EuroVisionary talked to her about her two home countries, the pressure she feels participating for a country that has never before reached the final of the Contest and of course her previous international success with Me & My.
To most you are known for being one half of the duo Me & My, but you will be participating in the Eurovision Song Contest solo. Does that mean that you will from now on be focusing more on a solo career?
Me and My is still a group, but right now Pernille is spending more time with her family. It's quite natural because she has two little boys and she does not have the same time on her hand as I do at the moment. I just finished my first solo album and it's a good but a funny feeling to stand alone. I must say that Pernille still has a lot do with this album, she is also a writer on the songs and did backing vocals on most tracks. So we still work together as a team.
A song like Dub-i-dub has had a big impact on My & My's career. Do you feel it is sticking to you?
It is sticking to me and it always will, but I don't feel bad about it at all. This song made everything possible and we sold millions of CD's, traveld the world and got to live a dream because of this song. I can never regret what I DID DO in life I only regret the things I DIDN'T DO.
You are Danish, but have over the years build quite strong connections to Andorra, but when you are introducing yourself to strangers do you see yourself as Danish or Andorran?
Huummmm, I feel a bit of both I guess. I have almost spent half of my life in Andorra so naturally I feel Andorran in many ways. But at the same time my blood Is Danish and it will always be. I think that most of the things you learn as a child like culture and so on, will always stick to you.  I do love both countries and feel privileged to have so much support for both Denmark and Andorra.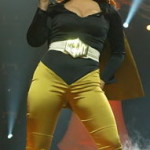 You have previously taken part in a Danish national selection. Have you noticed any major differences in the way the two countries see the Eurovision Song Contest?
Oh yes. Andorra is a very small country and I can see how little attention people are paying to Andorra. That makes me want to fight even more. Politically my odds are VERY SMALL to get to the finale. But I have faith in that people like the song and I will do everything in my power to get this little forgotten country in the finale.
Denmark and Andorra have been placed in each their semi-final, but if you make it to the final the Danes will be able to vote for you. Can you honestly say that you won't be a slightly bit offended if you don't get good points from Denmark?
Hahahaha….. well, I just hope that people vote for the songs they like. If they vote for me I want it to be for the song and not for my passport. But I do feel an amazing support from Denmark, more than I could have ever imagined. And that really makes me feel so much better.
Andorra has so far never managed to qualify for the final of the Eurovision Song Contest. Is that something you are thinking about yourself?

If I said no I would lie.  It's clearly something most people in Andorra are talking about and something I knew before I went into this competition. I know that I have a good song and  I know that with this song we could make it to the final. I have faith and that this year Andorra will make history.
Have you had the chance to listen to any of the other songs for this year's Eurovision Song Contest, and if so do you already have an idea about who could be your biggest competitors in Moscow?
I have listen to a few of the songs and this year there are some really great songs. I have my favourites but I will keep them to myself for now. After the 16th I will let you know, hehe .
You and I are the same age and I remember that most of my friends, just like myself, grew up always watching the Dansk Melodi Grand Prix and in many cases also the Eurovision Song Contest. Do you have similar childhood memories?
I went to sleep at night crying every year after the Eurovision Song Contest. I have ALWAYS wanted to be on that stage since I was a little girl. It's truly a dream come true for me and just to be there is a great victory.
Which Eurovision Song Contest song is your all time favourite aside from La Teva Decisió, of course?
Johnny Logan – What's another year and Olsen Brothers – Fly on the wings of love.
What can we look forward to in relation to the stage performance in Moscow – has it already been planned or are you still working on that?
I sing a happy pop song and I don't want to try to "sell" it as anything else that that. I see myself a singer/song writer who is going on stage to sing her song.  I think that Eurovision at times can be a little too much with all the freakiness. I'm not saying that a big stage show can't be nice , but I just don't think my song ask for that. Look at The Olsen Brothers, they had no stage show what so ever but people loved the song.
Which question that I haven't asked you would you like to ask yourself and what would your answer to it be?
What would be your message to the Eurovision fans ?
I want to express how happy and touched I am with all the great support I get from all over the world. It's amazing to know that so many of you are still here after so many years. The best of luck to all the countries and a know it's  going to be a great show. THANK YOU ALL!
EuroVisionary would like to thank Susanne Georgi for taking the time to talk to us and we wish her the best of luck for the upcoming event in Moscow.