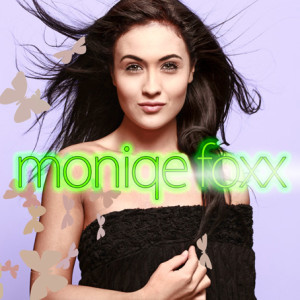 All eyes are now on South Africa for the football World Cup.  EuroVisionary also is watching South Africa with a great interest.  A few singers have recorded Eurovision songs in the Afrikaans language.  EuroVisionary caught up with South African singer, Moniqe Foxx.
Hi Moniqe – first of all could you tell us something about you and your background.
I come from a small town in South Africa called Witbank, this is the area where I grew up in and where I have been living for the past for 8 years. I started taking part in various competitions and realised that I have the potential to make a success of a career in this industry. My name is also spelt differently to other spellings – I have no "u" in my name.
How long have you been singing?
I started singing at 12 years old so I have been professionally singing for 5 years. I also received a recording contract last year, so recently I have been in the studio recording my debut album.
Have you recorded any albums and do you have plans for any new releases?
My Afrikaans debut album Ek Kan will be released at the end of June 2010. I have been busy recording two videos which will be released on You Tube as well as nationally at the end of July 2010.
I understand you have recorded some Eurovision songs in the Afrikaans language. Could you tell us what songs you have recorded?
Yes, Secret Combination(Greece 2008), Love Is The Reason(Malta National Selection 2005), Believe In Peace (Malta 1999)and a few more – it's so much fun to record these songs as we know the fans love the rhythm.
Do you plan to record more Eurovision songs in Afrikaans?
Yes I have, they will be on my album due for release at the end of June 2010.
Have you ever watched the Eurovision Song Contest on TV or the internet?
Yes I have watched a Eurovision on the TV and Internet and I absolutely love the contest.
Do you have any favourite Eurovision songs?
Yes, I do have a favourite, Secret Combination, the Kalomira song for Greece in 2008. 
Who are your musical influences?
Selena Quintella Perez, Shakira, Shania Twain, Miley Cyrus, Jennifer Lopez.
Are there any song contests or festivals that you would consider entering?
Yes, there are lots of South African festivals that I will perform at this year. Unfortunately, I will not be performing at the 2010 Soccer World Cup being held in South Africa this year, but will be singing at local festivals celebrating the 2010 Soccer World Cup. I will definitely be watching the football closely on TV and I am going to a few games to support Bafana Bafana our South African Team!
This year there was a South African singer in Oslo to promote his music. Do you plan to do this yourself at a future Eurovision event?
I hope I get chosen to. I would love to go next year to Eurovision Do you have a website so our readers can read more about you?
Yes it is www.moniqefoxx.co.za or they can catch my group on Facebook-Moniqe Foxx group
Where can our readers buy your music?
They can buy it at all leading shops in South Africa or buy the CD by emailing [email protected].
Thank you, Moniqe. EuroVisionary wishes you lots of luck with your career.