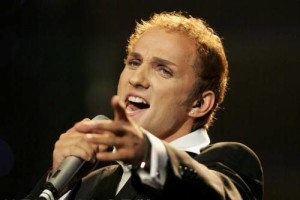 Mihai Traistariu, who represented Romania at the 2006 Eurovision Song Contest with the song "Tornero" has talked to EuroVisionary about what we can expect from his come back and the Contest in general. He also talks about his doubts about an honest jury.
Hello Mihai. My name is Istrati Ciprian from EuroVisionary.com, and I would like to ask some questions about your Eurovision participation and your career.

I heard that you intend  to represent Romania again at Eurovision. Is it true that you work intensively for the Romanian  National Selection 2009?
Yes! It's true! I announced this already to the public. I desire very much to win the international contest.  Also, I am glad to see other parts from the world, not just in Europe they have their Eurovision, see those 16 countries who will be this year at Asiavision. I believe that very soon both contests will be united and we will see a Mondovision. It is so cool! I just wait to represent Romania one day at Mondovision.

How do you think that you will pass the Romanian Selection, that everybody knows for 2 years have had serious problems with plagiarism accusations and a lot of participants disqualified. Do you think that you can win the jury and the televoters?

That I made it once means that it can be possible! I bet also for a capital image winning in the last time, and for the reason that I was bringing for Romania the highest points from history at Eurovision (172p)
I expect now also that I am known in some countries and I am promoted there. If I will pass from the national final, it's obvious that the 15 countries which I have contracts at this moment will promote me before the contest, and this will help me with the votes. The idea that this year there will be juries in all countries bothers me, however. The easiest way to trick the results is when you have a jury. It will bring many arrangements and deals between the countries. It will be filthy. I know from the last years.

Do you think that the song "Tornero", which became a hit and made you known internationally, will be able to influence the public and the jury from Romania?
No, not really! Rather the fact I was appreciated and voted at Eurovision 2006. People will understand that I desire to win this contest and many they will support me.

Do you prepare a special show for your return at Eurovision? What things should your fans expect? 
Well it is the time, it missed for me in 2006  and I don't want to repeat the same mistake. I will try a show made for Eurovision.

What can you say about the changes in rules of the Eurovision Song Contest? Do you believe that the reintroduction of the specialist jury will bring advantages for Romania? What are your thoughts about these changes?
As I told you, this is not a good idea. Dan Manoliu told me how disappointed they are with this jury.  All the countries made the arrangements for the votes, only Romania cannot. It is very hard! They make barter with the vote. It will be painful! What a pity!
Even that the vote of the public it is a little geopolitical, based on diaspora and on the speakers of the same language, are some people who try to vote and bring the correct result. And it works… some points here… some points there. Now the result it will be at the fate!

In the last 2 years, Romania didn't qualify in the top 10, what do you think was missing for Romanian competitors?

They missed something special. Both of them have done a good job, their best maybe, but they missed something. Everybody do his best on the stage, but the public votes what they like.
Concerning the 2008 Eurovision, what can you say about the winners? Did you have other favourites for the winning the contest?
Well ….honestly yes!  I was expected that Dima Bilan comes in front because Russia receive year by year 8-9 points from 12 countries who spoke Russian. On the other hand, I was thinking that he will be at 3-4 place, not exactly the winner. The violinist and the skater help him very much. Without them, the song didn't have such a big substance. For to prove, the song didn't pass so much frontiers of Russia. Here in Romania this song wasn't heard.