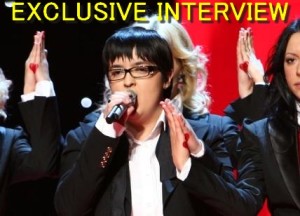 While on Saturday many Serbs were still majorly peeved about their loss of Kosovo, Marija Šerifović was in Ireland to judge the songs and singers for the Irish TV viewing public.  She took some time to talk to us.
How does it feel to be in Ireland?
It's good, I like to meet new people and have new experiences and that is what I can get here.
Are you worried at all about the current situation in Belgrade affecting Serbia's hosting of the contest?
NOPE!
Would you enter the contest again?
No, for me it's stupid when you win sometimes when you go in festivals and be a winner and then go again. I don't like this
A Do you wish the 'Beauty Queens' good luck in Beovizija?
Why not? They are great singers they are maybe able to be winners
How has it been for you since winning the contest last year?
It has been a very busy, a hard year.
What are you planning for the next few months?
I will be releasing an album fully in English so be patient.