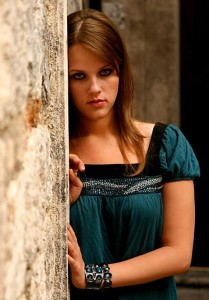 Lejla Hot is Serbian pop singer. She finished Musical school for solo singing and piano and then started studying at the Music Academy in Belgrade, Serbia. With the band Lu Lu she took a part in Beovizija in 2005. Lejla performed at: Budva 2006, Suncane Skale 2007, Beovizija 2008, Song of Mediterian 2008, Radio festival 2008, Beovizija 2009.
1. You have seven well-known singles, which of them is your favourite?
I love all these songs because they are honest and I stay behind them, but I can say for song Pola Sunca (Half of the Sun) which I performed at the Budva Festival 2008, in Montenegro.
2. With which song you become very known to your regional audience?
It was certainly song Suza stihova (Tears lyrics) and my double winning on festival Suncane Skale 2007. in Herceg Novi, Montenegro. The song which made attention on me and opened many ways to my future career.
3. Did you cooporate with some performers or musicians from the region or foreigners?
I did, as a back vocals on the albums of many artists, but I also cooporated as the author, most with young and prospective people, with children too. Promoting myself as the author I plan to start and dedicate to it and I hope in our next interview we will talk more about that.
4. You are famous for your beautiful voice, style and performance. Do you have an idol?
No. I have never had. There are artists whose work I respect, there are some I adore to listen but I have never been crazy fascinated or wanted to be like someone, even when I was little, which I think it is good.
5. Song and music. What does it means to you?
In one word – Everything. If someone, somehow take that away from me, I would be so unhappy.
6. You participated a few times in Beovizija. Did you do that because of your own promotion or in effort to win and represent your country at the Eurovision Song Contest?
Unfortunately, festivals are almost the only way for promotion of young people, especially like Beovizija festival, around which is always lot of media atention and that is certainly the most watched local festival, so I had that opportunity for my personal promotion.
7. The Eurovision Song Contest, what does it means to you?
Before it was so important in my life, when I was younger there was no chance to miss this event. Lately, somehow, I have become indifferent to this event, but it is definetly a huge show, spectacle and organization that is for every compliment.
8. Who are your favourite Eurovision Song Contest participants?
With all my heart I have always been a support to Serbian representatives but I have to admit that last year winner, Marko Kon & Milan Nikolic, were my favorite!
9. Do you have in plan to become a part of the wider world music scene?
One is the wish, another is possibility, but certainly you can have all what you want so much. I do music, because I enjoy in it. I adore scene, and everything nice which is connected to this work, so I don't bother with it too much. I believe in myself and I will lied if I say that I would not love something like that to happen to me.
10. When do you plan to work on your debut album?
 Album has done so long, but I'm glad because I worked a lot on it. I am mostly the author of songs, beside me there is Ognjen Cvekic, for whose support I can talk until tomorrow. So I want to say huge Thanks to him in this way. We are almost done and I really can not wait to promote my new songs, because I am very proud of them, on my maturation through life and also with my music in past two years.
11. Where do you see yourself in ten years? Will you be dedicate to your private life or your music career?
Huh! Too far. I don't think about it. I live for today, what happens it will be. I will try to make myself happy and the people around me. I hope that I will be alive and healthy primarily, and then everything can be done. And definetly, I see the music as my biggest love for the rest of my life.
12. In which complany and which music you feel most content and happy.
With the people who know me the best. With them I don't even need to say the words to make them understand me. For music it all depends on the circumstances, situation, and my mood, am I sad, happy, hyperactive… You would not believe what can make me feel good in a certain mood!
13. The selection format has been changed this year for Serbia, do you hope that you might participate and possibly go to Oslo on Eurovision Song Contest?
No. For something so big, takes longer period of preparation, lot of energy and I think that I need to concentrate on other things that are far more important, which of course doesn't mean that I wouldn't love one day to present my country and I am sure I would do on best possible way!
14. Which question that I haven't asked you, would you like to ask yourself and what would your answer be?
The question that I often ask myself is "When do you think to grow up, soon you'll be 24 years old?" – The answer is still the same, never!
Bellow you can see the performance of Lejla Hot on Beovizija 2009.
Links