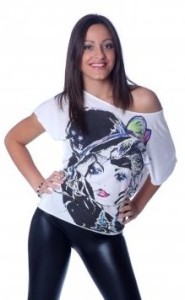 Sara Markoska will represent Macedonia at the Junior Eurovision Song Contest in Kiev on 21 November 2009. Her song is called Za Ljubovta. Here is an interview with Sara for EuroVisionary.
Congratulations, Sara, on being selected to represent Macedonia at the Junior Eurovision Song Contest in Kiev.
Thanks a lot. … I'm really happy about that.
What were your feelings when you realised you had won the Macedonian Junior selection?

I was very excited and happy and felt like crying at the same time. But I reached the stage and sang the song again. It was amazing!!
Have you previously participated in the Macedonia Junior Eurovision selections? If so, can you tell us about this?
Well I participated in JESC 2007. I was second on the national selection, so they took me like a ballerina and backing vocal to the main JESC in the Netherlands, with Ding Ding Dong – the song that represented Macedonia that year. That was great experience.
How are your preparations for Kiev?
I go to singing lessons every day and I'm singing basically all the time. Me and the guys are preparing a lot. We have rehearsals every day and we work very hard. So I hope you will all like it.
Will you be using backing singers and dancers on stage?
Yeah!! With me on the stage there will be 5 dancers: Tea, Iva, Tanja and Bisera, who are members of " Eureka", where I am a member as well, and Daniel, who is member of "Ritam plus".
Have you been on TV in Macedonia to promote Za Ljubovta and are there further tv appearances planned before you depart to Kiev?
Yes.. I was hosting on many shows in my country, on the national radio, my song was hit of the week of the radio "Bubamara". I am really happy about that.
Have you recorded the song in any other languages?
I have not done that yet. I am planning to but I am not sure if I will record it before the JESC.
Have you heard all the other songs from this year's Junior Eurovision? Who do you think will be your closest challengers?

Yes, I have heard all the songs. I can't say who are my closest challengers, because they are all great!!
Do you keep in touch with any of the other participants from this year's Macedonia Junior final?
They are my friends! And of course, I am still in touch with them!
Have you watched previous Junior Eurovision finals? If so, do you have a favourite song?
Yes, I watched them. I have many favourites, like: Bobby, Bzikebi, Frida Sanden, Nevena Bozovic etc.
Did you watch the main Eurovision Song Contest this year? What were your favourite songs from the contest?
Yes, I watched it. It was awesome!! I like the most Next Time (Macedonia), Iceland, UK, Moldova, Norway.
Do you have a favourite Eurovision song from any year?
I can say that my favourite songs are: My Time (UK), Is it true (Iceland) and Believe (Russia).
Tose Proeski meant a lot to everyone in Macedonia and fans around the world. Do you have a favourite Tose song?
Tose means the world to us. I really love him and miss him a lot . All of his songs are amazing, so I can't decide about which song is my favourite.
Next year you will old enough to participate in the main Eurovision. Will you try to enter the Macedonia Eurovision selection in 2010?
Well in 2010 I won't try to enter, because it's too close for me. But in the future I am planning… And I'll be very happy if I have another chance to represent Macedonia again, but on the adult Eurovision Contest!!
Finally, what question that I have not asked you would you like to ask yourself and what would the answer be?
Well you ask me, sort of everything!! But I want to say something to the people that love me and support me! Guys, I can promise you, that I'll give my best on the stage and I hope you'll like it!! Greetings from Sara!!
OK, Sara…thank you and lots of luck in Kiev.
Thank u too 🙂