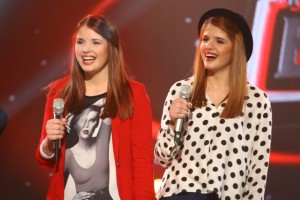 On Sunday night, Nika & Eva Prusnik will compete in the final of the EMA against Eva Bota to see who will represent Slovenia at the 2012 Eurovision Song Contest.  Here the twin sisters, Nika & Eva, talk to EuroVisionary.
1. Congratulations, Eva & Nika, making it to the final of the EMA.  What were your feelings when you realised you had reached the final? 
Such an amazing feeling. When we applied to this competiton we had no expectation, we chose the song 10 minutes before going to audition, we were like: Okay we'll go, we have nothing to lose, and then they called and that we had made it to the top 32. And now we're here that's so amazing we never knew something like this would happen.
2. Were the songs in the EMA final selected especially with you both in mind and will they be a mixture of upbeat and ballad songs?
We had an opportunity to choose one artist, who we wanted to work with, the other two songs were selected by the team of Misija Evrovizija. We think that this years EMA will be a mixture of alot of different styles and songs. We will be performing three different songs and they're all different genres and that's so you'll be able to see us in so many different spectra.

3. We can see from the Misija Evrovizija shows that you both have a good harmony together and and can dance very well around the stage. Will you be using the same choreography in the EMA final and will you be using extra dancers on stage?
Yes, we are very connected, we feel each other on stage, it's an amazing feeling, having your twin beside you while performing. We love dancing, and making choreographies. We made one together with Maestro dance crew, the other two were made by us.

4. Who are your musical influences?
We have a lot of musical influences: The Beatles, Muddy Waters, Etta James, Ray Charles, Beyonce, Mumford & Sons, Nirvana, Guns'n' Roses,Amy Winehouse, Adele, Bob Marley and many more.
5. What was favourite performance together in the Misija Evrovizija shows?
Absolutely, the French song, Je Veux, Wild Dances from Ruslana, and the second time performing Samo Malo by Magnifico.
6. Are there plans to release an album?
We don't make plans, we just go with the flow, nobody knows what will come.But music will always be part of our lives no matter what, we would feel incomplete without it. We also write our own songs and that is very important to us.
7. Would you both tell us your favourite Eurovision song from the past?
Our favourite songs are Wild Dances by Ruslana, Hajde da ludajemo by Tajci and Molitva by Marija Serifovic.
8. Finally, is there a question I have not asked you that you would like ask yourselves? If so, what would your answer be?
We just want to give a message to readers: Follow your dreams, you can start following them no matter how old you are, it's never too late. Most of all listen to your heart and do things you love most. Just be free like a bird!
Thank you, Nika & Eva. I am sure you will give us a great show on 26 February.
Thank you! Enjoy the weekend.