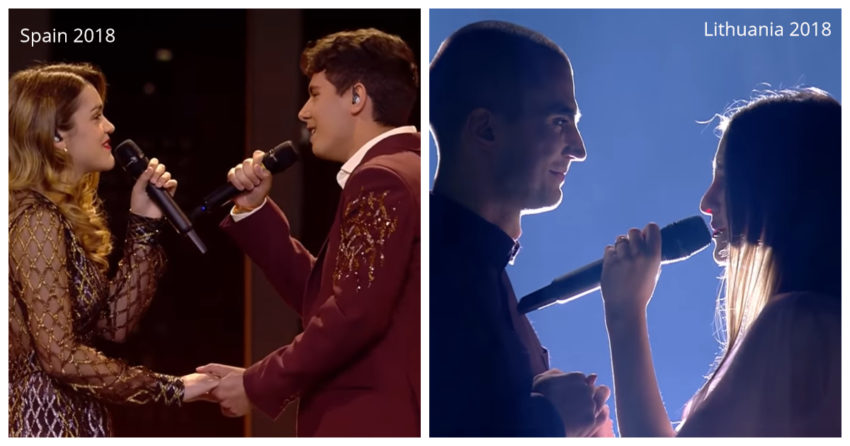 Love and peace are two of the most common topics for a Eurovision Song Contest entry. However, some Eurovision contestants take it to the next level showing their love for their partners to the whole world. In 2018, Spain sent Amaia and Alfred to Lisbon to sing about their love story. Similarly, Lithuania's Ieva brought her husband to the stage.
In Eurovision Battle we put two former Eurovision entries up against each other. It's songs with something significant in common which makes them worth a comparison. The Fan Panel members are asked to watch the videos for both songs before providing their opinion.
Amaia and Alfred represented Spain in 2018 with a love song about their relationship. Similarly, Ieva Zasimauskaitė invited her then husband to join the stage at the end of her love song. Not even three years later, none of the two couples are still together.
Tu Canción finished in 23rd place with 61 points. This includes 12 points from Portugal.
When We're Old finished in 10th place with 181 points. Ieva received the maximum 12 points from Estonia, Ireland, Norway and the United Kingdom.
Spain 2018 vs Lithuania 2018
In order to find out what Eurovision fans today think of these two entries, we asked our Eurovision Fan Panel. It includes team members as well as fans from all over the world.
🇬🇧 Michael O. – Lots of noise was made about the romance of the Spanish duo in 2018, but keeping under the radar was Lithuania, who swept in after rehearsals and became the love birds to watch. Lithuania had the better song too, although I don't want to be nasty to the Spanish song as I found it pleasant enough. But When We're Old is the winner here.
🇧🇪 Enis H. – I absolutely love When we're old.  It is such a sweet song that moved me. I also adore her voice and the staging. The Spanish song however isn't my favourite, for some reason I rarely like Spain's entries, this is one I didn't like. I dislike their voices and instrumental. I honestly find it a boring song. Out of these, I prefer Lithuania's.
🇨🇴 🇫🇮 Álvaro S. – I remember I was initially a bigger fan of the Spanish 2018 entry. However, when I watched both entries live I fell in love for the Lithuanian entry as many did. When We're Old looked more authentic as a love anthem and how this couple expressed their love at the end of Ieva's song. I like that is emotional without being corny.
🇩🇰 Charlotte J. – Going into the 2018 Eurovision Song Contest, I considered both of these songs boring. After first rehearsal, I had totally changed my mind about the Lithuanian entry. This is a fantastic beautiful song and the performance brings out the very best in it. Unfortunately, I can't say the same thing about the Spanish entry. That is still boring, so in this battle, the Lithuanian one is a clear winner. She should have achieved a better result.
🇧🇷 Amir B. – Two countries from my 2018 bottom. Lithuania is my 35th place and Spain, 40th. Spain is too cheesy for me. Lithuania, boring song but has emotion. I like most of Lithuanian songs, the emotion and the fact of being a descendant of Lithuanians were the factors that made me like more Lithuania.
🇹🇷 Günec N. -I watched Operación Triunfo in 2017 – 2018, and I was very hopeful for Alfred and Amaia. But the song was very weak. Although the duo did their best, it was not meant to make a huge success. As per Ieva, despite the touching stage show, the song did not impress me at all. But if I have to choose, I'd choose Alfred and Amaia.
🇬🇷 Christos T. – I prefer the Lithuanian song. It's more original with its stable rhythm, the singer's voice and low profile, and its artistic austerity without trying a lot to convince the audience. The Spanish couple's performance brings on stage, in a particular exaggerating way, a kind of superficial feelings, love and tenderness which, in my opinion, make their song less accepted by the audience.
🇵🇱 🇯🇪  Pawel J. – There's no doubt that When We're Old was (and is) one of my favourite entries from the contest in 2018. I just love the beautiful simplicity and the magic of the song. I must admit I feel very emotional every time I hear it. The Spanish entry that year was just… meh… doesn't do anything for me. Just very forgettable. 12 points goes to Lithuania!
🇪🇸 Mária P. – I prefer the Spanish song, for me it's very beautiful, whereas I can't find the appeal of the Lithuanian song. I also liked Amaia's voice and the duo's performance better than Ieva's. In favour of Lithuania I'll say that Ieva's dress was nicer and more suitable than the Spaniards', who were dressed as if they were in their 50s, especially Amaia. The Lithuanian entry had also a better stage lighting. Nevertheless, both dressing and lighting are secondary for me, the main thing is the song, and I prefer the Spanish one.
Amaia and Alfred – a mini biography
Amaia Romero Arbizu was born in Pamplona, Spain in 1999. Alfred García was born in Catalonia, Spain in 1997. They represented Spain in the Eurovision Song Contest 2018 in Lisbon.  Alfred and Amaia started dating when they were participating in the music show Operación Triunfo. The talent show served as the Spanish national selection for Eurovision. They are no longer a couple.
Alfred has released three studio albums and it is currently recording a new work. Amaia has released two albums and a documentary film on the making of her album and her tour journey. She received a nomination at the Latin Grammy Awards for her documentary.
Ieva Zasimauskaitė – a mini biography
Ieva Zasimauskaitė was born in Kaunas, Lithuania in 1993. She participated at the Junior Eurovision Song Contest 2007 as a backing vocalist for Lithuanian contestant Lina Joy. Before her own Eurovision Song Contest participation in 2018, she tried to represent Lithuania in 2013 with I Fall in Love, in 2014, in 2016 with Life (Not that Beautiful) and in 2017 with You Saved Me.
Ieva married in 2015 with basketball coach Marius Kiltinavičius. The couple divorced in 2020. As a follower of the Hare Krishna movement, Ieva is the only known Hindu participant in Eurovision.