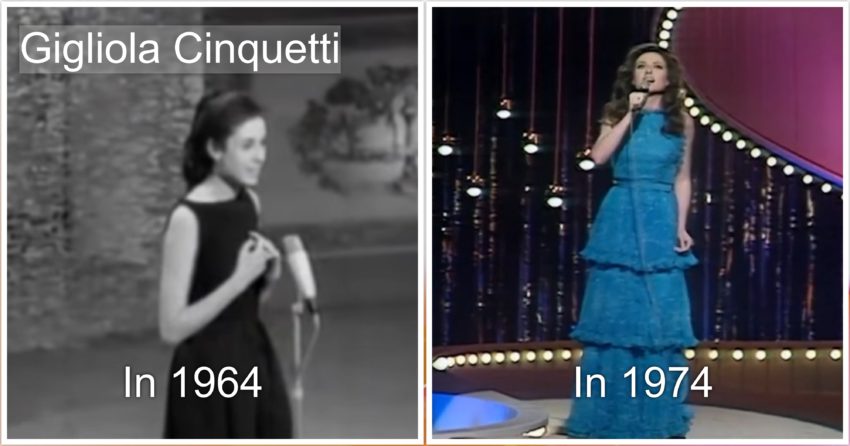 One of Eurovision's most successful artists has been Italy's Gigliola Cinquetti. She won the contest in 1964 with 'Non ho l'età' and came second in 1974, with 'Si'.

In Eurovision Battle we put two former Eurovision entries up against each other. They are songs with something significant in common which makes them worth a comparision. The Fan Panel members are asked to watch the videos for both songs before providing their opinion.
Obviously the reason these two songs have been pitted against each other, is the artist, Gigliola Cinquetti.
The first song Non ho l'età was Italy's first winner in 1964. The song won with nearly three times more points than the song which finished in second place. The song became a big hit all over Europe, and was recorded in various languages, the English version, being This Is My Prayer.
Ten years later, Gigliola returned, and closed the 1974 contest, with the song, Si. She almost won again, but had to retreat in battle, to Sweden's entry, Waterloo by Abba. Still Gigliola managed to finish in second place. Again the song was a big hit over Europe, the English version being, Go Before You Break My Heart.
Non ho l'età, Italy 1964 vs Si, Italy 1974
In order to find out what Eurovision fans today think of these two entries, we asked our Eurovision Fan Panel. It includes team members as well as fans from all over the world.
Michael O. – To me, Non ho l'età would be one of the best winners ever. A great tune. Si is way too over dramatic, though I like Gigliola's voice. I prefer the English version, which is very unusual for me. Anyway, Non Ho L'Eta is definitely my preference.
Gunec G. – I've been a great fan of Gigliola since my childhood. I love her childish innocence, pureness and simplicity in 1964 singing Non Ho L'eta. Si was similiar to Non Ho L'eta in terms of pureness and simplicity yet had more romantic and grown up feeling to it. Love both.
Andrew G. – My Si goes to Gigliola Cinquetti in 1974. She comes to life with this song. Like an angel looking into the light. And glows on my favorite stage from the 70s. The orchestra gives me goosebumps. And the 70s look (reminds me of my mum going to an event) Happy memories of a great eurovision year.
Alvaro S. – This is a difficult decision for me to make. I love both songs but I like a little bit more Gigliola's winning song from 1964 because the feelings in this song are more innocent. But I love to watch both and see the evolution from the innocent girl to a more mature Gligliola in 1974.
Vangelis M. – Italy for a reason that I have never understood yet is a country that most of eurofans love. To be honest I am not one of them. I do not like any of the songs. Though we are talking about two different entries. If I had to choose I would prefer the 1964 one, because it was a winning entry. Not that I would listen to it with pleasure though.
Quique B. – I prefer the 1974 one, the first is a great classic, very nice too, but I find it very conventional in the composition. On the other hand Sí is a modern song, melodic too but very different than the other songs you can find in that decade. She would had deserved to win also that year. Wonderful Sí and wonderful Gigliola.
Miljan T. – While both songs have their own unique history, I prefer the 1964 one. Not because I usually dislike songs that have political connotations or a political storm around them like the 1974 one, but simply because the melody speaks more to me than Si. The tenderness, with which Gigliola dlivers the performance is simply captivating and it's absolutely no wonder she won, and with such a high percentage of 1st placings with the juries – a record no one has still broken to this day.
Charlotte J. – Two good songs from Gigliola Cinquetti, but for me the first one is clearly the better one. Si appears a bit too polished whereas Non Ho L'Età has that extra charm, which makes it pretty irresistible. I love the 1964 entry, and like the '74 one.
Gigliola Cinquetti – a mini biography
Born in Verona on December 20, 1947, Gigliola got her career of to a great start when she won the Sanremo festival with Non ho l'età in 1964. Later that year she also won the Eurovision Sing Contest.
Gigliola's career continued to ascend in Italy, and in 1974 she was asked to represent the country again. This time she brought the song, Si, to Eurovision where she placed second.
In between Eurovision, she had a big hit in many countries, with Alla Porte De Sole. The song was released in the United Kingdom, as the follow up to Go as Door Of The Sun, but it failed to chart.
Gigliola has also co-presented the Eurovision Song Contest in 1991, after Italy's Toto Cutugno won the 1990 contest with Insieme:1992.
Copies of Non Ho L'Eta from Eurovision 1964, are nearly impossible to find, so below enjoy the song, where Gigliola performed the song on Spanish Television.
Below you can watch Gigliola's performance of Si from the 1974 Eurovision Song Contest.