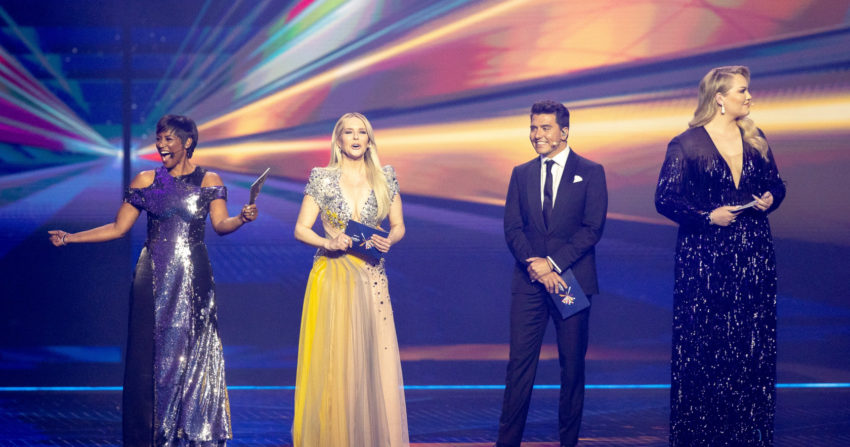 Tomorrow evening, we'll see the last ten countries qualify for the final. While we know from rehearsals what to expect from the 17 acts competing tonight, we didn't know much about how the second semi-final show will be. The latter was revealed in the first dress rehearsal this afternoon.
Last night, we saw Norway, Israel, Russia, Azerbaijan, Malta, Lithuania, Cyprus, Sweden, Belgium and Ukraine secure themselves a spot in the final. Tomorrow evening, 17 acts will fight for the last ten slots in the final which takes place on Saturday the 22nd of May.
Tonight, a second dress rehearsal will take place, but that's much more than a rehearsal as it's the jury show. Juries in the participating countries plus France, Spain and United Kingdom will vote in this show. That's half the votes being decided already tonight.
Let's take a closer look at what we can expect from the first semi-final.
The opening
The show opens with a panoramic sequence of the Netherlands similar to the one that opened semi-final one, on Tuesday. When it finishes, there is a brief silent moment, before a dancer in lime green appears. After rolling about the floor, Eefje de Visser sings a song called Wild Forest and all the Eurovision dancers join in.
The opening contestant, San Marino's Senhit, was indeed joined today by Flo Rida. Not a thing was mentioned, about the Icelandic situation.
The hosts
The hosts, Chantal Janzen, Edsilia Rombley, Jan Smit and Nikkie de Jager. were all back fresh as ever, after what's becoming a long week for everyone. Chantal was all in blue today, Edsilia in lime green, Nikkie in her favourite black sparkles and Jan in the standard suit.
After Poland performed, Nikkie returned to show more videos of fans being ridiculous to Eurovision performances. Molly Sandén sent everyone a message and Nikkie plugged her Looklab series on youtube, although her interviews are worth watching, so catch then if you can.
After Portugal's performance, Chantal spoke to Greece's 2005 winner, Helena Paparizou who will be among the performers at the interval on Saturday.
After Latvia, the hosts announced that the interval act has been preparing for a year, way to build up anticipation, and have enough time to haul Samata's props off-stage and Gjon's Tears on.
The interval act
The hosts described that in the last year, how important it has been to be home. As a tribute, a specially commisioned piece, called 'Close Encounters' about opening up to each other. Ballet dancer, Ahmad Joudeh, born in a Palestinian refugee camp and flatland BMX rider, Dez Maarsen and an ensemble cast, danced the emotional piece, involving bicycles and ballet dancing.
Ahmad says about this performance
This will be the most important performance of my career. My mission in life is to tell my story because my story relates to many people who need a voice. Our society consists of people from different places and with different cultures, yet we are all Dutch. That is also what you see on stage: diversity. We are all different, but also all Dutch. Together with Dez and the other dancers we tell the story of the Netherlands: the power of unity.
The CD and DVD were advertised, as a must buy.
Edsilia reminded us how she came 4th at the 1998 contest, before introducing a video of past winners, starting with last year's winner, Duncan Laurence and including Nicole (Germany 1982) and Niamh Kavanagh  (Ireland 1993) amongst them.
Nikkie then gave us some tips on how to be a Eurovision winner, standard stuff we see every year, and yet none of the examples she used, actually won.
The most amusing bit was at the end, Edsilia was interviewing the contestants, and she finished too quick, and she screamed, Jesus Christ, another 30 seconds.
As well as all that, of course, 17 acts performed their songs, and although this semi final, is being touted as not as good as the first semi, try and pick your ten qualifiers and see how difficult it is.
The fake announced qualifiers this afternoon were Austria, Czech Republic, Poland, San Marino, Denmark, Serbia, Moldova, Iceland, Finland and Bulgaria.