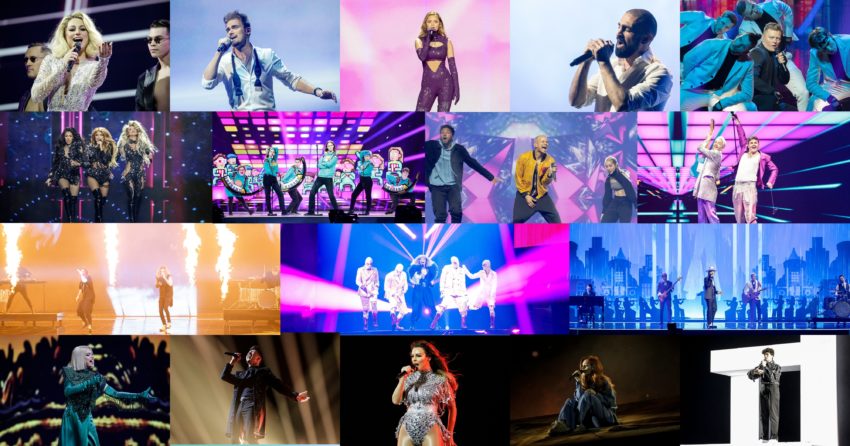 Tomorrow evening, we'll know the last ten lucky qualifiers for the final. Half the votes in the second semi-final were however cast already tonight when the juries were watching and voting. Which ten acts will we see again in the final on Saturday?
Tomorrow evening, in the first semi-final 16 acts will compete for ten spots in the final. However, they were already competing tonight. This evening, the jury show took place, and as such half the votes to determine the outcome of this semi-final have just come in.
We asked people watching tonight's jury show who they believe will qualify from the second semi-final. Their own personal references were irrelevant, it was just which ten they believe will qualify.
Note: Due to a positive test from one of the people in the band, the Icelandic act Daði og Gagnamagnið did not perform 'live' on the stage tonight. Instead, a clip from their second rehearsal was used. The band will not come on stage tomorrow either nor on Friday and Saturday should they qualify. In case, they win, they will receive the news from their isolation in the hotel.
Semi-final 2 prediction
Country
🇩🇰
C.J.

J.S.

A.S.

M.O.

T.E.

L.O.
🇬🇷
T.V.
🇩🇰
J.M.
🇹🇷
G.G.
San Marino
X
X
X
X
X
X
X
X
X
Estonia
X
Czech Republic
X
X
Greece
X
X
X
X
X
X
X
X
X
Austria
X
X
X
X
X
Poland
Moldova
X
X
X
X
X
X
Iceland
X
X
X
X
X
X
X
X
X
Serbia
X
X
X
X
X
Georgia
Albania
X
X
X
X
X
X
X
X
X
Portugal
X
X
X
Bulgaria
X
X
X
X
X
X
X
Finland
X
X
X
X
X
X
X
X
X
Latvia
X
Switzerland
X
X
X
X
X
X
X
X
X
Denmark
X
X
X
X
X
X
Tomorrow at 21:00 CEST, the live show for the second semi-final of the 2021 Eurovision Song Contest will take place. TV viewers in the 17 participating countries + France, Spain and the United Kingdom will vote. Their votes will be added to the ones from the juries tonight. Near the end of the show, the ten lucky qualifiers will be announced.
Friday evening, the juries will be voting once again. This time for the final – and as such the 2021 Eurovision Song Contest winner. Their votes will be announced during the live show on Saturday together with the ones from TV viewers. When all points have been combined and announced, we can crown the winner, and welcome the host country for the 2022 Eurovision Song Contest.