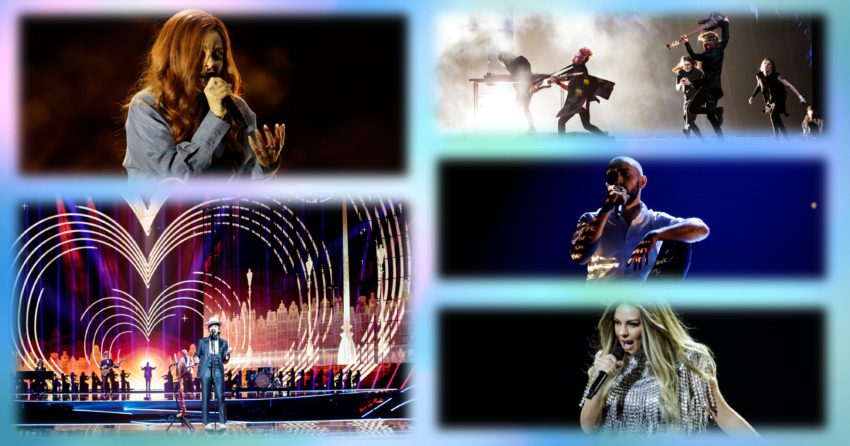 After a very long day yesterday, today will be a very short day. Just eight quick rehearsals from second semi-finalists. First up this morning was Georgia's Tornike Kipiani. He is then followed by the acts from Albania, Portugal, Bulgaria and Finland.
Yesterday, we saw the rehearsals from the first nine countries in the second semi-final on stage for their second rehearsal. Today, they are followed by the remaining eight acts in this semi-final.
Day 7 has a total of two rehearsal blocks. This first one includes performances from Georgia, Albania, Portugal, Bulgaria and Finland.
Who has what it takes to reach the final? Let's look at reactions from Eurovision journalists. We asked them to judge from the rehearsal if they were ready, and what might still not work for them. The article will be updated after each rehearsal remember to come back or refresh the article.
Georgia: Tornike Kipiani – You
Charlotte J. – Tornike is one of the strongest vocalists this year, just a shame the song isn't as strong as last year where he was one of my favourites. Anyway, back to this rehearsal. The backdrop is kept simple, and I appreciate that. I love the opening with him walking into the stage. I also love the shots where they film all around him, rather close. That's really good. However, not all shots are equally good. I am not too impressed with the camerawork on this one, and I believe it needs fixing up several places, however through his rehearsal today it kept getting better. Several things were already better in the second run-through compared to first. So, there's hope it will all be quite ok.
Michael O. – I found myself swaying along to this rehearsal. I can't decide if its awful or genius. Tornike just comes on and does his thing, sort of like Benny Cristo, but with less energy. The blue sky in the background compliments the song well, anything else would be over the top. After this rehearsal I'd say this is a definite non qualifier, but there's always an outlier and people may find this performance quite charming. Of course, they are not going to make any adjustments.
Gunec G. – This one impressed me from the first rehearsal. I've always thought that Tornike is a great singer. He gives his heart and soul to the song. Although stars, night, sea concept is not very original, it fits the soul of the song. Reflecting the lyrics on Tornike was an original idea. I think it deserves the final.
Alvaro S. – From the beginning I knew this was a difficult song to defend but the lack of energy and passion is not helping. He has the same energy as a kidnapped man reading the message from his captors. On his second attempt today I see a little bit more of energy though.
Albania: Anxhela Peristeri – Karma
Charlotte J. – The backdrop and the coloured smoke effects on this one are really well made. In fact there are so many things I like in their stage presentation. Just, I think there's too much use of the windmachine on her hair… didn't Carola get that machine back years ago? But, I am not always equally impressed with Albania do on stage, but this is one of the best presentations they have. And why am I not commenting on Anxhela's vocals? Well, there's nothing to say. Spot on as always. But let me add one thing; had my Dutch boyfriend next to me when watching this one, and he keeps insisting that her name is Máxima. There's quite a strong similarity between Anxhela and the wife of the Dutch king as she looked that age.
Michael O. – To me this is the best staging in this year's contest, even although we've seen similar many times before. Add to that, Anxhela's vocals are perfect. I am not too big a fan of this song, but after seeing these rehearsals, this definitely deserves to qualify. However after this year, I hope countries stop reaching out to Sacha Jean-Baptiste, as it's the same thing over and over, although this is definitely her best staging ever.
Gunec G . – Anxela set the stage on fire. Colourful smoke effect looked very imposing on stage. Anxela's vocals are perfect and very strong. The only issue about this performance for me is the costume. Something like in the video would be much better imo.
Alvaro S. – this is the living proof of how a song an come to live with a good performance. Because of the language limitations this song said nothing to me before, after the rehearsals I am impressed. Good work with the screens.
Portugal: The Black Mamba – Love Is On My Side
Charlotte J. – There are so many things I like in this presentation: The black and white in the beginning, the close-up of the piano player, the New Orleans jazzy atmosphere, the effects on the big stage when colours are all full on, the leadsinger walking on to the second stage at the front… camerawork is great too. In fact, I think Portugal has done the best they can with this song. Great work!
Michael O. – Although the song is a little dreary, I have to admit they have done a lot to give it good staging.  The black and white at the beginning is appropriate for the song. The lampposts and colours are very pleasant to watch, and everyone says this should do well with juries, but why should it, it sends you to sleep, as generally this rehearsal does to. On a CD if this was the ballad, it's not strong enough, and so in the contest too, coming after Albania, it fades into the background.  For the rehearsal though, they've done all they can do, and they've done a great job.
Gunec G. – I don't know why but I can not love this entry. The stage looks a little disordered to me. I like the black & white beginning but then it becomes confusing. The Anastacian vocals are strong. Overall, I miss Fado from Portugal
You can watch a clip from Portugal's rehearsal below
Bulgaria: VICTORIA – Growing Up Is Getting Old
Charlotte J. – I am not too impressed with this presentation. As much as I love the warm yellow, I just don't think it matches with Victoria's haircolour – in particular in the beginning. As more lights are added, it becomes less of an issue with me. While the full blow of golden in the backdrop, which comes on later, is beautiful, I just don't understand it in relation to this song.
Michael O. – I like VICTORIA so much more when I see her live, than listening to her on record. Bulgaria are putting everything they can into this performance, no doubt with VICTORIA's help. The raised rock gives the song a feeling of superiority, and looks good on stage. VICTORIA has really creamy vocals to listen to. The lighting is maybe a little top heavy in golden colours, but that doesn't affect the performance too much. In the running order, on paper, it looks as if VICTORIA is the last of four downers, but after rehearsals, all four songs are well-placed, and fly by.
Gunec G. – I see and smell emotions, hardwork, talent, sincerity in this performance. It's made to make you feel like you're in the fairytales of your childhood which will never come back. I love the stage work and Victoria's beautiful vocal act. So you don't need to shout your heart out to sing well.
You can watch a clip of Bulgaria's rehearsals below
Finland: Blind Channel – Dark Side
Charlotte J. – Finland knows how to present a rock song on the stage, and this is no exception. This is how it should be: Chaotic, lots of fast clips, changing in colours – and a dominantly deep red mixed with black for the devil. There's not much to say, it works – and Finland could do very well with this. If you want to earn a bit of money and is willing to take a chance against what the bookmakers believe in, put this to finish higher than Italy's rock song.
Michael O. – I don't really like this type of music, but can take it in small doses, and this is a small enough dose. The red colours give the performance a sense of urgency, and the song is as commercial as this type of music can get. Not sure if the stage movements are choreographed or whether the band move about freely as long as they keep in camera. If its staged, they are so natural, you can't tell. This song couldn't get a better running order than it has, and the band probably realise they can do no more than wait for next Thursday's performance. Another likely certain qualifier.
Gunec G. – This was awesome.The guys have great energy on stage. I love the way they believe in what they're doing. The stage lightnings match with the soul of the song perfectly. And the scream at the end is phenomenal.Way to go Finland.
You can watch a clip of Finland's rehearsal below