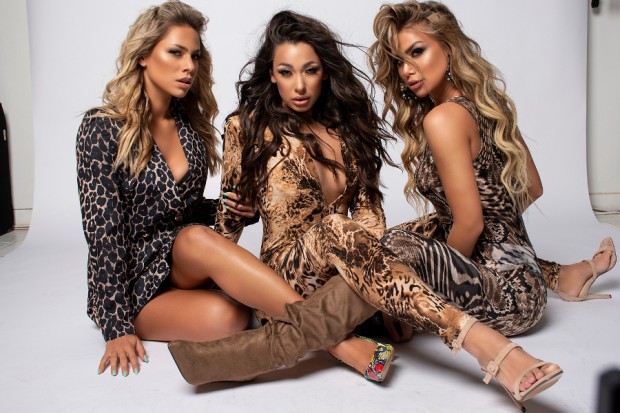 With the cancellation of Rotterdam 2020 due to the coronavirus pandemic, we though we would keep our Eurovision spirits high by revisiting and discussing the entries that had been selected for the event. Today, we are sharing our views on Serbia's 'Hasta La Vista' by Hurricane.
Girl group Hurricane were chosen to represent Serbia at the 2020 Eurovision Song Contest after beating 23 other entries in Serbian national selection show Beovizija. The trio consist of Nemanja Antonić, Kosana Stojić and 2016 competitor Sanja Vučić. Due to the COVID -19 pandemic, the Eurovision Song Contest has been cancelled which means that, along with all other songs from this year Hasta La Vista will no longer compete. The team at EuroVisionary discuss how this song would have fared in the competition:
Charlotte: I should like this. It's an up-tempo pop songs that sounds like it has a decade or two behind it. It's exactly what I should like – and yet, I don't. I don't directly dislike it either, but it never manages to catch my attention. Afterwards, I have completely forgot, what I just heard/watched. I don't know why it is like that – aside from that it might be because I keep looking for a structure, which I don't find. Is there any, or is it just a random mess put together? I really don't know.
Ashleigh: Serbia have brought a catchy, sassy uptempo song to the contest this year. Though it is a bit dated, I find that part of the charm of the song, it's feels like old school Eurovision. I have no doubt that the girls would have given a fun performance full of attitude which would have gone down well with the audience.
Josef: – Very good and catchy dance song. Plus points are going for the Serbian language and choreography. It could have been less sexist, but why not. I loved Sanja Vucic in 2016, she was my number one back then, and I like Hurricane now. Sure qualifier.
Elvir: Hurricane Girls have recorded so many good songs in the past, but Hasta La Vista is not one of them. I was unpleasantly surprised when I heard the song – musically and visually as well. Hasta La Vista sounds cheap, noisy and messy. And just when I thought, that this song can't get worse, the girls launched an English version.
Michael: Glad they sing in Serbian as one two three goodbye is hardly ground breaking. However the ladies have plenty of sass about them and would have given Eurovision 2020 a bit of life. I'd have voted this into the final and hope to see more of Hurricane
Theo: This would feel just about acceptable about 15 years ago, it definitely does not cut the mustard at all in 2020 for me. It manages to sound too easy and too calculated at the same time. Rhythmic songs can be boring, too, and this a good example of that. Despite being stereotypical, Hurricane's look is quite impressive nevertheless (I thought I would finish on a positive note). Serbia could do better.'
Alvaro: Sanja Vučić, really? Is that you? How did you come from Goodbye (shelter) to this outdated, repetitive europop song. I see more girl empowering on Sanja's 2016 song than in Hasta la Vista's annoying chorus. Plus the performance looks chaotic and cheap.
This reflection article is based on the author's own personal experience. Views expressed belongs to him or her, and are to be seen as unrelated to EuroVisionary.com.