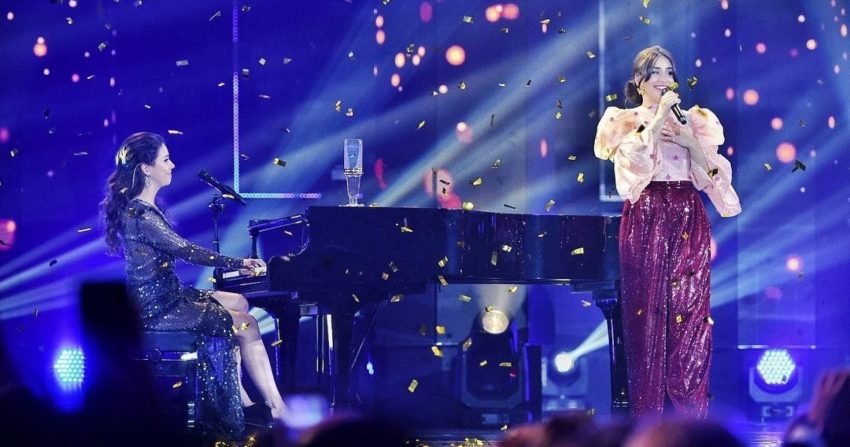 Elisa's heart broke in two when this year's contest was cancelled. She cried as a participant – and as a Eurovision fan. Would she have qualified for the final this year? It's hard to tell. Her song seems to be one that grow on people. 
Portugal chose their Eurovision representative through their national final, "Festival da Canção". 16 acts competed in two semifinals, but only 8 acts went through the final. The national final was co-hosted by Filomena Cautela who was also one of the hosts at the Eurovision Song Contest in 2018. Elisa came in second place in the jury and the public vote.  However, she got the most number of votes and was set to represent Portugal in Rotterdam in 2020.
I was very happy when I won the Festival da Canção and I was supposed to go to Eurovision. Marta (Carvalho, the songwriter) and I were very excited and then everything happened and it was a collapse. We understand the reasons and we agree but it is still sad for us. The day that I read the news I cried a lot (…)  I wrote on Instagram: "My heart broke in two as a contestant and as a Eurovision fan."

Elisa in an interview for Espalha Factos
The song, Medo da Sentir is an introspective ballad that talks about the fear of falling in love again, but what do an international panel of Eurovision writers think? Here is what our team thought about the song Medo de Sentir:
Giannis – I know I belong to the minority, but the Portuguese entry was one of my favourites. I find it classy and elegant. I like the fact that RTP insists on their native language and original songs.
Michael – Dreary boring totally out of style with current musical trends. Who can it be, oh yes Portugal.
Theo – I was left completely indifferent when I first listened to this song. Elisa looks very sweet onstage and I find that, this being a televised song contest, the visual contributes to the overall impression much more than most people realise or are readily willing to admit. Having listened to it again, the song sounds more pleasant than I remembered, too. Even so, I cannot see this as an entry that would have gone anywhere too far…
Elvir – Portugal left me totally unaffected after first listening. But having listened to it again and again, Medo de Sentir really grew on me and it is in my top 10 this year. The Portuguese entry is so sweet, soft and sophisticated and the Portuguese language is so melodic.
Josef – I am not fan of this style. The song may be good, but for me it is too boring. Elisa is a good singer, though. This year there were better songs to choose from in Portugal like Rebellion or Passe-partout. Rock and French-style retro song. Both better than Medo de sentir. Therefore I am glad that we will not see Elisa again next year.
Charlotte It's a nice melodic tune in an exotic language – and I like that. I however am distracted by that Elisa's vocal appears not strong enough for this song. That's a shame.
This reflection article is based on the author's own personal experience. Views expressed belongs to him or her, and are to be seen as unrelated to EuroVisionary.com.