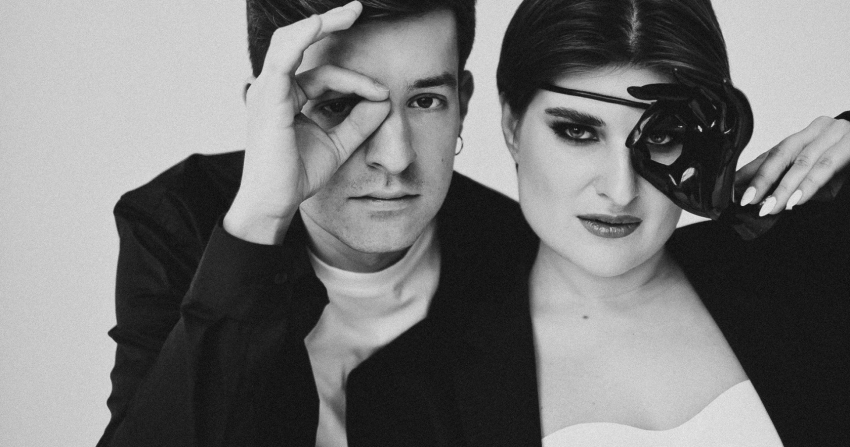 Belarus first entered the Eurovision Song Contest in 2004 and have yet to win. In fact the highest they have placed was in 2007 when Koldun placed 6th with Work Your Magic. This year they were hoping to do well with VAL and the song Da Vidna.
On February 28 2020, Belarusian Television (BTRC) held their National final, Natsionalniy Otbor, in the Belarusfilm studio in Minsk. Twelve acts had been chosen for this final, from 49 potential auditions that had taken place on January 27 2020. VAL performed last in the final, but ended up winning the competition, gaining second place from both the jury and televote. Yan Yorosh won the jury vote, CHAKRAS won the televote.
Valeria Gribusova is the lead singer of the band and Vlad Pashkevich is the keyboardist and producer. The duo released their debut album in 2017. Unfortunately the bookies did not anticipate Belarus changing their fortune with Da Vidna, as they had it placed 40th of 41 when the Eurovision cancellation was announced.
Da Vidna would have been the second entry ever at Eurovision to be sung in Belarusian, and is about a girl who has married someone who had not been her choice. She sings the song as if speaking to her twelve year old self. Da Vidna means Until Dawn, and the song implies that she has the arranged husband with her until dawn. Deep indeed. All this with a lightly upbeat tempo.
Here is what our writers thought of the song, Da Vidna.
Michael I find this song just floats by. It is neither horrible nor memorable, and for that reason would have been unlikely to make the finals. The duo do seem to be quite talented, so if they return next year, hopefully they will have a stronger song.
Elvir The Belarusian entry pretends to be a modern and catchy pop song, but it isn't: Da Vidna is predictable, boring and too old fashioned for my taste. Actually, I would say, it is pretentious. The fact that the the lead vocalist looks like a cheap copy of Róisín Murphy in Moloko's video "Sing It Back" doesn't do any good for the overall impression. Da Vidna is definitely in my bottom 5 this year.
Wouter So cheesy, I love it. Bonus points for singing in Belarusian.
Theo There are certain songs that one has to approach like a Quentin Tarantino film: treat them at face value and they come cross as peculiar, approach them with an alternative attitude and you might see the genius in them. (Ok, Tarantino is intentionally off the wall and I am not sure that's exactly how the Belarusian song came about but I choose not to let the analytical aspect of intention get in the way of a seemingly squared up analogy…) What else can I say… hmm…
Josef Belarus had a very unique piece in their national final. Chakras were TOP 10 material for the Eurovision final. But they rather went with so-called modern dance song Da vidna by duo VAL. There is actually nothing I like about it, only the fact they sing in their native language. Sorry Belarus, this year it is my bottom 5.