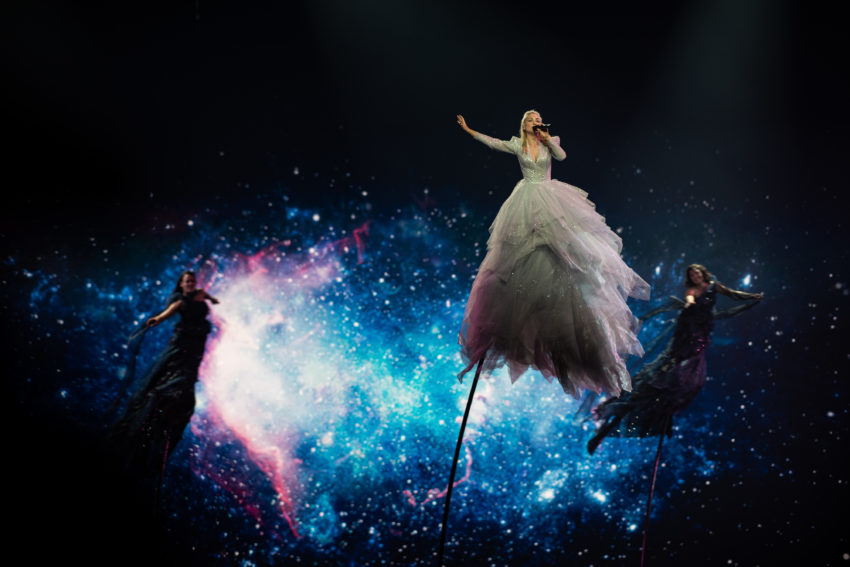 In Australia's 5th Eurovision appearance, Kate Miller – Heidke represented the country. With a performance that stood out and an unusual entry, she won the hearts of many Eurovision fans, but didn't manage to convince everyone.

In 2019, the Australian broadcaster SBS decided to hold a national final for the very first time to determine their representative for the Eurovision Song Contest. Hence they've held the first edition of Eurovision – Australia Decides on the 9th of February 2019. Out of 10 participants, Kate Miller – Heidke's Zero Gravity was selected best both by the jury and the televote with her super innovative piece Zero Gravity.
Kate Miller-Heidke won the first Semi Final in Tel Aviv with 261 points, and reached a 9th place in the grand final with 284 points.
Zero Gravity – Opinions from fans
In order to find out what Eurovision fans today think of this Australian entry from 2019, we asked our Eurovision Fan Panel. It includes team members as well as fans from all over the world.
🇩🇪 Pascal W. – My 2019 winner. This song should have placed higher in both the jury and the televote. The performance was SO innovative and out of this world. Also, her vocals were incredible and the song is soo good. I absolutely LOVE it.
🇮🇱 Adi S. – When I saw this at the national selection I hated it – it was too shrill and looked ridiculous. But They really worked on both these problems and turned it into the most beautiful stage spectacle in the competition's history.
🇩🇰 Charlotte J. – I was in a minority last year. I remember how many loved it in the national final, and how that number of people just got larger as the rehearsal video came out. I wasn't one of them. A year later, things haven't changed for me. I still don't like it. The performance stands out yes, but the song itself, I really don't like.
🇬🇧 Ashleigh K. – When I first heard this song I wasn't sure that I liked it. It felt like two different songs mashed together but the more I listened to it the more I liked it in an odd way. Then it came to the live performance and honestly what they did with the staging was fantastic and I'm still amazed and wonder how much work must have gone into it so that they didn't bang into each other. It's one of those songs where the performance made it.
🇳🇱 Frank S. – When I first heard the song I thought…."there we go again…a wannabe standout that doesn't do it"! But during the build-up towards the actual Eurovision Song Contest this song grew on me….a lot! I simply loved the performance and the song in the end and Australia really stood out of the field of contestants. I am happy with our win that year (🇳🇱), however, still surprised that this wasn't a top 3 finalist. They should have received more points in my opinion.
🇬🇧 Michael O. – Well this certainly upped the staging which will be a hard act to follow. A bit quirky in places but I really like it. It placed about its deserved position.
🇹🇷 Gunec G. – When I first heard the song, it was very strange to my ears. Kate's performance was rather weary for me to watch. But it is certainly a grower and now I find it one of the most iconic performances seen on the Eurovision stage. And nobody can deny that Kate is a very good singer.
🇨🇴 🇫🇮 Alvaro S. – Although this may sound a bit cliche, this is the type of song that grew from the national final to the moment Kate performed in Tel Aviv. It has the over the top props that people associate with Eurovision, which I find unnecessary most of the time, but one cannot deny that Kate's opera voice is really powerful. So thank you Kate for bringing back Australia's mojo after two not so good songs.
🇬🇧 🇹🇭 John E. – I usually love the Australian entries but this is my least favourite entry. I find the melody jarring and, for me, the pole gimmick, while clever, detracts from the song. Although she won her semi, I was not surprised with her final placing.
Enjoy Kate Miller – Heidke's performance from the 2019 Eurovision Song Contest in the embedded video. Below the video, you can read more about Kate Miller-Heidke.
A Mini Biography to Kate Miller-Heidke
Kate was born on the 16th of November 1981 in Gladstone, Queensland. She has a very rich musical education background finalised by a Master of Music degree at the Queensland University of Technology.
She has won many awards as a classical music singer throughout her career. A total of 5 albums have been released so far. Her debut album is Little Eve which was released in 2007.
In 2020 she released her latest album Child in Reverse. As an opera singer, she always expresses her interest and love towards pop music. Kate is married to guitarist and singer-songwriter Keir Francis Nuttall since 2007 and the couple has a 4 year old child together.