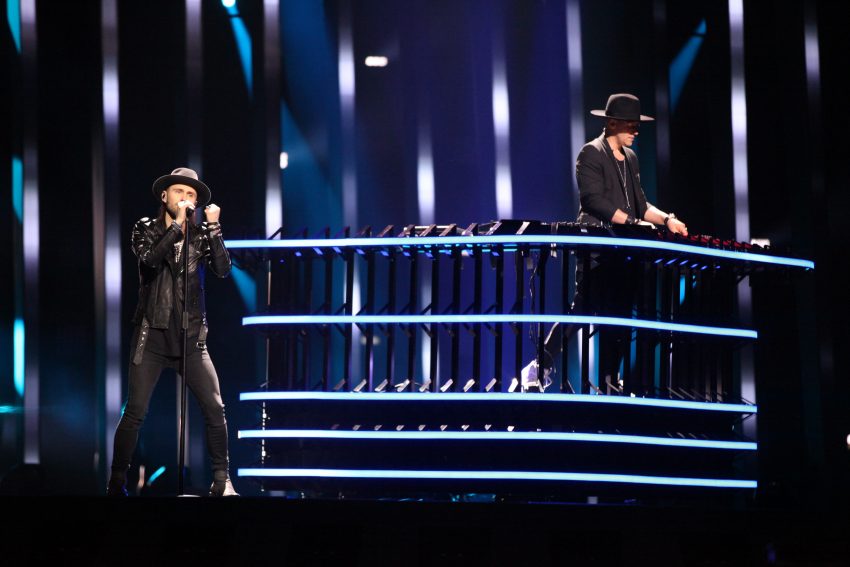 Poland made a very good start in 1994, becoming the runner-up with the legendary Edyta Górniak. However, things didn't go that well from time to time just like in 2018. Polish DJ Gromee and Swedish rock musician Lukas Meijer didn't get what they've expected in Lisbon in 2018.
The Polish National Final Krajowe Eliminacje 2018 organized by TVP took place on the 3rd of March 2018 at the TVP headquarters in Warsaw. The show was hosted by Artur Orzech. A five member jury consisting of Maryla Rodowicz, Tab, Jan Borysewicz, Kasia Moś (2017 Poland) and Stefano Terrazzino, a well as the public through televote, evaluated the 10 participants. After a 50/50 televote and jury voting, Gromee ft. Lukas Meijer won the National Final with their dance song Light Me Up and earned the ticket to Lisbon.
In Lisbon, the Polish team took the stage 11th in line in the second semi-final. Unfortunately, they had to stay at the semi-final after receiving 81 points and taking the 14th place. However, the song was a big success in Poland staying #1 in the charts for 4 weeks.
Light Me Up – opinions from fans
In order to find out what Eurovision fans today think of this Polish entry from 2018, we asked our Eurovision Fan Panel. It includes team members as well as fans from all over the world.
🇵🇹 Ines M. – The first thing that strikes me is a certain insecurity in the vocalist's voice. It is modern and contemporary music, with an electronic beat, which can easily be heard on the radio today. It is a pity that the vocalist's voice was unable to follow the instrumental 100%. In spite of everything, it is a song that easily makes us want to dance and pulls the audience for fun.
🇦🇺 Craig M. – This song is one of those songs where I really enjoy the studio cut, but found the live performance underwhelming. When I saw it live, I was disappointed to be honest. In fact, the staging for the whole performance was average. I think Lukas Meijer has a great voice for rock songs, but not for dance songs and that really showed in this case. And don't get me started on Gromee's snake move behind the DJ deck. What was that about? 🤣🤣
🇲🇹 Christopher D. – Musically the song was amazing, fresh, catchy, different from usual entries. The staging was simple but eye catching. Unfortunately the vocals on the night were horrible. The singer was really struggling during part of the song and his voice was out of tune. So I was not surprised of its non qualification.
🇩🇰 Charlotte J. – I like this one, and had it qualified for the final, not many objections would have been heard from me. But that second semi-final in 2018 was tough. In the first semi-final, I think it would have qualified, but who should it have replaced in the second one? Hungary's AWS was the 10th and last qualifier, and I don't think they should have been out. Then it's Serbia in 9th and Slovenia in 8th place… I like both of those too so. Hard to tell who should have been out instead of Poland. And actually, looking at the other ones that didn't make it, I see three other songs too, which I would have liked to see in the final. Poland had a good song that year. In that semi-final there was just 14 countries which deserved to reach the final, and only ten could make it.
🇵🇱 🇯🇪 Pawel J. – To be completely honest I quite liked the song up until the rehearsals started. For some reason the live performance wasn't what I expected. Lukas was noticeably a bit nervous on stage and the vocals weren't great. Such a shame because for a fun song like this it should have achieved much better results. Definitely not one of the best Polish entries.
🇬🇧 Michael O. If ever any entry differed so much from its recorded version to the live performance this is it. I guess we should expect that from dance music. Great record, absolutely excruciating performance on stage, those hand wavy things were as diabolical as the vocals. A huge disappointment.
🇫🇮 🇨🇴 Alvaro S. – Although it was not one of my favourites, I was expecting it get a chance to bright in the final. The melody has these summer vibes. Maybe was it too generic? Maybe we have already seen this type of summer hits before at Eurovision that it did not have the impact it could have had. Nevertheless, it is a good song on its own right.
🇨🇿 Josef S. – The song itself is pretty good, and I liked it in studio version. And that's the main problem. Lukas is not that of a good live performer. The backing vocalists tried to help, but it didn't work that much to push Poland to the final. And partially I am glad for that. Once Poland was almost always considered as a sure qualifier because of its Diaspora spread all over Europe. But Light Me Up is slightly better than similar DJ+singer style of Finland 2019.
🇩🇰 Alberte B. – I do not like this song at all. I completely understand why it wasn't placed any higher, because I can't stand it.
🇪🇸 Mária P. – It's not a song I like, not that I hate it either, just a song which doesn't attract much my attention, so I thought that in the contest it would pass unnoticed for me. But finally it was worse than that because that awful live performance couldn't pass unnoticed. I don't know if it was due to nerves or to lack of professionalism, but they were out of tune most of the time. No surprise that it didn't qualify.
🇹🇷 Gunec G. – Many people say the live performance was bad, but I really can't see that. I love the modern, refreshing sound, Lukas' worthy performance and mostly Gromee's smiling face 🙂
Enjoy Gromee and Lukas Meijer's performance from the 2018 Eurovision Song Contest in the embedded video. Below the video, you can read more about them.
Gromee – a mini biography
Andrzej Gromala aka Gromee was born on the 14th of December 1978 in Kraków, Poland. He is a celebrated musician in his home country. He is a DJ and a record producer. He is the owner of Kingztown Music. He won the Best DJ / Producer Award at the Eska Music Awards in 2017. In 2018, he represented Poland featuring Swedish artist Lukas Meijer with his dance tune Light Me Up. 
Gomala shared stages with stars like Steve Aoki, Eric Clapton, Sting and Mariah Carey. In 2019, he wrote the song Common Joy which was performed by all the Junior Eurovision participants of that year. He released his only album, Chapter One, in 2018. Andrzej has released many singles as a solo artist, and cooperating with different artists such as Jesper Jenset and Edyta Górniak.
Lukas Meijer – a mini biography
Lukas Meijer was born on the 21st of August 1988 in Ulricehamn, Sweden. Earlier in his life, he graduated from Tingsholm High school and Uppsala University. He practised ice hockey and was about to sign a hockey contract, but he decided to be a musician His brother Sebastian Meijer is a professional ice hockey player. Currently, he works as a guitarist, rock musician and songwriter. He is the vocalist of the Swedish Rock band No Sleep For Lucy. He represented Poland in the Eurovision Song Contest with Gromee with the song Light Me Up.