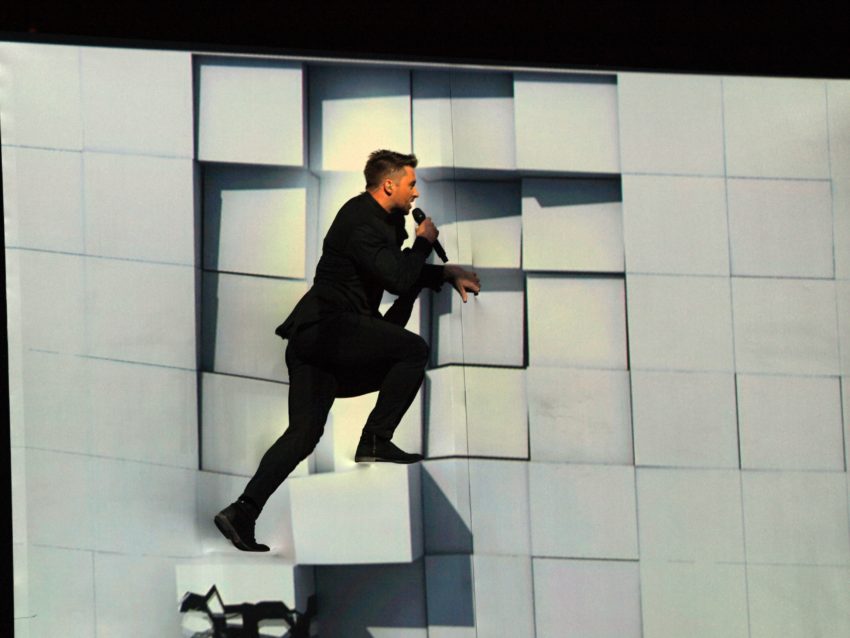 Sergey Lazarev represented Russia for the first time in 2016. He provided us a memorable performance which included many visual effects. Four years later, fans react to this entry, and wonder if perhaps, the show overshadowed his song. 
For the 2016 Eurovision Song Contest, Russian broadcaster VGTRK internally selected the Russian representative. In December, 2015 they announced that Sergey Lazarev would represent his country in Stockholm. In March 2016, the song You Are the Only One was presented as the Russian entry with a supporting music video. Sergey Lazarev performed his song helped by outstanding visual effects in his music video. However, this would be just an appetiser of what was to come.
Sergey Lazarev performed You Are the Only One in the first semi-final.  He won the semi-final with 342 points and thus qualified for the final, where he was set to perform as 18th in the running order.
During his performance Sergey Lazarev wore a black costume. He sung You Are the Only One and interacted with the led screens at the same time. During the song he climbed the screen which displayed 3D images. Sergey ended his performance on top of the screen.
After the votes from the televote were announced Russia came in first place with 361 points.  However, the song ended in fifth place in the jury vote. Overall, Sergey Lazarev ended up in third place with 491 points.
Philipp Kirkorov, Dimitris Kontopoulos, John Ballard and Ralph Charlie wrote You Are the Only One.
You Are the Only One – opinions from fans
In order to find out what Eurovision fans today think of this Russian entry from 2016, we asked our Eurovision Fan Panel. It includes team members as well as fans from all over the world.
🇩🇰 Charlotte J. – This is one of Russia's best entries, and it's certainly Sergey's best entry. It's extremely catchy, interesting and well performed. I am not a fan of him, and probably never will be, but this one, I love. Great song from Russia – for them, it was just a shame that 2016 had several potential winners. In 2015 or 2017, it would easily have won.
🇷🇸 Milosav T. – Let's face it, if it weren't for all those special effects, this would never reach top 5. And that's exactly the problem with this song. Sergey is a good singer, but all through his performance, he seems focused on getting through his choreography without falling and looking into the cam at the right moment, and that kind of ruins it to me. The songs is a typical Eurovision song and his voice is solid, but I'm afraid that minus the performance this is barely a final qualifier.
🇬🇧 Michael O. – Well isn't this just the performance where staging finally was more important than the song. How Russia has evolved from Phillips entry from 1995. Take away the theatrics, this is a good enough song, sung by a charming singer, but there's no denying it, it was beat by the correct two songs.
🇮🇪 John D. – This had so much cheese and hype that I hated it weeks before the contest. However, it has since become one of my all time Eurovision favourites. The staging was an obvious attempt to better Sweden's winner from the year before and, for me, I think it managed that. The song itself lacked any soul compared to the winner from Ukraine that year but it gave it a good run. He also didn't have the vocal range of Dani who came second but I much prefer this to his other third place in 2019.
🇨🇴 🇫🇮 Álvaro S. – This song has a 20 out of 10 in performance but the song could have been better. It sounded outdated for 2016 and the comparisons with the winner from the previous year also affected Sergey's chances to win. It deserved its first place on the televote of course for the great show though.
🇨🇿 Josef Š. – Russia's Sergey Lazarev was a contender to win back in 2016 and let's be honest – it was a winning performance on the night. Flawlessly sung, catchy melody, super creative staging and a memorable choreography in align with the staging. This is what we call a full package. And that's exactly what Sergey delivered in Stockholm.
🇬🇧 Mhairi O. – I really like Sergey and I loved this song but now listening to it I can see why it didn't win. I was glad he came back and I would love to see Russia win with a Sergey song.
🇳🇴 Steinar M. – The good things: It is feel good, unpretentious and catchy. Easy to like. And I suppose there is still a place for music like this. But I think it would have worked much better if it was entered many years earlier. This "almost schlager style" was a bit too dated and "Eurovision-cliche" by 2016. And I am really happy it didn't not win, as it is not the song to "Move ESC forward" musically, like 1944 was. AND it had a far too OTT stage performance. Too much looking like a music video. Eurovision should be about music, not visuals, and the visuals became too strong here. So I am glad music won in 2016, and not a visual stage show.
Enjoy Sergey Lazarev's performance from the 2016 Eurovision Song Contest in the embedded video. Below the video, you can read more about him.
Sergey Lazarev – a mini biography
Sergey Lazarev was born in Moscow, Russia in 1983. He is a singer, actor and dancer.  Sergey started his music career when he was only a child. He was part of Neposedy, a kid's music group whose past members included not only Lazarev but also t.A.T.u. (Russia 2003) and Kristian Kostov (Bulgaria 2017).  Furthermore, he was a member of the pop duo Smash!! until 2006.
Mr. Lazarev represented Russia at Eurovision for the first time in 2016. He won the televote and got a 3rd place. Three years later, he came back to Eurovision in Tel Aviv where he again ended up in third place.
Over the years, he has released to date seven studio albums as a solo artist. In September, 2020 Philipp Kirkorov who represented Russia in the Eurovision Song Contest 1995 and is also the man behind many Eurovision hits said to the press that Sergey Lazarev is planning to return to Eurovision at some point and win the contest altogether.