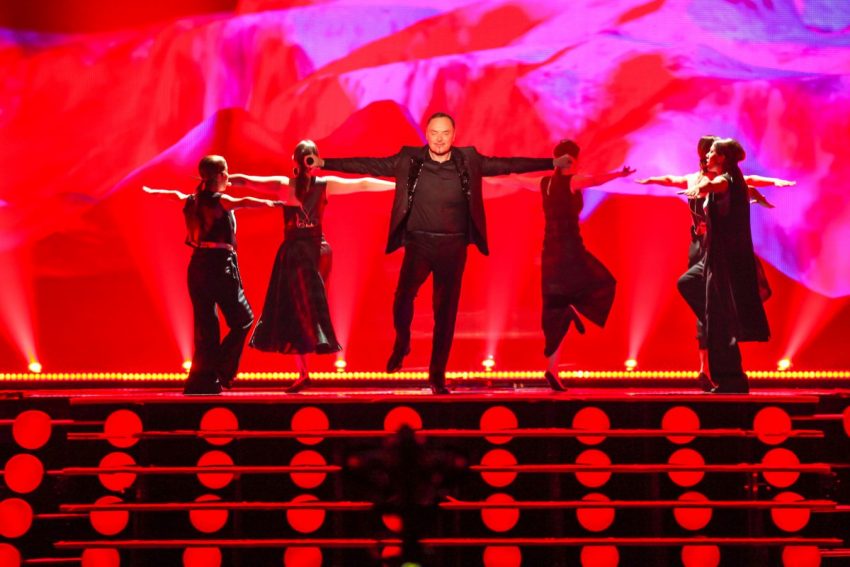 Montenegro will be performing 4th in the upcoming Second Semi Final this Thursday. The country is represented by Knez with the song Adio. Are there any changes since the country's first rehearsal? What is the impression left by the song amongst the other entries in the running order? We try to answer your questions reporting live from inside the hall of Wiener Stadthalle.
We are not shown the introduction video for Montenegro. As the presentation starts, there is not doubt that entry looks and sounds distinctly different to those of the three preceding countries. There is an impression of water on the stage floor that looks a new addition to me (if I had noticed before, I've forgotten) as well as a bright red beam on the edge where the floor meets the background wall, which gives a sharp edge visually to the stage. It is nice to see that Knez looks happier on stage, smiles more and accompanies his performance with expressive (but not over the top) arm movements. Yes, I don't think I am wrong, the presentation, while keeping its main elements from Montenegro's first rehearsal, has changed for the better and still looks classy but a bit more dramatic and exciting than before. As the first run is drawing to a close, I am thinking that I am enjoying listening to this and the same must apply for other people inside the press centre, too, as they give the song a round of (moderate but nevertheless) applause. Knez gets applause inside the hall, too, and looks quite pleased with his performance. Based on what I have seen so far, Montenegro is the likelier candidate to make it to the final.
Montenegro had five unsuccessful attempts in the semi finals until, like San Marino, managing to progress to the final last year.
Our video from Montenegro's second rehearsal can be seen below.