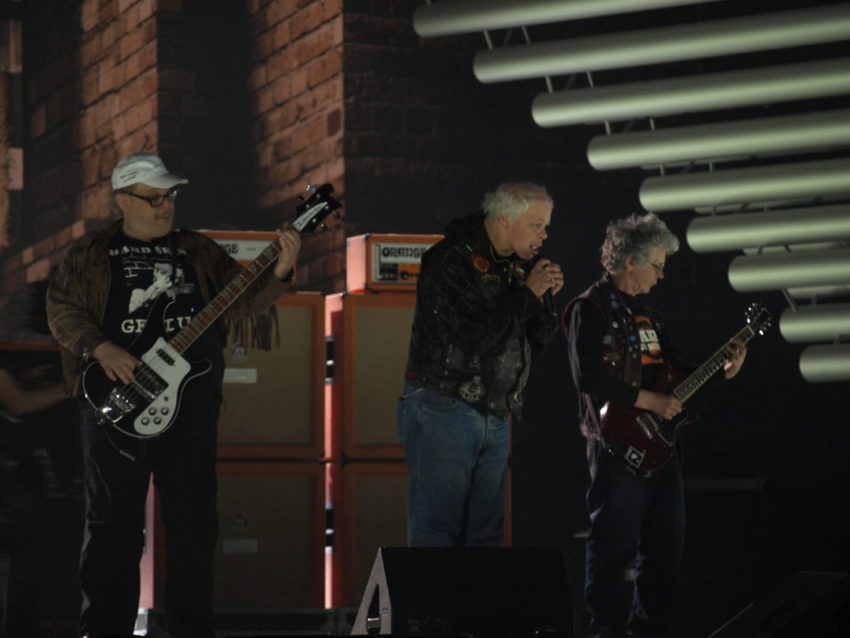 In 2015 Finland broke the record for the shortest song in Eurovision. The band Pertti Kurikan Nimipäivät participated with their punk-rock song 'Aina Mun Pitää'. With one minute and twenty seven seconds Finland broke a record held by the United Kingdom since 1957.
For the 2015 Eurovision Song Contest, Finland chose their representatives through UMK, their national selection for Eurovision. The punk-rock band Pertti Kurikan Nimipäivät (PKN) won by a large majority the televote and were ready to represent Finland in Eurovision. The act caught the attention of the media and fans outside Finland after they knew about their personal backgrounds. PKN represented the values of diversity of the Eurovision Song Contest in many different ways. They did not only sent a punk-rock entry (an underrepresented music genre in Eurovision), but all the members of the band had development disabilities.
Before the Eurovision Song Contest, the Finnish entry had attracted some media attention. Furthermore, they were one of the early favourite acts to win the song contest altogether according to the betting odds. Therefore, their early elimination was shocking for some.
PKN sung in the first semifinal of the Eurovision Song Contest held in Vienna. The band ended in 10th place in the televote. However, the jury vote put them in last place with only one point. Overall, Finland finished in last place in the first semifinal with only 13 points. The song talks about the lead singer's frustrations and anger for not having control of some parts of his life because of of his health condition.
Pertti Kurikka who is also the lead member of Pertti Kurikan Nimipäivät wrote the lyrics for Aina Mun Pitää.
Aina Mun Pitää – opinions from fans
In order to find out what Eurovision fans today think of this Finnish entry from 2015, we asked our Eurovision Fan Panel. It includes team members as well as fans from all over the world.
🇫🇮 Martti I. – Finland have tried with various styles and genres. They are not often the entry people are talking about. I find that Finns did choose their entry wisely. From time to time it is good to rock the boat and maybe shock the audience. Music belongs to everyone and is quite simply a functional language of its own. PKN had plenty of gigs in Europe, its own fanbase and yes it was sure time for even this in Eurovision. I liked the message "I always have to".
🇩🇰 Charlotte J. – I can't agree with myself on whether or not it's fair to judge this song in the same way as any other song. I have the greatest respect for them, and what they do – despite their challenges. However, as they do compete in the Eurovision Song Contest on the same terms as everyone else, I choose to base my opinion on that too, and unfortunately, I don't like it. I like a good rock song, but this is just noise in my opinion.
🇹🇷 Güneç N. – Finland's 2015 entry has a very dear social message. The band and the Finnish broadcasters deserve a big applause for their courage to speak up for people with Down syndrome. It was very good to see them having their dreams come true on stage. As per the musical side of the case, I would rather say the song was not my cup of tea, sorry…
🇪🇸 Mária P. – It is not a song that I like, mainly because I don't like punk music, but it's not the song I liked least in 2015. In fact I don't find it to be a very bad punk song, but just one more punk song. And as it is very short, there is no much time to get fed up with it. Trying to be objective, I didn't expect it to qualify, but it didn't deserve the last place in its semifinal either.
🇮🇪 Paul K. – This one is probably the hardest out of all the reviews! One thing that I love about this is that the band are unique and I love how they were given the chance to come to Eurovision, and I think it is important that everyone is represented at Eurovision, so I'm glad that they were there. Unfortunately, I'm not the biggest fan of the song. I'm not a big rock/heavy metal fan so that was one reason why but I wasn't a fan of this unfortunately. It's hard cause I like the band but I'm not a fan of the music aspect!
🇬🇧 Ashleigh K. – I appreciate that Finland wanted to do something different here and this song had a strong message but this is not my cup of tea at all… it's just noise and screaming.
🇨🇾 Elena T. – Very interesting song, especially for Eurovision. It is nothing that we are used to hearing but it is a great effort by Finland. I enjoy diversity and Finland definitely offered us that! It also sends a great message: all people should be given equal opportunities! Well done Finland!
🇬🇧 Michael O. – Sorry but I just don't like this at all. Nice band, but a horrible noise.
🇳🇱 Eric O. – This song was high on my list of WORST Eurovision songs ever. Though I appreciate diversity at Eurovision, I don't think this song should have been sent in by Finland. It wasn't a song, but complete, horrible noise, at least in my opinion and in that of both juries and televoters, as it hardly got any points, so it deserved to end last in the 1st semi-final. Luckily, Finland did come up with much better songs in the years after, with Saara Alto as one of my favourites (though it didn't do well in the Grand Final of 2018, unfortunately).
🇨🇴 🇫🇮 Álvaro S. – This song is the living proof that time is relative. To be the shortest song in Eurovision, it feels painfully long. I wish them all well in their lives and they are an example of how people can overcome obstacles in spite of societal barriers and personal problems. But their song just does not sound right for me.
Enjoy Pertti Kurikan Nimipäivät's performance from the 2015 Eurovision Song Contest in the embedded video. Below the video, you can read more about them.
Pertti Kurikan Nimipäivät – a mini biography
Pertti Kurikka, Kari Aalto, Sami Helle and Toni Välital forms Pertti Kurikan Nimipäivät (PKN). Lead singer Pertti Kurika put name to the band. The band members met in a workshop aimed at persons with developmental disabilities. The lead singer has autism while the other three band members have down-syndrome.
In 2012, PKN were the main focus of The Punk Syndrome, a documentary that follows the band struggles in their everyday's lives at their homes and as music artists. The film received positive reviews for raising awareness about mental disabilities in a positive manner. It also won several awards including the SXGlobal category at the SXSW festival in Austin, Texas. In 2017, a second film called Tokasikajuttu (punk voyage) was released. The film follows the band Eurovision journey.
In 2016, the band disbanded after the lead singer and guitarist Pertti Kurikka turned 60. Nevertheless, they had a special reunion for a charity concert.