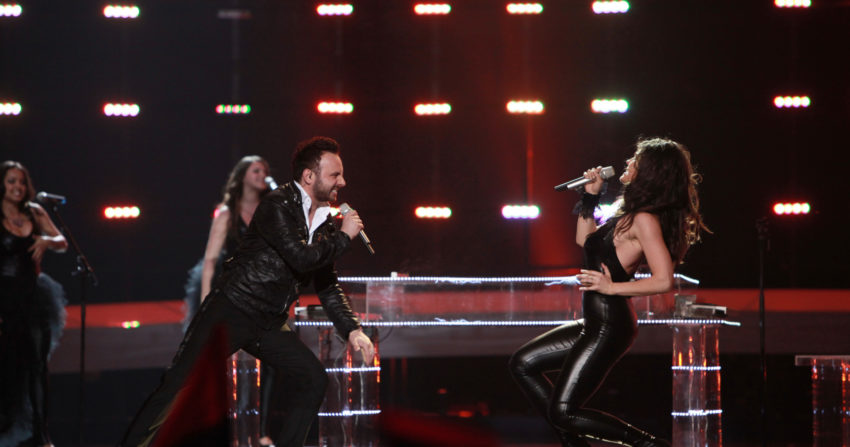 Twice have Romania finished 3rd at the Eurovision Song Contest. Those are the best results yet achieved for the country still waiting for their first win. Paula Seling and Ovi's 2010 entry is still well remembered, and asking fans today, their 3rd place fully deserved.
On the 6th of March 2010, Romania held their national final Selecţia Naţională for the 2010 Eurovision Song Contest. 16 acts took part. With the song Playing With Fire, Paula Seling and Ovi won with Hotel FM (Romania 2011) in second place.
At the Eurovision Song Contest, Paula Seling and Ovi qualified for the final following a fourth place in the semi-final. In the final, they would improve this result, and finish third, matching Romania's best ever Eurovision result. They received points from 29 of the 38 other countries taking part. This included 12 points from Moldova, and 10 from Norway, Sweden, Portugal and Spain.
Playing With Fire – opinions from fans
In order to find out what Eurovision fans today think of this Romania entry from 2010, we asked our Eurovision Fan Panel. It includes team members as well as fans from all over the world.
🇬🇧  Kat H. – This entry deservedly holds Romania's joint best place in Eurovision. In what I feel was a really strong and diverse year, I was pleased that Paula and Ovi rounded out the top 3. These two sound excellent together and the melody of the song is very catchy. It's a small thing, but the change in piano from black and white yin yang style in the national final to the transparent double keyboard at Eurovision was poor. It didn't have the same effect for me and they missed a potentially winning trick by not having flames in the central section ala The Make Makes in 2015 (Austria 2015).
🇩🇰 Charlotte J. – This is one of the most catchiest songs ever at the Eurovision Song Contest. I will forever be unable to get this out of my head, and honestly I don't mind. The song is quite strong, the performance brilliant and they match each other well. This was my personal favourite in 2010, but it was a strong year. In 2011, this would probably have won.
🇬🇧 Michael O. – Now this is how to perform and stage an entry, although Ovi did pronounce his words wrong in the first verse. Nevertheless an upbeat entry which deserved its high placing, and this had one of the best backing groups ever.
🇨🇿 Josef Š. – Paula Seling and Ovi, both their Eurovision entries are among my favourite songs from Romania. This duo matches perfectly with their voices so the harmonies are really good. On top of that they are both great musicians and well trained. Paula has obviously some classical background as she nails her high notes for which she is praised among fans. Playing With Fire is an iconic performance and the result was well deserved. I just love it and still play this song in my Eurovision playlist. ❤
🇩🇪 Pascal W. – 2010 was the first time I watched Eurovision. Romania was one of my favourites back then and this song is still one of my favourite entries from Romania (and so is their 2014 song, but I like 2010 a bit more). This is such a great tune – their voices go so well together and her high notes are epic.
🇬🇧  Ashleigh K. – Paula and Ovi gave a really good performance in Norway. The staging is great, I loved the double piano and both Paula and Ovi gave a good vocal performance though Paula was the stronger vocalist from the two. They had good chemistry. The only thing I don't feel is the melody… Maybe this is my 2020 ears speaking but the melody sounds a bit cliche and cheesy.
🇨🇴 🇫🇮 Alvaro S. – Playing With Fire it is in my opinion their best attempt from this duo. I like how Paula and Ovi's part on the song fit so nicely, like if we were watching a 3 minutes musical. The music is very fluid and they perform so naturally that even the double piano does not look like an over the top stage antic.
🇹🇷 Güneç G. – I've always found Romania a very powerful country in Eurovision. This was one of the best performances in the 2010 edition. Especially Paula's voice show remains unforgettable to me. Well deserved 3rd place.
🇦🇺 Vivienne F. – I really liked the intro with the pianos, then the added drum beat and the verses were good. I enjoyed the wooohhhs oooohhhhs and the aaahhhs, and the playfulness of the song, but the chorus was mediocre for me, Playing With Fire, one desire, sort of hoo hum lyrics, and monotonous. Paula has a great voice though, and those high notes were amazing. However it's still memorable, but I don't really hum it around the house.
🇷🇴 Doina A. – Playing with Fire is worth listening too and watching! The rhythm is growing during the performance and the special effects are great, impressive!! The sounds of the two pianos are so clear, yet strong and unforgettable!
Enjoy Paula Seling & Ovi's performance from the 2010 Eurovision Song Contest in the embedded video. Below the video, you can read more about them.
Paula Seling and Ovi – a mini biography
When Paula Seling took part in the Romanian national selection for the first time in 1998, her career was already beginning to take shape. She had won awards, and just released her first album in English Only Love. She placed 4th at that national final with the song Te Iubesc. Years later, Paula would make it to Eurovision twice – both as duets with Ovi; first time in 2010 coming third with Playing With Fire, and then again in 2014 where their Miracle placed 12th.
Over the years, Paula has released more than 13 albums, taken part in the Romanian edition of 'Dancing with the stars', been a judge on X-Factor in Romania and collaborated with several well known Romanian and foreign acts such as the 2009 Norwegian Eurovision winner Alexander Rybak.
Ovi, whose real name is Ovidiu Cernăuţeanu, is also Romanian of heritage, but moved to Norway in 1995 where he uses the stage name Ovi Jacobsen or just Ovi. He has taken part in the Norwegian national selection Melodi Grand Prix several times. First time in 2006. He has however never managed to get to represent Norway. His only two Eurovision participations are with Paula Seling in 2010 and 2014 representing Romania.