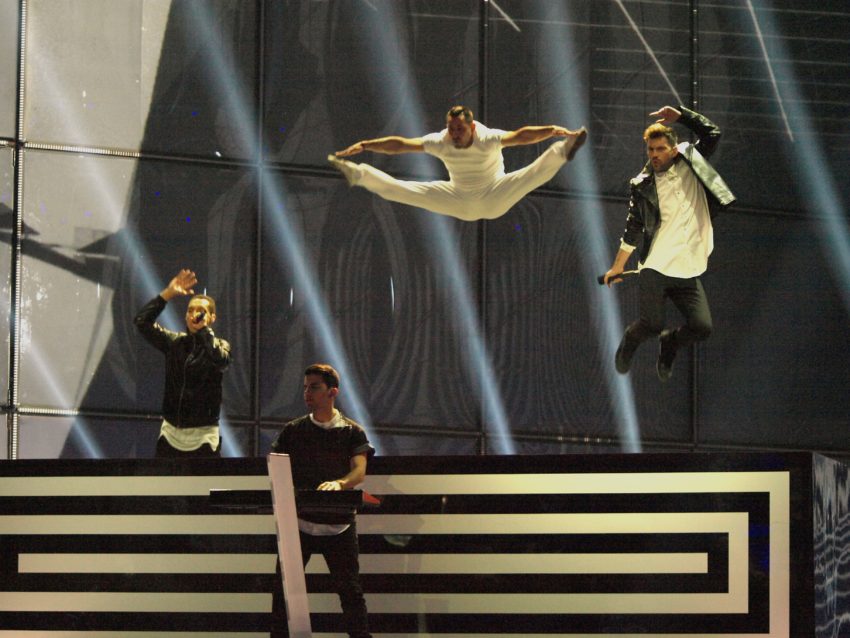 Greece has scored many successful results in Eurovision throughout their 41 participations since 1974, especially after the 2000s. One exception was in 2014, though many fans, seven years later, really like 'Rise Up'.
In August 2013, after the Greek government shut down the radio and TV services of their official broadcaster ERT, this rose question marks on Greece's participation in Eurovision. EBU gave their support to Greece for their participation and upon this, Greece formed a new broadcaster NERIT which confirmed Greece's participation in Eurovision Song Contest 2014 on the 5th of November 2013.
NERIT organized Eurosong 2014 – a MAD show to select their representative in Copenhagen. The national final took place on the 11th of March 2014 and was broadcast by channel DT. The up-tempo energetic song performed by Freaky Fortune feat. RiskyKidd Rise Up won the National Final among 3 other competitors by a 50/50 combination of televotes and jury votes. The jury consisted of Dimitris Kontopoulos (producer), Elpida (Greece 1979 and Cyprus 1986), Themis Georgantas (TV producer and radio host), Areti Kalesaki (DT Public Relations representative) and Reggina Kouri (Head of Public Relations for MAD TV)
In Copenhagen, Denmark the team took the stage in second semi-final 13th in line. After their hyper energetic performance of their up-tempo song Rise Up, they received 74 points and placed 7th which meant qualification to the final. Eventually, they received 35 points and placed 20th.
Rise Up – opinions from fans
In order to find out what Eurovision fans today think of this Greek entry from 2014, we asked our Eurovision Fan Panel. It includes team members as well as fans from all over the world.
🇩🇰 Charlotte J. – I didn't like this at all back in 2014, but over the years, I have learned to accept it. In fact, nearly seven years later, I am finally at the step where I can sort of say that I actually like it… Damn, I should stop listening to this as otherwise, I will love it in about 10 years 😁
🇧🇦 Nihad B. – OMG, an amazing song! I used to work on a radio station, and as you can imagine Eurovision hits were on my list frequently. However, every time I played this song, the reactions were awesome … and mind you, it was 2-3 years after the competition. An amazing song, energy and presentation… 10/10! One of my favourites that year and overall.
🇨🇿 Josef S. – Rise Up is a song that is not vocally perfect, but who the hell cares when it's such a party and dance song? It had one task: to make people dance and happy which it did for sure. Greece can be happy, just as the viewers at home and in the arena. And you know what? This is also one of the things that Eurovision is about.
🇹🇷 Gunec G. – This was one of my favourites in 2014. I love the energy of the boys on stage and how they reflect it to the audience. And I like the song, very catchy and danceable. I love listening to it during workout or cleaning the house, great motivation 😊
🇫🇮 Martti I. – Well normally Greece brings elements from its own rich heritage, but not this time. This was a real bomb, that for sure rose the roof of this arena. So this party song did function and brought the needed energy to this contest. Yes, I liked the song and play it with pleasure from time to time, but Favourite Song of the Contest, it wasn't. I had several other favourites that year.
🇳🇴 Steinar M. – After having watched this video, the first thing which struck my mind is how fun it can be to watch Eurovision live. As for the song, I like it, It's joyous, fresh, danceable and catchy. Always nice to see instruments on stage in Eurovision. And a charismatic performance. The only negative thing for me is that it is not so original, and the production could have been somewhat sharper.
🇨🇴 🇫🇮  Alvaro S. – Oh boys why? This was in my Top 10 before the shows and I still love this song because it has this summer feeling. But their live performance, specially RiskyKidd's was far from perfect. You can even hear that RyskyKidd is losing his breath while singing. That was even worse on the last part when they were jumping and singing at the same time. Not a good idea. The studio version of this song is 1000 times better.
🇬🇧 Michael O. – When I saw this live in the Arena, I couldn't see how it could be beaten, but believe me the television version of it didn't even come close to doing it justice. Having said that and moving on in time, it was a fair but nothing special entry.
Enjoy Freaky Fortune and RiskyKidd's performance from the 2014 Eurovision Song Contest in the embedded video. Below the video, you can read more about him.
Freaky Fortune – a mini biography
Freaky Fortune is a Greek musical duo consisted of vocalist Nicolas "Nick" Raptakis (Born in Athens 30th of April 1990) and producer Theofilos Pouzbouris a.k.a. Teo Buzz (Born in Athens 9th of February 1991). They made their breakthrough by a Katy Perry Cover of Part Of Me in Perez Hilton cover competition. After their cover success, they released three singles: Our Destiny, Stronger and All I Need. In 2014, the duo represented their country in the Eurovision Song Contest with their song Rise Up. They teamed up with British born Greek rapper RiskyKidd.
RiskyKidd – a mini biography
Schane Schuller a.k.a. RiskyKidd was born in London on the 17th of June 1994 to a German father and Jamaican mother. The family moved to Greece eventually. He represented Greece with Freaky Fortune with their song Rise Up in 2014. He has released two albums (I'm Risky and I'm Risky II) and many singles since 2011.