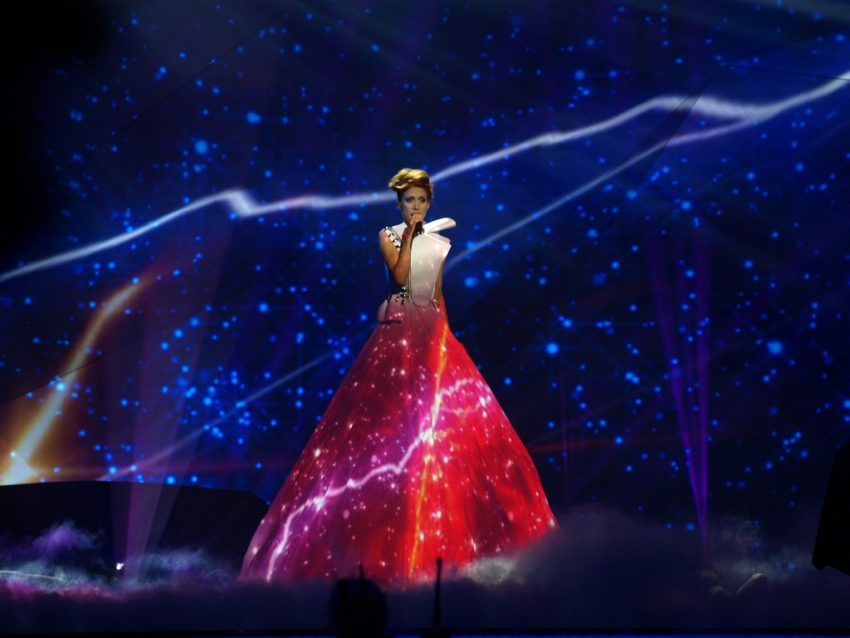 In 2013, Aliona Moon represented Moldova with the power ballad 'O Mie' where she finished the competition in 11th place. The performance will be remembered, but did Moldova deserve better than they got?
Having been the backing singer for the Moldovan entrant the year prior, Aliona Moon and her O Mie was selected through O Melodie Pentru Europa. The national selection show consisted of two semi-finals and a final. Originally sang in English, it was decided that Aliona would compete with a Romanian language version of the song.
O Mie was written by 2012 Moldovan competitor Pasha Parfeny with the lyrics written by Iuliana Scutaru. During the performance Aliona wore a 5 metre long dress which had lights projected against it. Aliona, who stood on a rising podium was raised slowly higher as the song was performed. Unfortunately for Aliona, she wasn't the only artist to use this technique in their staging. The same year Romania's entry Cezar also used a very similar effect.
O Mie – Opinions from fans
In order to find out what Eurovision fans today think of this Moldova entry from 2013, we asked our Eurovision Fan Panel. It includes team members as well as fans from all over the world.
Craig M. – Love this song that was composed by Pasha Parfeny. After appearing at Eurovision in 2012, it was a nice touch for Pasha to be back and sitting at the piano. While this time Aliona got to be the star. (After being Pasha's back-up singer). Fantastic staging and dress with the lightning projections. Love that this song was sung in Romanian, which is such a beautiful language to sing in. Such a beautiful melody and incredible high notes at the end! Definitely worthy of 11th place and could've really been higher in the rating 😁
Erman Ö. – Actually I love Opera-pop style songs, especially Slovenia 2007 (Alenka Gotar) and Sweden 2009 (Malena Ernman's La Voix) are ​​among my favorite songs. O Mie is also opera pop style but despite Aliona's beautiful voice, I don't like the song. Aliona's song reminds me of Romania's song It's My life from 2013 by Cezar, but Cezar's song is stronger than Aliona's song O Mie. It is also a handicap that the song is not in English. If the song is not in English, the music of the song should be very good. Moldova 2013 is a little short in this regard.
Ashleigh. – There were so many great entries in 2013 that on the night I didn't appreciate this song much. But when I watched the show again this became one of my favourites. I'm not sorry that they opted to use the Romanian lyrics for Eurovision but I did think the English lyrics were clever how they referred to the Maya and how it was the end of the world for her because her lover was gone, as when this song competed was in 2013 when the Maya predicted the world would end. This was lost in the Romanian version of the song.
Andrew G. – The song that got out done by the led rising dress. Nobody really talks about the song due to the last minute of the staging. It's an enchanting charming song. Performed with passion. Placing 11th in the grand final is a worthy spot with so many great songs in 2013.
Alvaro. – Although I don't understand the lyrics, Aliona's voice sounds passionate, specially in the chorus of the song. The melody has a serious, dramatic tone that is ruined, at least to me with that strange outfit. Who thought it was a good idea to dress Aliona as a vulcano? It is confusing and it does not add anything of value to the powerful song. Otherwise one of the best entries by Moldova.
Mária P. – Many songs which win their national final in their national language are eventually sang in English in the contest. This time it was exactly the opposite, something I appreciated a lot because I love that countries show their identity and soul. Nice song and good performance, but I think the show with her dress was unnecessary. Fair result.
Charlotte. – I do hear the quality in this song, and I enjoy watching the performance too. The dress trick is really well made. Unfortunately, it's one of those songs, which I forget about afterwards. I do like the song, when I hear it. It just doesn't stand out enough for me to remember it. The dress, I remember, but never which song it actually was from.
Michael. – This was a case of a song coming to life on stage. While the previews had it as an also run, after the semis it was a sure fire qualifier. Aliona's personality let it shine.
You can remind yourself of Aliona Moon's entry O Mie by watching the video below. Below the video you can read more about her.
Aliona Moon – A mini biography
Aliona Moon was born as Aliona Munteanu in Chișinău, Moldova in 1989. After participating in some TV talent shows Aliona joined the band Thumbs Up which lasted for around two years before eventually disbanding.
In 2012 Aliona went to Eurovision as a backing singer for Moldovan entry Pasha Parfeny. Pasha returned the favour for Aliona the following year where he played the piano for her entry O Mie. 
The year after she competed in Malmö Aliona took part in The Voice Romania, but not as a judge as would be expected but as a contestant. Singing Beyonce's Halo, Aliona managed to turn the seats of two coaches, Smiley and Marius Moga, both popular Romanian singers and producers. She chose to go further with Smiley because, as she said, she loves to smile.
Five years after competing in Eurovision, Aliona married musician Vova and regularly posts the travel adventures they enjoy on Instagram.