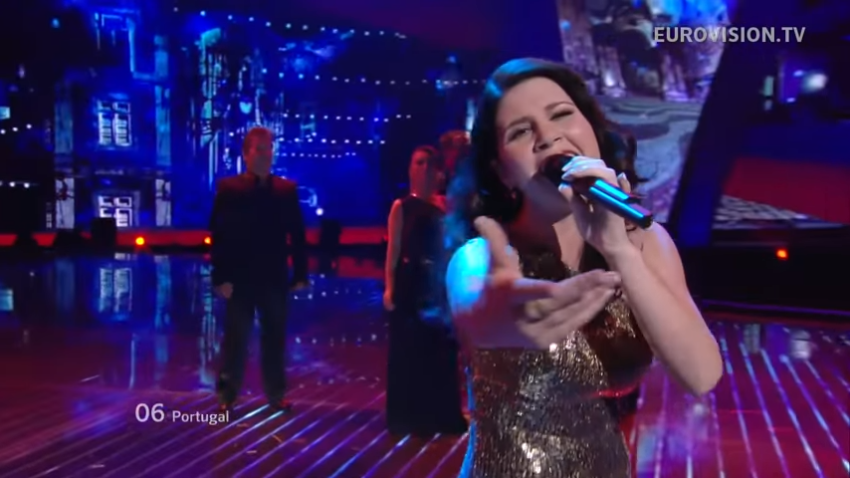 Portugal has been a loyal member of the Eurovision family since 1964 with 52 participations. Eight years ago, Filipa Sousa represented her country, but unfortunately failed to reach the final.
In 2012, Portuguese broadcaster RTP held their traditional national selection Festival da Canção's 48th edition. On 10th of March, 12 entries competed in the final of the festival. Eventually, Filipa Sousa earned the honour of representing her country in Baku, Azerbaijan with top points from both a professional jury and the televoters.
In Baku, after her performance in the second semi final, Filipa sadly couldn't make it to the grand final. She came 13th with 39 points.
Vida Minha – Opinions From Fans
In order to find out what Eurovision fans today think of this Portuguese entry from 2012, we asked our Eurovision Fan Panel. It includes team members as well as fans from all over the world.
🇬🇧 Michael O. – I hate to say it, but year after year Portugal just passes me by. This sounds in places a little like Portugal 2008 which I loved, but sorry to say I just feel this is more like some easy listening from the fifties. Great country but useless at Eurovision.
🇵🇹 Linete A. – A very strong Portuguese song that was very underrated that year. Filipa sang the song with a lot of character and power! She has a beautiful and powerful voice and the song deserved to pass on to the finals. It has a very Portuguese instrumental part with the guitars that even remind you of Fado – very traditional Portuguese style of song. I liked it, but not my favourite Portuguese entry. Filipa was beautifully dressed and back vocals were well interpreted. The ending is also very strong and well constructed.
🇹🇷 Gunec G. – When I first heard Vida Minha, I decided that it could be the winner of my heart. I thought it would at least and definitely be in the final. It was to my disappointment to see that it didn't. Such a good quality song performed by heart. I loved the back vocals as well. I thought it would be hard for them to beat up Senhora do Mar's charisma, but I also thought this was as good. Sometimes good songs fail and I really can't get over that.
🇪🇸 Mária P. – One of my favourite entries in 2012. I love this gorgeous song inspired in Portuguese fado, with such a delightful melody and so finely performed by Filipa and the backup singers. In my opinion it deserved not only to have qualified, but also to have come up at the top 3 in the final. It's a pity that such a beautiful entry wasn't appreciated.
🇨🇴 🇫🇮 Alvaro S. – The sound of this song is so elegant and sober. I like the music and Filipa's voice is very good. I think the problem Portugal had is the execution on stage. It is not the first time that Portugal sends a song with good music and lyrics, but fails because it does not look interesting in the scenario for a fan that does not understand Portuguese. For the average audience, there was nothing interesting to see apart from Filipa performing in front of some city images.
🇸🇪 Sara T. – Vida Minha is a beautiful fado ballad performed by the very talented Filipa Sousa. Even though I liked this song back in 2012, it got a bit lost between all my other favourite songs that year. Perhaps Vida Minha failed to reach the final for the same reason – between the moving performances of other powerful ballads such as Nije Ljubav Stvar (Serbia 2012) and Kuula (Estonia 2012), as well as the interestingly choreographed Euphoria and Love me back, this little Portugese gem was forgotten. Also, the boring staging didn't match the intensity and sincerity of the song and Filipa's voice. 2012 will always be one of my favourite years, and this beautiful songs is a timeless yet overlooked classic.
🇧🇪 Enis H. – I really like songs in their native languages so that's a good thing, I also love the native instrumental, though I'm not the biggest fan of her voice. For me it feels like the songs leads to nowhere for me it's a okay song, though I don't think I will play it again after today.
🇨🇿 Josef Š. – Fado. If there is something I usually prefer at Eurovision it is a combination of national language and traditional music. And that is fado in Portugal. We had few of such songs already at Eurovision, the most successful one was Senhora Do Mar in 2008, but this one is actually very similar. Also here is very easily recognizable influence of Balkan composer Andrej Babić, who had some songs in Portugal, including the one in 2008. I love everything about this entry. From the first notes until the very end. One of my favourite Portuguese entries.
Enjoy Filipa Sousa's performance from the 2012 Eurovision Song Contest in the embedded video. Below the video, you can read more about Filipa Sousa.
A Mini Biography to Filipa Sousa
Filipa was born on 2nd of March 1985 in Albufeira Portugal. Her passion for music (particularly Fado) began at the very early age of 6 when she began to learn Fado. After her musical education in the conservatory and participating in various festivals, she made the top of her career by winning Festival do Cançao and representing her country in Eurovision Song Contest in 2012.
She released an album named Acreditar in 2019. The album consists of 12 Fado Jazz pieces including an intimate version of Vida Minha recorded only with piano and string orchestra.