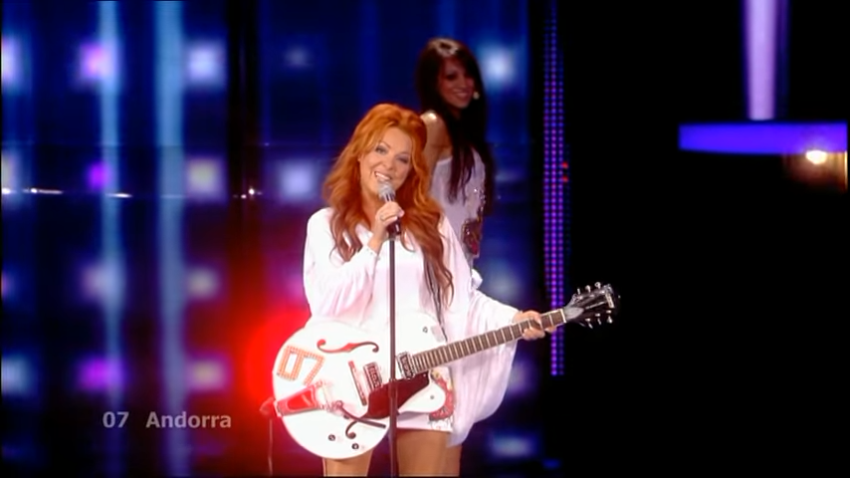 Susanne Georgi would like to bring Andorra back to Eurovision, but at her last attempt in 2009, which was also Andorran last stand, she deserved a better result. At least according to some Eurovision fans.
In 2009, Andorra used a national selection Passaport a Moscou to choose its representative for Eurovision in Moscow. Susanne Georgi was a clear winner out of the three finalists, as she received more than 50% of the overall result. The international team behind her song La Veva Decisió (Get A Life) included also her older sister Pernille, with whom she formed a famous pop duo in Denmark.
When Susanne was in Moscow, her time to shine came in the first semifinal. The running order was not lucky, as she performed right after Armenian sister duo Inga & Anush. Compared to their ethno song, the Andorran entry was not that appealing to viewers and juries as Susanne Georgi ended with only 8 points in total, which resulted in 15th place and a non-qualification for Andorra. That was the last time we saw Andorra at Eurovision.
La Teva Decisió (Get a Life) – opinions from fans
In order to find out what Eurovision fans today think of this Andorran entry from 2009, we asked our Eurovision Fan Panel. It includes team members as well as fans from all over the world.
Enis H. – Honestly one of my favourite entries by Andorra, I love everything about this entry, the switch between Catalan and English, her voice, the backing vocals, the 7 to show they are entry number 7…
Paul K. – Not gonna lie, this isn't as bad as it was perceived, but with that said, it's not very good. It just sounds like an outdated early noughties tune, and for me it doesn't work. She seems to have great energy though, and she's so lively that it almost polished the song a little bit. But again, this isn't great and I'm hoping they return, and they deliver some quality bangers.
Paul G. – I love this entry from Andorra. For me, their best and should have qualified for the Final. Come back Andorra, we miss you!
Mária P. – I think it's a nice pop song, catchy, lively and pleasant. I also like the fact that it was performed in their official language, Catalan, at least partly. In my opinion, it should have qualified for the final.
Vangelis M. – Andorra is not a country I can admit that I miss from the contest, to be honest. The song is not something you wait to hear on the Eurovision stage but in a Disney channel movie. The clothes and the styling are good but for me not even in the concept of the song. Not something I will remember tomorrow but sure there are people who like this type of music.
Josef Š. – Andorra had only a few occasions to show what they got, but maybe it wasn't enough. But let's say, that they definitely ended at their best, at least until that moment. La Teva Decisió is catchy, happy, full of energy and the positivity is what I love about it. Susanne is also a good artist and performer, so she has rightfully my top place among Andorran entries at Eurovision.
Charlotte J. – As a Dane, I grew up listening to Susanne and her sister. It's impossible for me to hear this entry without thinking about that… This is a cute little pop song, which brings me in a good mood. Susanne sings it well, and the performance is quite good too. In my opinion, this should have qualified for the final. I hope that Susanne will have luck bringing Andorra back to Eurovision, and I would like to see her on that stage again.
Alvaro S. – My favourite entry from Andorra is their 2007 attempt. However, this song was not bad and it gives me feel-good vibes. They even introduced some English lyrics to tried to attract more votes but it did not translate into the result they needed. It is a catchy pop song that could have been better appreciated. Andorra come back!
Michael O. – This was one of a few good entries from Andorra perhaps thwarted by diaspora voting back then. A cheery uplifting number well performed which deserved to do a lot better than it did.
Enjoy Susanne Georgi's performance from the 2009 Eurovision Song Contest in the embedded video. Below the video, you can read more about her.
Susanne Georgi – a mini biography
Susanne, born in South Jutland, Denmark in 1976 shot to fame together with her sister Pernille. In the late 1980's the two teenage girls performed under the name 'SuPer Sisters'. They released two albums. A couple of years went by and the girls became young women. In 1995, they were back, this time using the name 'Me & My'. Their first Me & My hit became a big success, not only in Denmark, but also abroad. Dub-I-Dub reached the charts in Denmark, Norway, Sweden, Finland, Germany, the Netherlands, Belgium, Austria, Switzerland and France.
Me & My took part once in the Danish national selection; Dansk Melodi Grand Prix. That was in 2007 with the song Two Are Stronger Than One. They finished in 6th place. Susanne moved to Andorra, and in 2009, she represented the country at the Eurovision Song Contest.