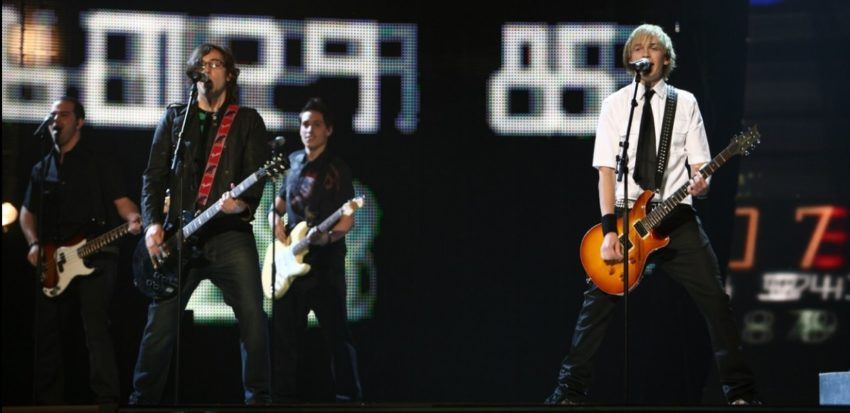 Andorra, the micro state, has been gracing the Eurovision stage since 2004, but unfortunately none of their 6 entries could manage to make it to the final. Today we will focus on their most successfull entry among them all, Salvem El Món (Let's Save The World).
Andorran broadcaster RTVA opened a submission process for artists and composers to submit their songs for the Eurovision Song Contest 2007. There were a few rules for the entries set by RTVA: The artists could be from another nation but the composers should be a citizen of Andorra. Additionally, the artists should be at least 18 years old. During this period, a total of 82 songs were submitted. Among thse songs, a punk rock tune Salvem El Món by Anonymous was selected and announced on the 1st of March 2007 as the representative of Andorra in the Eurovision Song Contest 2007. However, Christian Narvaez, the band's bass guitarist couldn't join the group to perform their Eurovision song on stage because he was only 16.
The punk group competed in the second semi – final in Helsinki. Despite a firm performance on stage, they could only receive 80 points which placed them 12th thus disabled them to appear on the grand final.This was the micro state's highest amount of points received.
Salvem El Món – opinions from fans
In order to find out what Eurovision fans today think of this Andorran entry from 2007, we asked our Eurovision Fan Panel. It includes team members as well as fans from all over the world.
🇩🇰 Charlotte J. – I liked this a lot back then, but over the years it has faded quite a bit. Now, that I am 13 years older, it comes across as a a highschool band playing at the spring party. It still has moments I enjoy… there's just too few of them. Unfortunately, it hasn't aged as good as other songs, or maybe I become too old, I don't know.
🇹🇷 Gunec G. – This great song with Green Day inspirations took my attention from the first listening. Maybe Niki's vocal style didn't appeal to people but I loved everything about this song especially the 90's rock energy. Should have definitely be in the final.
🇨🇴 🇫🇮 Alvaro S. – If Andorra deserved to go to the final one year, that was in 2007. It is such a shame that we could not see Andorra in the final singing in Catalan with a quite energetic happy punk song. So bad that the semi-final that year was very competitive because they would have been a good addition to the qualifiers.
🇸🇪 Jill R. – This is the best song that has represented Andorra. I even have it on my Top ESC 2000-2010 playlist. Their enthusiasm and energy on stage is contagious. But they didn´t sing as good live, unfortunately. Maybe that is why they didn´t make it to the final. Or maybe they were just 10 years too late with their 90´s alternative rock/punk pop sound (Wheatus, Blink-182 etc.). I think that they deserved to be in the final in 2007 anyway. There were about 10-15 songs not as good as this one and Eurovision needs more rock in my opinion.
🇬🇧 Michael O. – This could have done well in America, Very Green Day ish. Maybe not a winner but it should have been in the final, as should the following two years. No wonder Andorra gave up.
🇺🇸 Grace W. – 2007 wasn't a very strong Eurovision year and Andorra's entry is a fine example of that, but the song itself is okay. The band is kind of off key and the lead singer's voice is a bit nasal sounding, but I do have to point out his pretty eyes
.
🇵🇹 Linete A. – Didn't like this at all. It's a very lively rock song, but it's just not what I like to see in Eurovision. The main singer seems to sing off key and hasn't a real rock voice. I actually liked the backing singers more. Seems like a great band, but I don't like this at all. Definitely not a good choice from Andorra.
🇳🇱 Jacques H. – There is not enough alternative music at the Eurovision Song Contest. The Anonymous skater punk is not immediately of the class I'd wish for. Their "Salvem El Món" is just a bit too atonal and monotonous for that. Is it nice that they sing in English? Well no, that in itself doesn't add much more than the 'left, right, up & down' lyric. I was not very enthusiastic about the song back in 2007, and I still can easily forget about it. Still, I hope we'll see Andorra return to the Eurovision stage soon.
Enjoy Anonymous' performance from the 2007 Eurovision Song Contest in the embedded video. Below the video, you can read more about them.
Anonymous – a mini biography
Punk Rock band Anonymous originated from Andorra La Vella and consists of Niki Francesca (lead singer), Alejandro Martinez, Guillem Gallego and Cristian Narvaez. The group members were teens who made music, played in Madrid and Barcelona from time to time and known in the underground scene of Andorra.
The band also released an English version for Salvem El Món as Let's Save The World. After their Eurovision adventure in 2007, they decided to disband the group and carry on with their friendship. Niki has studied masters in music business & technology and achieved a professional certificate for music production from Berklee College of Music. He now uses the stage name Nick Gain.