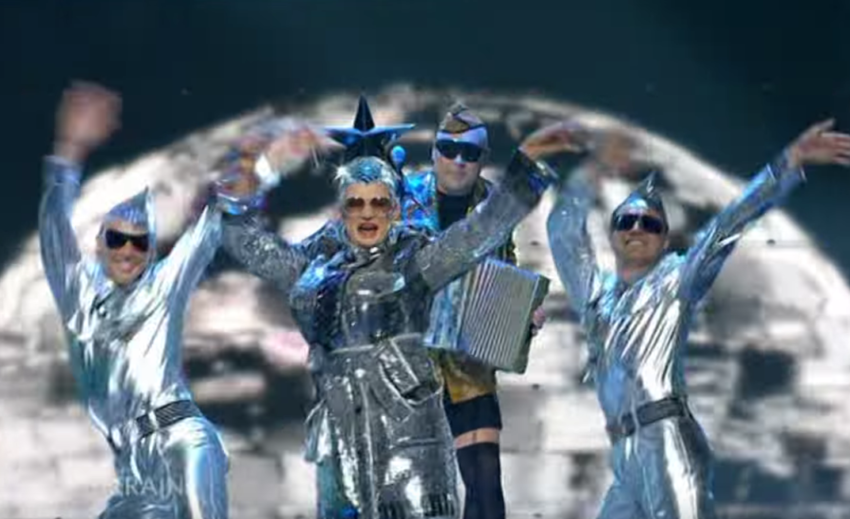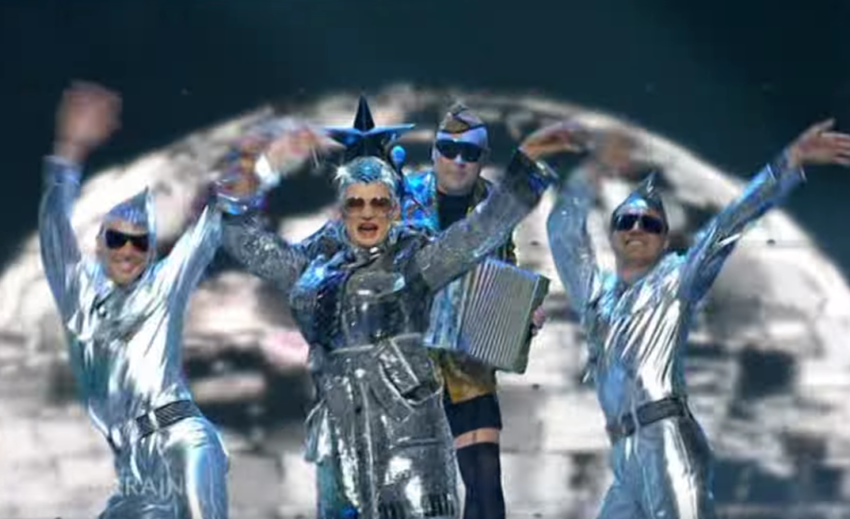 When Ukraine chose Verka Serduchka for the Eurovision Song Contest in 2007 fans had mixed feelings about this act.  Today, many have learned to love the iconic act. Moreover, even outside of the Eurovision fan community, people easily associates Verka Serduchka with the song contest and its sometimes over the top gimmicks. 
For the Eurovision Song Contest, the Ukrainian broadcaster organised a national final. The final took place in March 2007 with seven acts competing to represent the Eastern European country. Verka Serduchka, a drag act won both the vote of the jurors and the televote and thus waved the Ukrainian flag in Helsinki, Finland.
According to the rules in place in 2007, Ukraine automatically qualified to the final since it had ended within the top 10 the previous year. Verka Serduchka performed the song Dancing Lasha Tumbai in eighteenth place in the final. Dressed as a silver disco ball, this act stood out. Two dancers in silver uniforms stood next to him wearing the number 18 in their uniforms while Verka had a suggestive number 69 on his back. An accordion player and two backing singers in golden uniforms also supported Verka. During the performance, Verka moved around the stage dancing and interacting with the dancers and supporting musicians in a suggestive/comic manner.
Dancing Lasha Tumbai contained lyrics in English, German, Russian and Ukranian. The lyrics of the song caused some controversy because some found the words "lasha tumbai" sounded similar to "Russia goodbye". Verka of course denied that the lyrics have any political connotation.
At the end of the final Dancing Lasha Tumbai received 235 points. It ended in second place giving Ukraine one of its best results in the contest. Nevertheless, reactions to Verka's participation were mixed at the time. For instance, Verka Serduchka won the Barbara Dex Award for "worst outfit" at the Eurovision Song Contest.
Dancing Lasha Tumbai – opinions from fans
In order to find out what Eurovision fans today think of this Ukrainian entry from 2007, we asked our Eurovision Fan Panel. It includes team members as well as fans from all over the world.
🇦🇺 Craig M. – If you want to show a non-Eurovision fan what Eurovision is all about, this is the go-to performance! It's got glitz, it's got glamour, and it's got a whole lot of cheese 🤣 An absolute Eurovision classic, I think it has actually grown in cult status, as time has gone by. Do I have it on my playlist? No! Do I watch the performance every time it pops up Youtube? Absolutely.
🇬🇧 Michael O. – Well this has certainly held up well as the years have passed, but at the time I thought it was far too heavy on the novelty side. Not really much to dislike here but it's not one of my favourite entries from Ukraine. If it gets attention from non Eurovision fans though, that's not a bad thing.
🇳🇱 Eric O. – At first, I thought it was a joke and didn't understand why it was so popular in 2007. But later on, when it got replayed a lot on ESC Radio and at various Eurovision parties, I started to like it more. And now I think it's a great song with a great performance. However, I never got the lyrics right, because I always thought they were singing 'Russia Goodbye' instead of Lasha Tumbai but maybe it was intended this way given the struggles between Ukraine and Russia 😉
🇺🇸 Grace W. – THIS IS A MASTERPIECE. I still remember the first time I saw this, I was confused but in awe. This should have won, seriously. I have no other words.
🇨🇴 🇫🇮 Álvaro S. – The first time I heard this song my reaction was WTF. For me, these over the top trolling acts are the type of songs non-fans like to point out to make the Eurovision song contest look like a total joke. I understand that I am in a minority here and Dancing Lasha Tumbai has become a fan favourite over the years, so while I love to see fans enjoy themselves this campy song is not my cup of tea.
🇬🇧 Paul G. – Before the contest I hated it. During the contest I liked it but now I love it and no Eurovision disco is complete without it being played!
🇹🇷 Günec G. – This is already a Eurovision phenomenon. People are still going crazy for Dancing Lacha Tumbai. Many find Verka very funny and joyful and even charismatic. Still not my cup of tea.
🇮🇪 John D. – This has become probably the best and most successful of the so called 'novelty entries' over the years. I initially found it annoying but it has since grown on me. I couldn't believe the Russians found it offensive or in some way political. Verka is just a silly and harmless pantomime dame. It remains a fan favourite and I've even recently heard it played at a children's party. I like that Ukraine often sends interesting acts.
🇩🇰 Charlotte J. – I had decided to force myself to listen to this song before writing my opinion. After 45 seconds, I simply had to give up. I couldn't put myself through anymore torture. This is a song, which is in my top 10 over worst Eurovision entries. While I am able to understand that some find it funny, for me, it's however horrible. Sorry, Ukraine.
🇳🇱 🇩🇰 Wouter V. – I hated the guts out of this song in 2007. Today, I don't know why. Nowadays whenever I hear the song it puts me in a good mood and all I want to do is tanz.
Enjoy Verka Serduchka's performance from the 2007 Eurovision Song Contest in the embedded video. Below the video, you can read more about him.
Verka Serduchka – a mini biography
Andriy Mykhailovych Danylko better known for his stage persona, Verka Serduchka is an actor, comedian and singer born in Poltava in 1973. Andriy created his famous character Verka Serduchka in the early 1990s. He has also created other comic characters., however, Verka is by far his most popular character that he stills uses.
Verka Serduchka gained international attention during and after the Eurovision Song Contest 2007. He came in second place with the song Dancing Lasha Tumbai. It's one of the most well-known Eurovision entries, even outside the Eurovision fan community.  Danylko has made film cameos as Verka Serduchka including in the 2015 American film Spy.
Andriy has continued participating in things related to the Eurovision Song Contest. He has been a juror at Vidbir, the Ukrainian national selection. In 2017, he made a cameo in the Eurovision Song Contest held in Kiev that year. More recently, Verka Serduchka participated in one of the interval acts of the Eurovision Song Contest 2019 singing Toy.