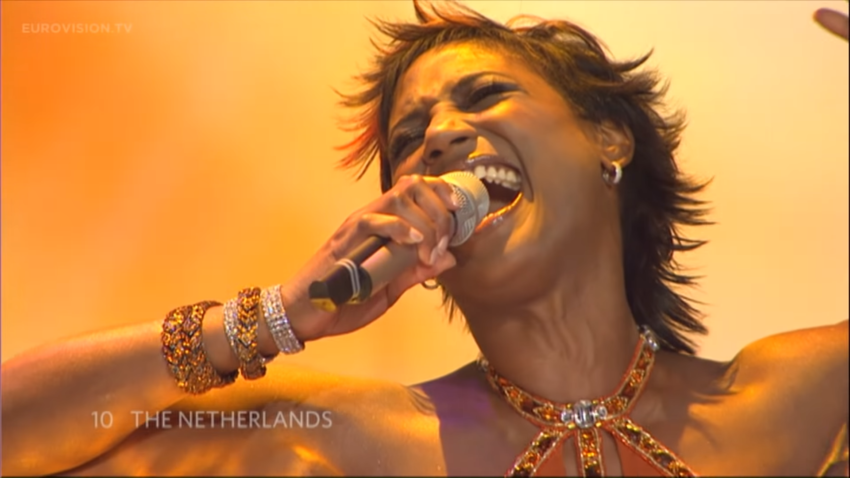 After a 4th place in 1998, Edsilia Rombley returned to the Eurovision stage nine years later. This time, she failed to reach the final… deserved or not? That's a matter of taste, and Eurovision fans are quite mixed when it comes to this 2007 entry.
In December 2006, NOS, the Dutch broadcasting organisation, presented their 1996 participant Edsilia Rombley to return for the 2007 Eurovision Song Contest. In February, a national final where she sang three songs was held. All three songs was in Dutch and written by her husband Tjeerd P. Oosterhuis. Tjeerd is brother to Trijntje Oosterhuis who represented Netherlands in 2015.
The song Nooit Meer Zonder Jou (Never without you any more) won the national selection. It was later decided to switch to the English version On Top Of The World.
At the Eurovision Song Contest, Edsilia failed to impress enough viewers around the world and thus didn't advance from semi-final to final. She received points from 9 countries with neighbouring Belgium providing the highest, 8 points.
On Top Of The World – opinions from fans
In order to find out what Eurovision fans today think of this Dutch entry from 2007, we asked our Eurovision Fan Panel. It includes team members as well as fans from all over the world. She received points from nine different countries with neighbouring Belgium providing the highest, 10 points.
🇬🇷 Kostas C. – I like the song a lot and I could say it is one of the best from the Netherlands at the '00s. A good structure, good voice with a charismatic singer and a quite good presentation. The only reason that it didn't qualify for the final, is that the semi-final of 2007 had too many countries for only 10 tickets. It would definitely have qualified with two semis.
🇩🇰 Charlotte J. – The Dutch dark ages with 8 years in a row not qualifying for the final wasn't all deserved. I felt so sorry for their fans those years, fans I got closer to as I got together with my Dutch boyfriend in Helsinki at the Eurovision Song Contest in 2007. I think half of those 8 entries should have reached the final – and Edsilia was one of them. This is by far a winning song, but it's catchy, and she is a great performer. The staging wasn't ideal for this song, but it should have been in the final. It was in my top 10 that year.
🇳🇱 Frank S. – I still feel that 1998 should have been a win for Edsilia, however, we all know it wasn't. Second chances should be an option for all artists, but then make something out of it. On Top Of The World just wasn't a good song. It was cheap, over-staged and did not at all feel like Edsilia Rombley. It is catchy – I'll agree on that, but no….next, please.
🇧🇪 Enis H. – First of all, I always love to see Edsilia on Eurovision though I prefer her earlier entry this one is good aswell, it's Eurodance and I won't get tired of it. I love her dance moves and her voice the dancers made the performance even better.
🇬🇧 Michael O. – Continuing what was to be a long string of non qualifiers, this song contain some worst lyrics anyone can put in a song, 'on top of the world', what on earth does that even mean? Cringe worthy from a great singer which proves talent can only save a rotten song now and again.
🇮🇱 Adi S. – The chorus is super catchy – almost an "ABBA style" euro-pop classic. But the verses pulls everything down. In addition, despite her powerful voice she loses energy and goes off-key. But it's still a fun, energetic song.
🇨🇴 🇫🇮 Alvaro S. – Poor Netherlands in the early 00s. It was so underrated. And although I found the chorus of this song repetitive it would have fit for a final. She tried to defend her song anyway, and she has a good voice. At least she will be in 2021 in Rotterdam.
🇩🇰 Tina M. – On Top Of The World from the Netherlands sung by Edsilia Rombley is a song I am quite indifferent to. The song gives me nothing, and when it ended, I could only remember the absolutely incredible beautiful vocals. The song does not do Edsilia Rombley any justice and her register is far bigger than the song lends itself to. Not a song I'm particularly impressed with – 2/10 for the song, but top marks for the vocals and stage show.
🇨🇿 Josef S. – Eurovision Song Contest 2007 has a special place in my heart as it was the first one I've ever seen. And I remember On Top Of The World pretty well. Even though it is a little bit cliché and schlager, the song is not that bad and Edsilia is a great performer and the song is memorable. I just hope it would have a better result as I believe it should not be completely forgotten.
Enjoy Edsilia Rombley's performance from the 2007 Eurovision Song Contest in the embedded video. Below the video, you can read more about her.
Edsilia Rombley – a mini biography
Edsilia Francisca Rombley born in February 1978 began her career in 1995 as part of the Dutch girl group Dignity. The following year in 1996, she took part in – and won – the talent show Soundmixshow. A year later, she won the European version of that talent show. Edsilia used those competitions to kick off her solo career. Her first album Thuis was released in 1997.
In 1998, Edsilia represented the Netherlands at the Eurovision Song Contest for the first time. With the song Hemel En Aarde (Heaven and earth) she finished 4th scoring the best Dutch result since their 1975 victory. Shortly after the Eurovision participation, her first English language album simply titled Edsilia was released. In 2007, Edsilia returned to the Eurovision stage with the song On Top Of The World, this time failing to qualify from the semi-final.
Over the years, Edsilia has released many singles and albums. She has also taken part in the TV show 'Dancing With The Stars'. Edsilia Rombley is one of the hosts for the 2021 Eurovision Song Contest.