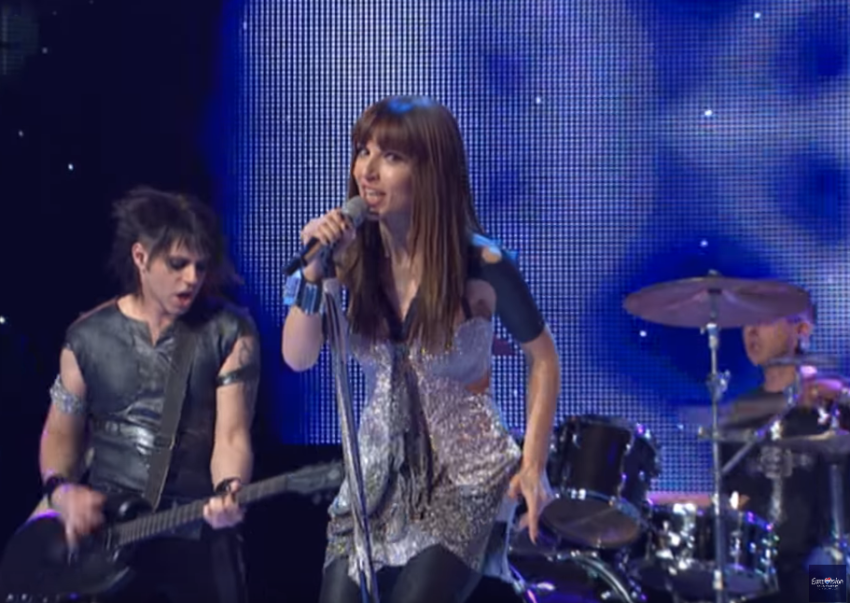 The Eurovision Song Contest 2007 is probably one of the years with the highest number of rock entries. Cyprus was no exception to this trend. Evridiki was chosen to represent Cyprus for the third time. For her 2007 attempt she chose a rock song with a French touch.
In February 2007, the Cyprus local broadcaster announced that Evridiki would represent the country at that year's Eurovision Song Contest. She had been internally selected. At the contest in Helsinki, Finland she took partk with the song Comme Ci, Come Ça. This was the first time that Cyprus sent a song entirely in French.
Evridiki performed Comme Ci, Come Ça in the semi-final with her band. This was Evridiki's third time representing Cyprus in Eurovision. The song got extra attention for its French lyrics, however it wasn't enough to qualify for the final. Comme Ci, Come Ça only received 65 points, and ended in 15th place in the semi-final. Evridiki later released an English and Greek version of the song.
Comme Ci, Come Ça is written by Posidonas Giannopoulos.
Comme Ci, Come Ça – opinions from fans
In order to find out what Eurovision fans today think of this Cypriot entry from 2007, we asked our Eurovision Fan Panel. It includes team members as well as fans from all over the world.
🇬🇧 🇮🇪 William S. – Ah, Evridiki back for another chance at the win. This is definitely my favourite of her three entries (at least in the studio version). By 2007 she was a seasoned performer and that was apparent in her stage presence, yet the vocals are somewhat screechy and too breathy. Still it was a good pop/rock song and while I wasn't overly surprised at its failure in the semi-final, if it had qualified it would have been a worthy entry in the final.
🇨🇾 Elena T. – One of my favourite artists, Evridiki, was absolutely amazing! I loved the song at the time (now it feels a bit dated listening to it again) and I feel that it was unfair they didn't make it to the finals. Perhaps, if they sang in English instead of French they would have got more votes. However, isn't Eurovision supposed to celebrate diversity? This is something that I feel got lost throughout the years. This was Evridiki's third participation in the Eurovision and I remember her singing beautifully in Greek in 1994, the very first Eurovision contest I ever watched and fell in love with!
🇨🇴 🇫🇮 Alvaro S. – For me this song is very enjoyable, and the French lyrics actually make me compare Evridki with Alizée. This pop-rock sound is easy to listen to and I like the dance bridge of the song. Evridiki deserved a pass to the final.
🇬🇧 Michael O. – After two perfectly good entries this was just bad beyond words. The french was ridiculous and the attempt to look cool, which she succeeded with in 1992 and 1994, failed miserably here. Her legacy tarnished.
🇫🇮 Martti I. – Evridiki is one of my favourite artists from Eurovision and needless to say that I do have all her albums. I adore her entries Teriazoume and Anthropos Ki Ego hugely, but this 2007 is functional on the album, but in Eurovision it was lacking the power. Evridiki is great, but the song could be a bit catchier. I would have changed the stage performance and the language to Greek. Good entry, but others that year, were slightly better. Sorry.
🇬🇧 Ashleigh K. – I only used to watch the grand finals up until 2 years ago when I started watching the semis so I hadn't heard this song before now. I feel a bit indifferent towards it. It's not a bad song but it's not amazing either… perhaps others felt the same and that's why it didn't qualify in 2007.
🇩🇰 Charlotte J. I imagine that I might be a minority here, but I honestly don't like this song. It's not directly bad, but it just doesn't do anything for me, and about half way into it the song, I am thinking it has already lasted too long.
That year my eyes (and ears) were on Iceland's Eiríkur Hauksson only – up until he was kicked out at the semi-final. After that, I looked south and supported Germany instead.
🇳🇱 Eric O. – Oh, this was a wonderful song, very catchy! And I actually have very positive memories about this song, when I was dancing to the remix in a club in Helsinki that summer! I wish it scored better than it did, at least it deserved it.
Enjoy Evridiki's performance from the 2007 Eurovision Song Contest in the embedded video. Below the video, you can read more about Evridiki.
A mini Biography to Evridiki
Evridiki is a Greek Cypriot rock, pop and electropop singer. Born in Limassol, Cyprus in 1968 she has represented her country in Eurovision in 1992, 1994 and 13 years later in 2007. She has a very prolific career. To date, she has released 16 studio albums.
Her music career started in 1991. She released her last album in 2017. Throughout her career she has combined pop, rock and electropop with Greek folklore and alternative music. She is active on social media. According to her feed, new music is on the way.  On June 4th, 2020 she made a publication with a picture of her on the music studio using hashtags such as #newstudio, #newdreams  and #newmusic.
Evridiki's three Eurovision participations
In 1992, Evridiki finished 11th in the Eurovision Song Contest with the song Teriazoume.
In 1994, Evridiki also finished 11th in the Eurovision Song Contest with the song Eimai Anthropos Ki Ego.
In 2007, Evridiki finished 15th in the semi-final with song Comme Ci, Comme ÇA. This wasn't enough to qualify for the final.