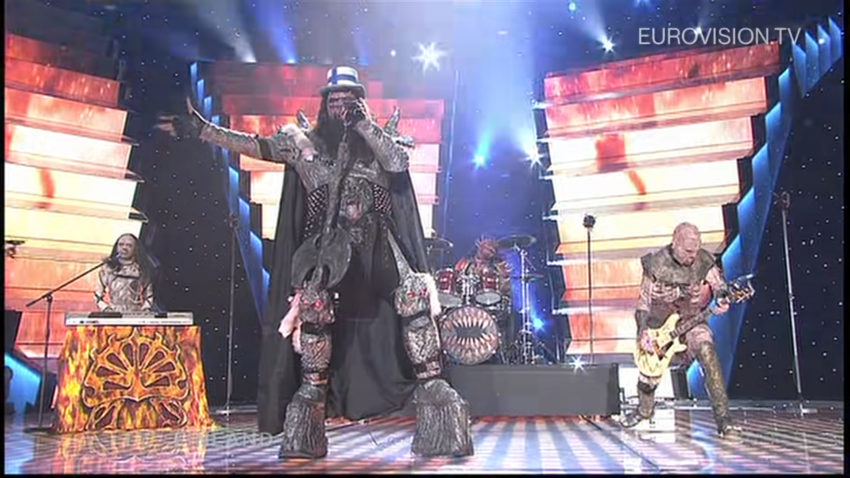 Finland won Eurovision in 2016 in Greece with the song 'Hard Rock Hallelujah' by the heavy metal band Lordi. Many agreed, many disagreed. The truth is that this victory was controversial, as Eurovision was never before, as many fans claim, the stage for scary monsters with latex troll masks.

Eurovision is best known for celebrating the pop music genre, but in 2006, the metal band Lordi took the victory home with 292 points. Was it a "cry" from the fans asking for more diversity? Is the hard rock and metal music genre gaining more fans worldwide? The second place in the contest this year went to Russia with the song Never Let You Go, which won 248 points (it was very distant from the first place).
We are facing a victory that has generated a lot of controversy around it. At the time, even the Finnish president Tarja Halonen suffered some kind of lobby to remove Lordi as the country's representative. Is this a kind of music gender bias or just personal taste? The truth is that back then, the finish band became super famous throughout Europe. They made films, comic books and even Coca-Cola "stole" the title of the song for its own advertising campaign. Until today, we talk about this victory and after the triumph of hard rock in Eurovision, more bands of the genre appeared in the contest. In a way, many fans think that Lordi opened the doors for rock and metal in the contest, although others don't agree with it. So, let's see what the fan community thinks about this.
Hard Rock Hallelujah – opinions from fans
In order to find out what Eurovision fans today think of this Finland entry from 2006, we asked our Eurovision Fan Panel. It includes team members as well as fans from all over the world.
🇳🇱 🇩🇰 Wouter V. – This song gets way more credit than I think it deserves. Just including a few sneering guitar jams, strong drums and having the words in the title does not make it hard rock. For their Eurovision song, Lordi seems to have departed a few steps too far from the melodious rock they usually produce. I don't really dislike Hard Rock Hallelujah, nor do I like it very much, but I don't appreciate it, when it is so blatantly obvious that a song is produced to match the expectation of "a Eurovision song". I'd rather listen to any other song Lordi have released.
🇨🇴 🇫🇮 Alvaro S. – A long awaited victory for Finland with an iconic act that is still remembered. I like when Finland takes risks. A good result is never guaranteed, but it is better than some of the acts it has sent that gave me the impression it wants to send something not so good but not so bad. We already know this has not worked for Finland. Hopefully this year will be different.
🇳🇴 Steinar M. – Oh my Eurovisonary God of rock music… Where should I even start? I have NEVER ever been as happy with a result in Eurovision, including all our three victories. This was such a great victory for rock music in the contest. And it indeed pawed way for more rock. This is melodious, powerful, vital, catchy. I love the 80s hard rock vibes here. I disagree with those saying they won because of the costumes. The song stood firmly on its own feet, more than good enough. A perfect song in all ways. The Best winner ever, along with Nocturne.
🇭🇺 Vangelis M. – Lordi's participation was one of the most unique participations of all in the contest! Back then I was six years old, and I was terrified by the costumes and their energy, but now I can see why Hard Rock Hallelujah is my mother's favourite Eurovision song. I like it. For 2006 it was a pioneer.
🇩🇰 Tina M. – Hard Rock Hallelujah is not one of my favourite winners. I remember thinking "What's going on right there" when I was first introduced to the group and the song for Eurovision. I do not love the song, I certainly do not love Lordi's costumes, but the song has a large fan base, which I certainly acknowledge. The song is probably not a "traditional" Eurovision song, but up through the 90s and 00s, Eurovision has expanded the concepts of what a "real" Eurovision song is. I do not completely love the song – 5/10 but admit that there are many who love the song and the group.
🇬🇧 Michael O. – I cannot stand it. It gets switched off the second it comes on via cd or video. Absolutely awful.
🇨🇿 Josef S. – Lordi are one of those artists who became known all around Europe/ the world also outside the usual Eurovision bubble. That is always a good thing. It's probably because of the different music style, not so usual for Eurovision. Even though it's hard rock, it has also something which reminds us of the glamour rock, which is a little bit more common at Eurovision. I like it even though it's not my favourite music style. Lordi provided us with a great and memorable show, which is probably why they eventually won.
🇵🇹 Inês N. – One of the most iconic winners of all time. Eurovision must have space for diversity and I think Lordi's victory is a representation of that. As a band, I think there are better hard rock bands than this one in Finland or even in Europe. However, I close my eyes to this, as I believe that the victory of Hard Rock Hallelujah was a deserved triumph of a musical genre that was previously forgotten. We remember this catchy performance to this day.
🇬🇧 Paul G. – Was not a big fan of this song until I saw Lordi live in 2007. It's still not my favourite winner but hearing it live at the Helsinki contest made me appreciate it more.
🇩🇰 Charlotte J. – I am looking forward to the day when a true genuine rock song wins the Eurovision Song Contest – with an ordinary good performance, no gimmicks, just rock. I do like Hard Rock Hallelujah, but I don't like the band Lordi and their monster outfits. The song itself is really good, and absolutely one, I enjoy, like many of their other songs, I just don't want to look at them.
Enjoy Lordi's performance from the 2006 Eurovision Song Contest in the embedded video. Below the video, you can read more about the band.
Lordi – a mini biography
Lordi is a hard rock and heavy metal band from Helsinki, Finland. It has existed since 1992, but only became world-famous in 2006, after winning the 2006 Eurovision Song Contest with the theme Hard Rock Hallelujah.The members are Mr. Lordi, Amen, OX, Manna and Hella. The band is heavily influenced by the American hard rock band: Kiss.
From the beginning, they wanted to play with spectacular monster style pyrotechnics, along with their masked image. Several record companies refused the band, some saying that they should play black metal if they liked masks. Finally, the BMG label accepted them and their first album, Get Heavy, sold 40,000 copies in Finland.
About the media characterization of the band as Satanic: Lordi responded to the media accusations and strictly denied Satanism. He said a Satanist group would not write songs like Hard Rock Hallelujah.
Eurovision's controversy: Greece gave Lordi 12 points, the highest possible score, in the final dispute. Many think, until today, that this is a retreat of young Greeks against conservative elements in their country, who had criticized Lordi. Since before Eurovision, Lordi was incorrectly identified through the press as a death metal band (they identify themselves as a hard rock or heavy metal band).