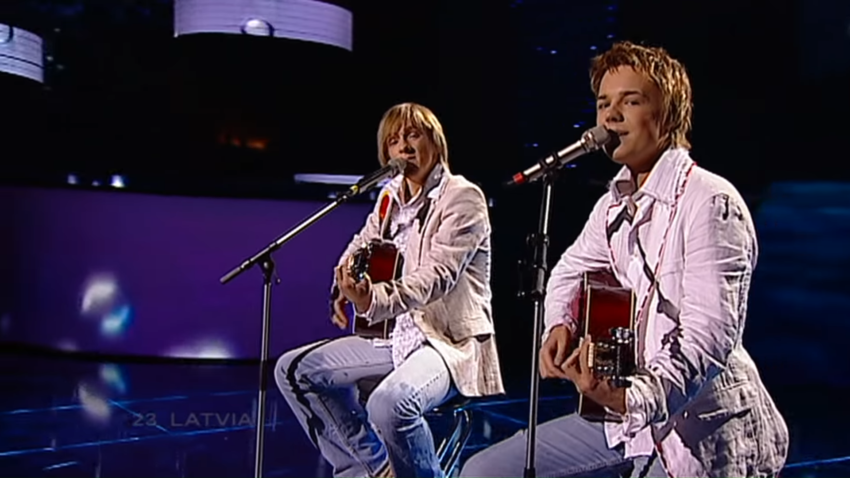 It's one of Latvia's better entries, but it's hard to think about 'The War Is Not Over' without feeling the loss of Valters and the songwriter too. It's however still a song, which is loved by Eurovision fans.
With two semi-finals and a final, Latvia selected their 2005 Eurovision representative using the national final format of Eirodziesma. 20 acts were reduced to 10 who took part in the final on the 26th of February 2005. The 10 finalists were cut down to three in the super-final round. Eventually, Walter and Kazha won with 50% of the votes.
At the Eurovision Song Contest, the Latvian duo kept improving. In the semi-final, they finished in 10th and last qualiying position. In the final, where more countries were able to vote for them, they did a lot better and pulled home a fifth place. This included the maximum 12 points from Ireland, Lithuania and Moldova.
The War Is Not Over – opinions from fans
In order to find out what Eurovision fans today think of this Latvian entry from 2005, we asked our Eurovision Fan Panel. It includes team members as well as fans from all over the world.
🇵🇱 🇯🇪 Pawel J. – I don't really know why I like this song… probably because it's simple yet the lyrics are absolutely beautiful – 'I take a step and dare myself to be free'… that gives a great encouragement not to give up on our dreams, follow our hearts.
The performance is also simple – just them two with guitars and their perfect vocals. No wonder it qualified to the grand final and ended up 5th on the night, achieving the third best result for Latvia since joining the contest.
🇩🇰 Charlotte J. – This is Latvia's best Eurovision entry in my opinion. Watching it again, it strikes me how young the boys were, it looks like they went straight from school to the Eurovision stage. Maybe they did? The song is good, and I enjoy listening to it. This is like the Latvian version of Denmark's 2000 winner Fly On The Wings Of Love. A catchy, cool, laid back attitude and a song, most should be able to enjoy.
🇺🇸 Grace W. – This song is so excruciatingly 2000s it almost hurts, but it's a fairly good song. In the live performance their voices kind of clash together. It sounds like something I've heard on the radio before when I was little (I was 5 when this came out) but I can't imagine this being a song that was played in the USA.
🇱🇻 Josef Š. – Latvia 2005 proves that less is more, as many countries already found out. You don't need a big show and fireworks to get the attention (wink to Salvador Sobral). Walter and Kazha brought a simple and likeable ballad which simply works at Eurovision. Both guys could be more in tune during the song but that's what sometimes happens when you really perform live. I like the song but I have the feeling it's still a little bit underrated even after 15 years.
🇬🇧 Michael O. – This was one of Latvia's better entries, but seemed to be all over the place with voters. More poignant today after losing Valters, but a good message that seems eternal.
🇦🇺 Vivienne F. – On first hearing the beginning of this song back in 2005, I thought, oh no here we go another boring love song, but the strumming started to grow on me, the young men were cute with sweets voices like molasses, and then that beautiful gentle chorus, and if that wasn't enough, the sign language 🤟 added another dimension. How could anybody not like this song. It was definitely in my top 10. Also, RIP Valters 🙏🌻🦋
🇨🇴 🇫🇮 Alvaro S. – This sounds like a quite charming teen pop duo singing a safe song. It is quite charming, but not memorable in my opinion to end in the top 5 that year as it did.
🇩🇰 Liza P. – From the first time, I heard The War Is Not Over, I loved it big time. Especially because it's the same style and sound as my favourite Danish band – Michael Learns to Rock (MLTR). The ballade is exactly that kind of sweet that I like. Maybe also too sweet, but I don't care.
It doesn't hurt that Walters and Kazha are two very charming guys. The performance on stage is also very charming and confident. And the sign language is brilliant for the performance, since the song doesn't call for dance moves. And I had no doubt that they would qualify, and the 5th place is well deserved.
I spent a lot of time talking with the guys and the composer in Kiev, and therefor it hurts me a lot, that Walter and the composer have passed away 😢
Before I went to Eurovision in Kiev, I wrote MLTR that I thought the song was just the sound they had. And 3 years later MLTR had a cover of the song on their album 'Eternity'.
🇹🇷 Güneç G. – This one comes as a sad memory due to Valters' unexpected early death in 2018. The song itself is really a nice soothing melody and the duo's gentle positive energy captures me all the time. A well deserved 5th place.
Enjoy Walter and Kazha's performance from the 2005 Eurovision Song Contest in the embedded video. Below the video, you can read more about them.
Walter and Kazha – a mini biography
In Latvia, the duo went by the name Valters and Kaža. It consisted of Valters Frīdenbergs and Kārlis Būmeisters. Both musicians had their own career next to this project with which they represented Latvia at the 2005 Eurovision Song Contest.
Valters Frīdenbergs was born in Riga in 1987. He has been a succesful member of several bands like Putnu Balle and Tumsa. In the latter, he actually replaced Mārtiņš Freimanis. Mārtiņš wrote Walter and Kazha's Eurovision entry The War Is Not Over and also represented Latvia himself as part of F.L.Y in 2003. Sadly Mārtiņš died in 2011, and Valters took his spot in the band.
Over the years, Valters not only represented Latvia at Eurovision, he was also spokesperson as well as host of the national final. Valters was politically active as well. In 2018, he sadly passed away just 30 years old. He had been battling against cancer for a few years and had been through treament in Germany, which unfortunately didn't help.
Kārlis Būmeisters was born in Riga in 1986. He has also been a member of several bands – and just like Valters also in the band Putnu Balle. Under the stage name Kaža, he has had succes with several solo projects, which includes TV work and achieveing Hit Of The Year award in Latvia in 2010 for the song Tici Vai Nē.
Būmeisters has studied International Economics, and landed a job in the European Parliament in Brussels, Belgium as press secretary for PM Roberts Zīle.
Valters and Kaža had one last hit together Ceļi atpakaļ in 2018, few months before Valters passed away.