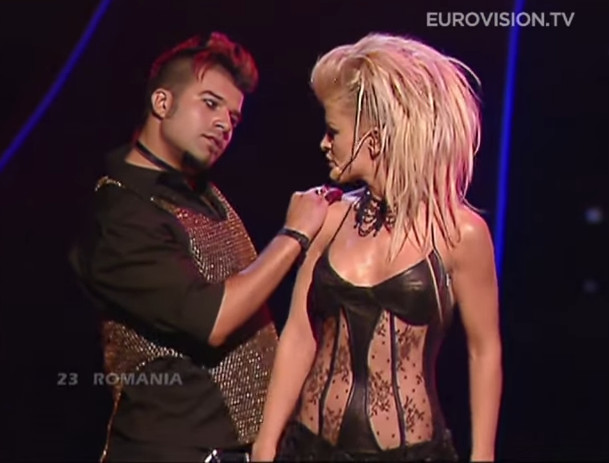 Despite no victories, Romania can be considered a strong country in the Eurovision Song Contest due to the successful results they've archived especially after the 2000s.Their 2004 entry 'I Admit' by Sanda Ladosi was not one of the Romanian entries with a satisfactory result for the country however.

In 2004, the traditional Romanian national final, Selecția Națională, consisted of two semi-finals (28th of February 2004 and 6th of March 2004) and the Grand final on the 13th of March 2004. Sanda Ladoşi who won the first semi-final also won the grand final with full votes from both the jury and the televoters.
In Istanbul, Romania was an automatic qualifier for the final due to their 10th place with Nicola's Don't Break My Heart the previous year. The final was held at the Abdi İpekçi Arena in İstanbul, Turkey on the 22nd of May 2004 and Sanda took the stage for Romania 23rd in line. She performed her uptempo song with Latino dance rhythms I Admit accompanied by dancers. Eventually, she received 18 points to place Romania 18th.
I Admit – opinions from fans
In order to find out what Eurovision fans today think of this Romanian entry from 2004, we asked our Eurovision Fan Panel. It includes team members as well as fans from all over the world.
🇩🇰 Charlotte J. – This is an example of how things can change a lot from studio to live version. The studio version is quite OK, but damn, the live performance was bad. One of the dancers are quite good-looking, but that's about it when it comes to positive things to say about this. Her outfit, her vocals, the performance… all that went terrible wrong in the contest.
🇳🇱 Eric O. – I really like this song, but I prefer the studio version rather than the live performance, as the leading voice isn't very good. I do like the stage performance though, especially the sexy dancers. Her 'dress' (or whatever you want to call it) is a bit over the top though. It would fit more for a strip club rather than the Eurovision stage, but anyway, it's still a nice song that I listen to gladly when it's played on ESC Radio.
🇹🇷 Gunec G. – The song itself is not so bad at all but the amateurish stage performance kills it all. Sanda is very pretty, but she was way too nervous on stage that she was out of tune. Dancers were good though. All in all, it was one of the weakest Romanian entries on the Eurovision stage.
🇨🇿 Josef S. – This song is very cheesy, Sanda's vocal sound pretty weak to me, the combination with backing vocals is not working at all. And even the dancers are just weird. I am afraid I cannot find anything to be positive about this time. Maybe that she's not out of tune, at least something good…
🇧🇷 Amir B. – It's my type of entries. I like it. Romania and animated songs is an excellent mix. A very good entry.
🇫🇮 🇨🇴 Alvaro S. – The acoustic guitar does not sound bad to me and I guess the main idea of this sexy dress and shirtless guys singing with Sanda was to create a Latino atmosphere maybe? But the impression I get is that this could be a well deserved winner of the Barbara Dex award. But overall I can listen to this song.
🇬🇧 Michael O. – This wasn't too bad a song, but quite the mess on stage. However, by no means the worst from 2004.
🇪🇸 Mária P. – Sorry but it's one of the songs of 2004 that I like least, also one of the Romanian songs that I like least. There is nothing in the entry which appeals to me, I don't quite like the song, the live performance was rather awful with Sanda singing out of tune, and on top of that, her dress and hairstyle were in bad taste. The video clip version was better, but even so it's not a song I really like.
🇬🇧 🇹🇭 John E. – I do not remember this song at all which is unusual for me. I find the song bland and the vocals sound as if the singer is very nervous. The styling and staging lack cohesion. It's not dreadful, but for me, not memorable or polished enough for success.
Enjoy Sanda's performance from the 2004 Eurovision Song Contest in the embedded video. Below the video, you can read more about her.
Sanda Ladoşi – a mini biography
Sanda Ladoşi was born on the 2nd of January 1970 in Târgu Mureș Romania. As a little kid, she sang with various choirs and groups. By the age of 10, she started her education to learn piano, singing and classical guitar. She moved to Bucharest to make her dream of being a professional singer come true. Meanwhile, she studied law in Titu Maiorescu University.
She made duets with celebrated artists like Marcel Pavel (Romania 2002), Ștefan Iordache, Ioan Gyuri Pascu, and Aurelian Temișan. Over the years, she has released 5 albums and given concerts worldwide. In 2004, she represented her country in the Eurovision Song Contest with I Admit and placed 18th.