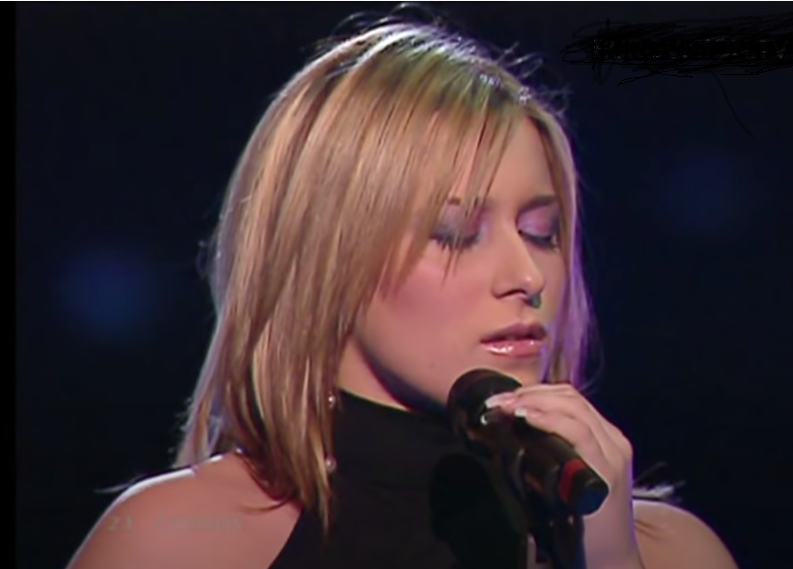 Cyprus has 37 participations but no victory to date. Yet they have many successful entries which have placed top 5. One of these is their 2004 entry 'Stronger Every Minute' by Lisa Andreas. 15 years later, this entry is still remembered and appreciated by Eurovision fans.
The Cypriot broadcaster CyBC held a national final to determine their representative for the 2004 Eurovision Song Contest in Istanbul. The National Final took place on the 17th of February 2004.
10 entries were shortlisted to compete in the national final out of 62 submitted entries. Eventually, the romantic power ballad Stronger Every Minute performed by 16-year-old Lisa Andreas was honoured to represent Cyprus by a 60% public televoting and 40% jury panel.
In Istanbul, Turkey, Lisa first competed in the semi-final 14th in line. She showed a powerful touching performance and received 149 points, took the 5th place thus received the ticket to the grand final. In the final, she went on stage 21st in line. After another strong performance, Lisa received 170 points and this placed her and Cyprus 5th out of the 24 finalists.
Stronger Every Minute – opinions from fans
In order to find out what Eurovision fans today think of this Cypriot entry from 2004, we asked our Eurovision Fan Panel. It includes team members as well as fans from all over the world.
🇳🇱 🇩🇰 Wouter W. – This is not usually my preferred genre of music, but when a song is really good I like it in any genre. And this song is really good. Lisa sings it beautifully in a voice which reminds me of a young Michael Jackson, something that in my world is a compliment.
🇬🇧 Michael O. – This is my favourite Cypriot entry ever and my top of 2004. Maybe not the greatest singer ever, but she did well enough at the contest. Very nice.
🇨🇿 Josef S. – To be honest, the 2004 entry is probably my all-time favourite from Cyprus. The song is so sweet and nice and how Lisa sings it and puts the emotions into the song is really beautiful. Simple, but strong at the same time.
🇩🇰 Charlotte C. – This is quite an unusual entry from Cyprus. It's also rather unusual for this country to find their participant in the UK. This is a good entry in the Barbra Streisand style. Lisa sings it well and vocally she is quite good too. A well deserved 5th place, but it's lacking something in the performance to reach the higher placements. 5th is probably just around where I would place it myself.
🇹🇷 Gunec G. – 16-year-old British – Cypriot school girl Lisa Andreas showed a much bigger performance than her age on such a big stage. Lisa reminds me of Barbra Streisand. The song was also very touching. Simple yet a performance to remember. Well done Cyprus and Lisa.
🇬🇷 Kostas C. – I find the singer cute with a strong voice. Moreover, I was surprised when Cyprus passed to the final, even more with the good place there, because I find the song totally boring. I like the other entry from the same composer (Cyprus 2015). I really can't hear this song till the end. No more news from the singer later on and no success at the charts, when songs like Greece, Turkey and Ukraine were played a lot.
🇨🇴 🇫🇮 Alvaro S. – Beauty in simplicity. At some points in her performance it looked like Lisa Andreas was singing to herself rather than for her audience. This was not negative, rather it gave it an introspective feeling that looked natural. The sound of the instruments gives a magical feeling to it also.
🇧🇷 Amir B. – It was the first time that I heard this song. It reminds me of Tears In Heaven by Eric Clapton. A very emotional entry where she puts the heart outside in the song. Was beautiful to see this entry. I loved it!
🇬🇧 Mhairi O. – This is a classic for Cyprus. It is a really simple and sweet song. Lisa is a great singer but I hate how empty the staging was. She looked so lost all alone on the stage.
🇷🇴 Mihai D. – A memorable presence in this contest. Lisa, at the age of 16 or 17, although she was all alone, filled the whole stage. With the candour of her adolescence, with the musicality of her love song, with the impetuousness of the interpretation and with the emotion transmitted to the audience. In her simplicity she was simply spectacular. A huge pleasant surprise from such a small country, with such a big moment.
Enjoy Lisa Andreas' performance from the 2004 Eurovision Song Contest in the embedded video. Below the video, you can read more about her.
Lisa Andreas — a mini biography
Lisa Large, aka Lisa Andreas, was born on the 22nd of December 1987 to a British father and a Greek Cypriot mother in England.
She started her musical journey as a solo artist at the age of 13 where she attended some festivals, charity events and concerts in England. 2004 designated her journey to Cyprus where she lived her successful Eurovision adventure. With the song Stronger Every Minute, she finished 5th.
Back in the UK, she took part in the British X-Factor's 4th season and made it through the second round. In 2015, she released her maxi single Hypnotized.