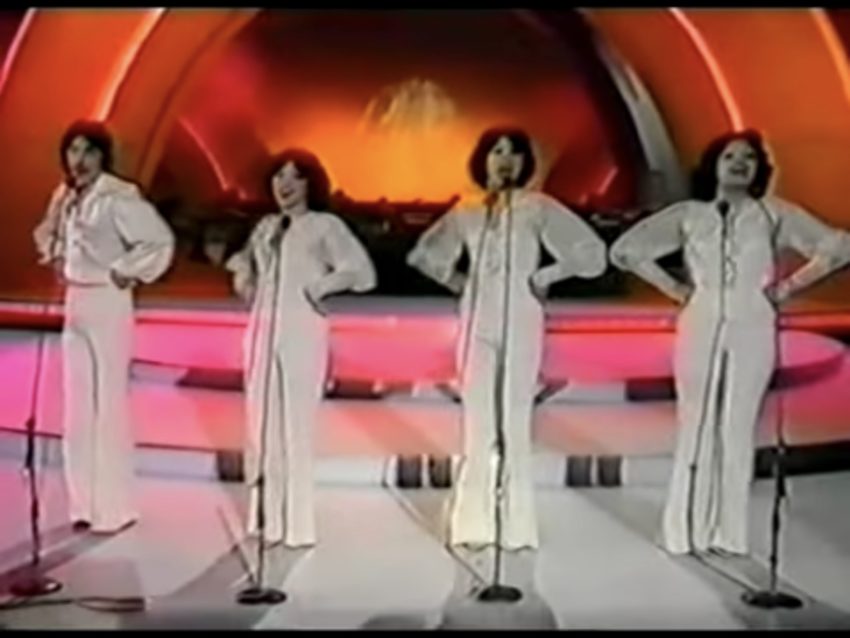 In 1977, for the first time, Belgium came to Eurovision as a firm favourite with the song 'A Million in 1,2,3' by quartet Dream Express.
On February 5, 1977, the Eurosong, Belgium contest took place in Brussels and was hosted by Luc Appermont. Three acts, Two Man Sound, Trinity and Dream Express had each showcased three songs, the prior three weeks. From these each act took two songs to the final.
192 audience members voted for each of the six songs, and then, the favourite from each act was voted for again, by the same audience members.
The winner was A Million In 1,2,3 by Dream Express. At the delayed Eurovision Song Contest of 1977, eventually on May 7, Dream Express performed second last in the contest. They received 69 points, including top marks from The Netherlands, but this was only enough for the group to finish in 7th place.
A Million In 1,2,3 – opinions from fans
Michael O. – I remember having this single, at the time when Eurovision was originally meant to be held in April 1977 and really liked it, although I couldn't understand why it was favourite above Silver Convention. Nevertheless I thought these two songs were the only ones that had any chance that year, so was quite disappointed they finished so low. Still I think this is one of Belgium's better entries.
Wouter V. – Well, this is just plain silly.. I really don't get what gave them the courage to perform this at the Eurovision stage. The dance routine is kinda cute though.
Enis H. – I completely  forgot this existed and hope i will forget it soon. i just dont see the need for this song, I don't get it.
Steve P. – I heard this song on cassette before I saw any performances of it. It's an example of some songs being better heard rather than seen. On cassette, I find it a very pleasant little ditty that I whistle along to and remember afterwards – job done for the writers, I guess. Watching the contest performance, I can't help feeling that the gentleman on the end is surplus to requirements and the choreography, whilst very slick and well executed, was designed for the three ladies with no consideration for the poor chap.
Melanie G. – Being a huge fan of 70,s music this is everything disco cross cheese very happy song would sound good even now at the end of a night played by top dj, I love it, love it, love it.
Josef S. – This is a positive surprise. Belgian song from 1977 sound very catchy and in style of Brotherhood of Man and other similar groups from past decades of classic Eurovision. Probably would not succeed with today's viewers but back then it was good and modern. I would give it a try at least.
Amira M. – I have to be honest it was catchy and a good tune for 1977 but the performance could have been improved it was a bit off.I also didn't like the costumes where it would have made much more sense for the guy to wear a darker colour than the women.The song is the only thing I liked.
Quique B. – I've always wondered if the guy's microphone was unplugged, or not. What was his purpose there? Must be taking care of his wife and sisters-in-law. The song is funny, modern for those times, and with a catchy Eurovision dance in the most becoming manner for a Eurovision contest. Important that, for the first time, Flemish TV renounced their language obviously for English, and they get a good score. Bad precedent.
Charlotte J. – I was one year old, so I am excused for not having seen Eurovision in 1977. I don't remember having come across this entry since. Very few of the 1970's disco entries have aged well, and this is unfortunately not one of them. It's quite fun to watch for the first time, but I don't think it is to be repeated. Catchy enough, but easily forgotten.
Alvaro S. –  I cannot believe how someone can watch this choreography with a straight face. This is so corny it made me laugh just a few seconds after I played their performance. I cannot deny the entertaining value of these types of performances.
Enjoy Dream Express's performance from the 1977 Eurovision Song Contest in the embedded video. Below the video, you can read more about them.
Dream Express – a mini biography
The ladies from Dream Express had already represented the Netherlands at Eurovision in 1970, by the time they were chosen for Belgium in 1977. Then as Hearts of Soul they had opened the contest finishing 7th with Waterman.
Dream Express were made up of the Indonesian born sisters, Bianca, Patricia and Stella Maessen. Stella represented Belgium in 1982 with Si Tu Aimes Ma Musique, finishing fourth.
In 1975 Belgian, Luc Mets, Bianca's future husband, joined the ladies, turning the group into a quartet.They almost topped the. Belgium charts with the self named Dream Express single. The song also afforded them guest slots on U.K televising shows like Seaside Special.
In 1977 they went to number two in Belgium with their, A Million in 1,2,3 Eurovision entry. The group continued in various configurations for several years before splitting up. In 2010, as Hearts of Soul, Bianca and Stella reformed with yet another sister, Doreen.