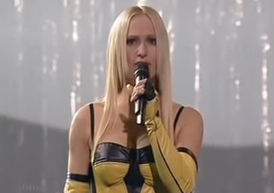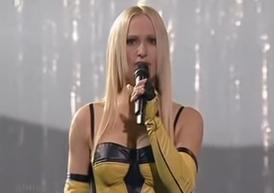 Slovenia participated with Nuša Derenda in the Eurovision Song Contest 2001. Nuša represented her country with 'Energy', and she gave Slovenia their best result since 1995. The fans loved her 'energetic' performance in Copenhagen and it is still remembered among Eurovision followers.
In February 2001, the Slovenian national final, EMA, took place. Nuša Derenda participated with the song  Ne, ni res.  She came first in the jury vote and second in the televote. Overall she won the right to represent Slovenia at the 2001 Eurovision Song Contest in Copenhagen.
For the 2001 Eurovision Song Contest she sung an English version of her winning song. The song competed under the title Energy. For her Eurovision performance, she dressed in yellow and black leather. Two pianists and two dancers joined Nuša onstage. She got 70 points in the night of the final, earning her a 7th place. This is the best result Slovenia has got so far, tied with Darja Švajger who also came 7th in 1995.
Ne, ni res/Energy is an electro pop song written by Slovenian songwriter, Lucienne Lončina.
Energy – opinions from fans
In order to find out what Eurovision fans today think of this Slovenian entry from 2001, we asked our Eurovision Fan Panel. It includes team members as well as fans from all over the world.
🇬🇧 Michael O. – This was a passable catchy entry from Slovenia, who are another country who are really struggling to get the hang of this Eurovision contest thing. One of Slovenia's better entries, but would be lucky to reach a Melodifestivalen final.
🇨🇿 Josef S. – I knew this song already and it belongs to one of my favourite Slovenian entries. It stays loyal to its title and the song is really full of energy. I love the energy Nuša Derenda puts into her performance. And similar to electricity signs, she wears yellow and black. What a clever idea for the staging. TOP 10 material for sure, so its 7th place was well deserved. Actually this song would do well even today, so it was a visionary choice for Slovenia.
🇬🇧 Paul G. – I love the song. It was a great performance and a well deserved 7th place for Slovenia. The only thing I didn't like was her outfit.
🇷🇸 Milosav T. – In a mediocre year (especially concerning the winning song), Slovenia sent an energetic and modern song which should have been in top 3, in my opinion. Nusa was very energetic, vocally correct and seemed to have fun on the stage. The song sounded good in English and that piano solo was to die for. The only thing that could have been improved was the staging, especially during the instrumental peak of the song. Nevertheless, this is still one of my favorites from that year and Slovenia in general. Bravo, Nuša!
🇫🇮 🇨🇴 Álvaro S. – This song is my favourite from this year's festival and it is much more 'energetic' (pun intended!) than the actual winner. I love this song so much. This could actually be the soundtrack of a video-game. Nuša actually looks to me like a female superhero from DC comics with her dress 😉 And let's not forget that fantastic piano solo!
🇩🇰 Charlotte J. – I love this one. This is one of the best entries in 2001, it's Slovenia's best – and had they kept the Slovenian version, it would also be one of my all time favourite entries. Though this was better in the first version in Slovenian, I still love this fresh and energetic song. Energy, yes please, do give me something – at any time!
🇳🇱 Eric O. – This is a very energetic song, catchy and still very popular on ESC Radio! I really like it. I think it was one of the most popular Balkan songs of that era, right? Too bad that current Slovenian entries are not that good, as far as I'm concerned. Even though I didn't watch the Eurovision Song Contest in that year due to work obligations abroad, this song did come out pretty well. I really like it, did I say that already???
🇬🇧 Ashleigh K. – I didn't start watching the contest until 2003 so I hadn't listened to this one before. Though I like the song I can't help but think that it sounds like so many others. But judging by the comments on YouTube I seem to be in the minority here. Maybe I should listen to it again.
🇮🇱 Adi S. – Singing about energy while dressed as a battery. I'm sorry, but I don't like it. It's a Eurovision template song and not a good one. The piano solo is pretty good, but too short.
Enjoy Nuša Derenda's performance from the 2001 Eurovision Song Contest in the embedded video. Below the video, you can read more about Nuša Derenda.
A mini Biography to Nuša Derenda
Nuša Derenda (born Anuška Žnideršič) was born in 1969 in Brežice, Slovenia. She is a talented solo singer, who also plays the accordion. Nuša started her music career in 1980 in a band of young musicians.
Nuša Derenda, has won several competitions in Slovenia before Eurovision. In 1999 she won the best singer award at the Slovene Pop Contest (Slovenska popevka). Furthermore, she won the Orion 2000 contest with the song "Čez dvajset let" (In Twenty Years). During the same year she won the HIT Festival with the song "Ni mi žal" (I'm Not Sorry).
After Eurovision she has continued making music.  She participated in EMA 2016 performing her song Tip Top. In November 2019, she released a Christmas song in collaboration with Poskočni.
🇷🇸