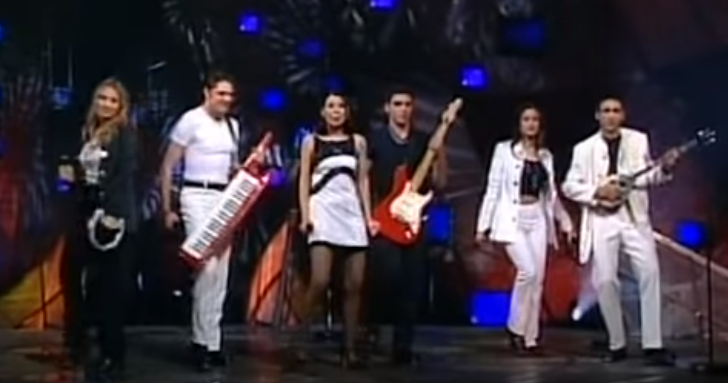 The 1997 Cypriot entry Mana Mou is among the country's most successful entries in the Eurovision Song Contest. Siblings Chara and Andreas participated with their ethno-pop uptempo song 'Mana Mou'.Today, many Eurovision fans still love this entry.
CyBC, the Cypriot broadcaster, held a national final to select their entry for the 1997 Eurovision Song Contest. The National Final took place on the 18th of February 1997 at the Monte Caputo Night Club in Limassol. A 21 member jury chose Chara and Andreas Konstantinou out of 8 participants to represent Afrodite's land in the 1997 edition of the Eurovision Song Contest in Dublin.
After the national final, musician Giorgos Theophanous made a new arrangement for the song which changed the song dramatically. In Dublin, the siblings took the stage in first place and were accompanied by 4 other group members. Their ethno-pop uptempo song spiced up with bouzouki sound Mana Mou earned Cyprus 98 points and a 5th place.
Mana Mou – opinions from fans
In order to find out what Eurovision fans today think of this Cypriot entry from 1997, we asked our Eurovision Fan Panel. It includes team members as well as fans from all over the world.
🇹🇷 Güneç G. – This is one of my favourite Cypriot entries. I love its rhythm, the sound of bouzouki, the soothing voice of Hara and the energy of the whole team. A well deserved 5th place.
🇬🇧 Michael O. – What an opener to the contest with one of Cyprus' best entries ever. Well performed and with a nice tune this fortunately did well. I'd have placed it second after the U.K and I'm sure that's where it would have come had it been drawn towards the end.
🇩🇪 Andrew G. – I didn't really remember this song till I was asked to comment on it. And I am pleasantly surprised. It's a bouncy ode to the motherland of Cyprus. Comparing its beauty to Aphrodite. A deserved 5th places for a good opening and giving it all for their 3 minutes. Personal favourite part has to be Tabadabadabadabadabadabadam.
🇬🇧 🇹🇭 John E. – 5th place, not a bad result for this very upbeat song which remains one of my guilty pleasures. I love the tone and clarity of the singers voice and the ethnic vibe of the whole presentation. The song has dated well and takes me to a happy place although I do not know what the lyrics mean.
🇩🇰 Charlotte C. – You know there's 'an issue' between Cyprus and Turkey when a song like this doesn't get any points from Turkey. Aside from the Greek language, it might as well have been a Turkish entry. And that's exactly why I don't like it. I have admitted several times that whenever Turkish entries sound too ethnic, it puts me off – and so does this one. I do like parts of the song though – so I am not entirely off. 3/10.
🇨🇴 🇫🇮 Alvaro S. – I like the contrast between some more traditional elements in the music with a more pop friendly sound. It is interesting and this combination does not sound forced. This is one of the songs that is easy to listen and enjoy.
🇮🇪 Paul K. This is a pretty good song. It was great for it's time but if anyone was to release something like that today, I think it would be too dated. I like the pop sounds and the backing singers were quite excellent. Backing singers can either make or break your performance. And there are plenty of modern day examples of this (Ireland 2011). I do like this song, but I would also say that it would be considered dated if it was released today
🇩🇰 Alberte B. – I was actually really surprised at how much I liked this song. While listening to it, it really grew on me. It's so fun and catchy!
🇷🇸 Milosav T. – Wow, can a song get more 1990s than this? This is a worthy 5th place winner, with a nice blend of ethnic and what was considered modern at the time. The visual aspect of it is pure 1990s madness, with vinyl dresses, white suits and loads of hair gel. The only thing I find distracting is that their voices sound kinda secondary to music. Overall, a nice song with a nice message and a cohesive interpretation. But, oh, those eyebrows!
Enjoy Chara and Andreas Konstantinou's performance from the 1997 Eurovision Song Contest in the embedded video. Below the video, you can read more about them.
Chara and Andreas Konstantinou – a mini biography
Andreas and Chara Konstantinou are siblings of the famous Cypriot singer Konstantina. Unfortunately, the brilliance and liveliness of Konstantina overshadowed the other two siblings and they had a short career culminating in the release of the following songs Korona Grammata (Chara Konstantinou), Hidden Journeys (Konstantina & Andros Konstantinou), Pethanli For Me, I Once Loved and You Are My Goddess (Andros Konstantinou).
In 1997, they represented Cyprus at the Eurovision Song Contest with the song Mana Mou. With 98 points, they finished 5th.