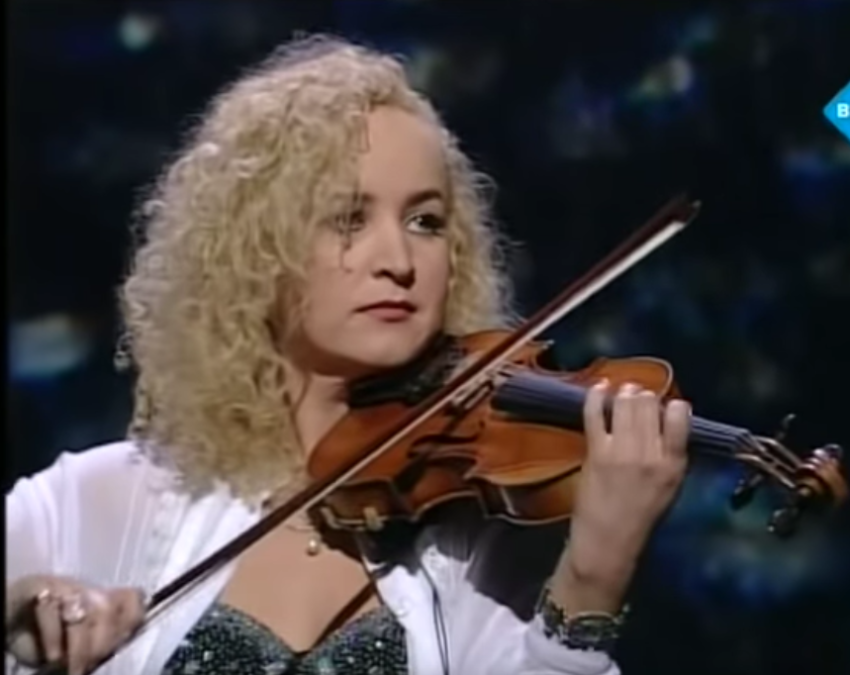 Back in 1995 Ireland had won the Eurovision Song Contest for three years in a row. Norway got their second victory with the right formula at the time: an Irish/Norwegian duo that delighted the audience with a Celtic classical sound. 25 years later, the song is still loved by many Eurovision fans.
Norway chose the Melodi Grand Prix 1995 as their national selection for Eurovision. MGP 1995 consisted on nine semi-finals with only two songs each and a grand final with 10 finalists. The Celtic, classical duo Secret Garden won both the vote from the jury and the televote and thus represented Norway in Dublin. This was the second time in a row that Dublin held the contest after Ireland's three consecutive victories in Eurovision.
Secret Garden performed their song Nocturne in the night of the Eurovision Song Contest 1995. The Irish Norwegian duo performed together with Gunnhild Tvinnereim as a vocalist as well as Hans Fredrik Jacobsen and Åsa Jinder playing the penny whistle and the nyckelharpa.
Nocturne is a mainly instrumental song. With only 24 words, Nocturne has the record for the Eurovision winning song with the shortest number of words on its lyrics. At the end of the night Secret Garden received 148 points and won the contest.  Norway received 12 points from Greece, Iceland, Poland, Portugal, Russia and Turkey.
Secret Garden's member Rolf Løvland is one of the composers of Nocturne with Petter Skavlan providing the lyrics. Løvland also composed Norwegian's first Eurovision winning song La Det Swinge from 1985.
Nocturne – opinions from fans
In order to find out what Eurovision fans today think of this Norwegian entry from 1995, we asked our Eurovision Fan Panel. It includes team members as well as fans from all over the world.
🇬🇧 🇹🇭 John E. – A haunting melody and a memorable song but I do remember feeling cheated by a lack of lyrics which, for me, should be an integral part of the song. Such a change for Rolf Løvland, from La Det Swinge to Nocturne. Was great to see Secret Garden continue to have international success after the contest.
🇩🇰 Charlotte J. – Here we have a Eurovision classic for a reason: It stands out in so many ways. The very few words, the beautiful background music, the violin solo… I am not sure it's possible to find people not liking this one, it's at least not going to be me. I love it! This is one of the many great songs from Norway – and a small reason of why it's my favourite Eurovision country.
🇳🇱 Jacques H. – I never understood Nocturne, and I am afraid I never will. Totally inappropriate for the Eurovision Song Contest. Not enough singing. Too much instrumental. The music itself isn't bad at all, but not my cup of tea. Next!
🇬🇧 Michael O. – I remember getting this CD from NRK in the mail and thought they'd sent a promotional item rather than their Eurovision entry. Playing it to friends, we laughed thinking this didn't stand a chance. On the night I guess it stood out for its lack of lyrics, but I'm not a fan. I liked You Raise Me Up later, but I'm not really into this airy fairy type of music.
🇨🇴 🇫🇮 Álvaro S. – This is one of the best examples of how sometimes less is more. I like the minimalistic, intimate feeling Nocturne gives me. The overall feeling is so peaceful and the instrumental makes me think about an enchanted, beautiful landscape. Almost like a movie. A magical feeling and well executed song.
🇷🇸 Miljan T. – Nocturne is undoubtedly one of the best songs to have ever graced the ESC stage, and there is no discussion whether it deserved to win. The music is magical, the vocal performance extraordinary. Having said that, I sometimes wish Spain would have won, because their vocal performance was also absolutely phenomenal. But what's best about Norway winning 1995 is that it brought up the discussion what we actually consider to be a song and that it widely opened the door to more "classical pop" songs that followed in the years and decades after it.
🇳🇴 Stine F. – Secret Garden and Nocturne makes me really proud to be a Norwegian. The song is so beautiful and a perfect representation of my country. It makes me think of fairytales (not the Rybak one 😅) and enchanted forests, mountains and valleys! I still love this song – even so many years later. It is one of a kind!
🇨🇿 Josef S. – Even though being from 90's, I take Nocturne by Secret Garden as one of the classical and iconic Eurovision winners. Its mystical atmosphere in combination with violin and instrumental music is simply beautiful and sounds like from another world. Which is exactly what I love about it. ❤
Enjoy Secret Garden's performance from the 1995 Eurovision Song Contest in the embedded video. Below the video, you can read more about them.
Secret Garden – a mini biography
Secret Garden is an Irish/ Norwegian duo consting of Irish violinist and singer Fionnuala Sherry and Norwegian composer and pianist Rolf Løvland. The group was formed in 1995. Both started their music careers at an early age. Sherry begun playing the violin when she was eight years old in Dublin. Løvland on his part, started composing music when he was just nine.
Secret Garden is known for their instrumental new wave songs which have classical and celtic elements. In 1995 Secret Garden represented Norway in Eurovision. They won the contest with the song Nocturne. This was Norway's second victory in the Eurovision Song Contest. Rolf Løvland composed both Nocturne and the very first Norwegian winner on Eurovision, La Det Swinge.
Secret Garden has released nine studio albums. Their most famous song after Eurovision is You Raise Me Up. That has been covered more than 500 times by artists including Josh Groban, Russell Watson, Westlife, Sissel Kyrkjebø, Becky Taylor, Celtic Woman, Lena Park, Robert Tremlett, Il Divo, Rhydian, and Sergio Dalma. In 2010 Sherry released an album as a solo artist.