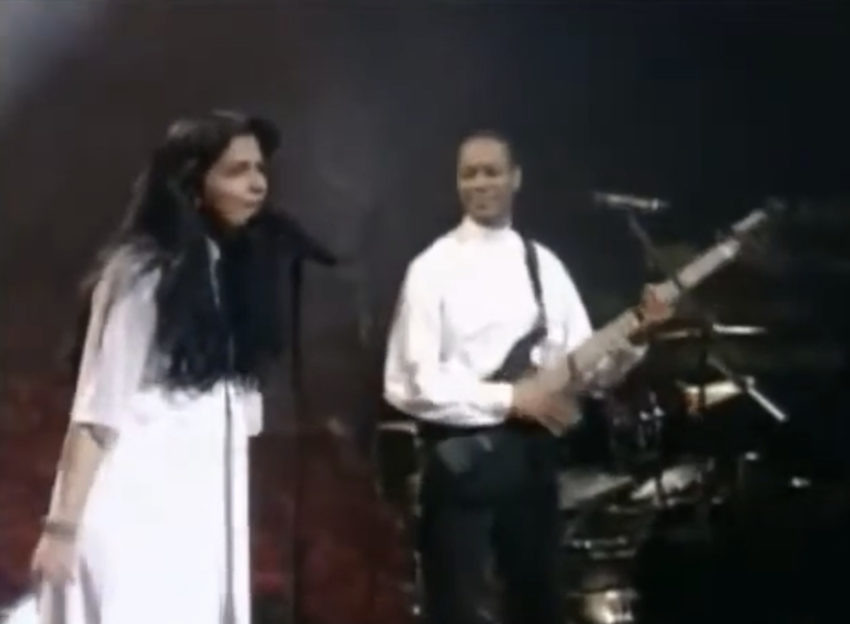 While Germany did well at the start of the seventies and eighties, in the first few years of the nineties only Mekado (1994 entry) had placed Top 3, so by 1995 they were hoping to do better with Stone & Stone with the song 'Verliebt in Dich'.
The duo, Stone & Stone, who had been married, but were now divorced, were selected internally by German Television, Mitteldeutscher Rundfunk to perform the religious song, Verliebt in Dich. The German public expressed surprise at this decision which was much covered in the German press.
Nevertheless, the duo arrived in Dublin, Ireland to perform the song at Eurovision on May 13, 1995. Performing third, the song was totally ignored by all the juries, until Malta, the second from last jury, awarded the song 1 point. Consequently, Germany came last for the fourth time.
Verliebt in Dich – opinions from fans
In order to find out what Eurovision fans today think of this German entry from 1995, we asked our Eurovision Fan Panel. It includes team members as well as fans from all over the world.yes
Michael O. – This song just didn't seem to go anywhere. The hey after the first verse seemed totally pointless, as if they were trying to do as badly as possible. Sadly one of Eurovision and Germany's worst ever entries.
Alvaro S. – I actually like this song. I think this was a good tune in the year that Nocturne won the contest. The vocals are not the best I can agree with that but the chorus and the instrumental sounds beautiful. It has this folk/traditional element that in general I like to find in eurovision songs. It reminds me a little of, for instance to Go_A this year.
" Pascal W. – I unfortunately don't really like this song… First of all I don't really like songs in my native language – I don't really know why, but I feel like German is not very suitable for singing, it just doesn't have the same flow as other languages like English. On top of that, the song itself is not really outstanding, so this was not a surprising last place.
Aaron S. – I'm not surprised this song finished in last place, while it has a nice message, I feel the vocals are weak and off-key.
 Craig M. – I did not even know what Eurovision was in 1995, but I have since had a chance to hear this song. The live orchestra was a thing back then, which was pleasant, but the only thing that saved this act from a zero score, was a solitary point from the Maltese jury. It's not really my kind of song, and a very unusual style of song for Eurovision. At the time, there was a lot of criticism about this entry, because the German broadcaster internally selected this married duo, who were unknown, even in Germany. Not one of my favourites sad to say.
Charlotte J. – I had forgotten all about this one, and I soon will again. It started out extremely boring, but then her 'hey, hey' woke me up. Unfortunately, I was quickly about to fall asleep again. This song is just too boring for me… Germany actually had many great songs in the 1980s and 90's, but this was one of the few years where they didn't deliver to my expectations.
Melanie G. – This is a very dramatic song, love the orchestra but not a great fan of the vocal side. It is not really something I would listen to, but a great effort is recognizable in the production of the song.
Pawel J. – I really can't help myself comparing the chorus part of the German song to the Polish one that particular year- with the second one being much better in my opinion. The German entry is just very forgettable, kind of "messy" and the lead singer Cheyenne was off key for a bit of the performance. That one point from Malta saved them from joining the "zero points club" but not from coming last on the night.
Stone & Stone – a brief biography
The duo of Stone & Stone comprised of Glen Penniston and Tatjana Cheyenne. Glen was born in The Netherlands, with Aruban ancestry. He moved to Germany in 1970, where he played drums and released several singles.
Tatjana was born in Iran, and the pair met in 1979, eventually marrying, but divorcing in 1994, the year before they represented Germany at the Eurovision Song Contest.
The duo always recorded in English and made number 31 in the German charts with I Wish You Were Here in 1993. Tatjana wrote the German number 13 hit Julian by Mandy Winter.
In 1995 their song I Realised It's You had to be translated to German for Eurovision. Afterwards the pair went their separate ways.