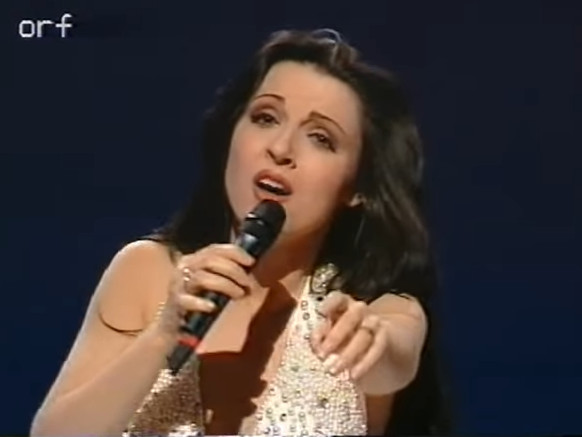 Cyprus has been a loyal member of the Eurovision family since 1981 with many fantastic entries. While their best placing being the second place in 2018 with Eleni Foureira's 'Fuego', they have sent many great entries, which deserved better like 'Ime Anthropos Ke Ego' by Evridiki in 1994.
Cyprus held a national final for the Eurovision Song Contest in 1994 at the International Conference Centre in Nicosia on the 18th of March 1994. Among 8 finalists, 26-year-old Evridiki who had already represented her country in 1992 with Teriazoume in Malmö, Sweden pulled up the trophy in Cyprus again with her romantic song Ime Anthropos Ke Ego and got the ticket to Dublin, Ireland.
In Dublin, Evridiki took the stage 4th in line with her beige gown with sparkling stones on it. Her romantic song featured ethnic instruments which added the song more drama and romance. Eventually, Cyprus and Evridiki ended up in 11th place with 51 points.
Ime Anthropos Ke Ego – opinions from fans
In order to find out what Eurovision fans today think of this Cypriot entry from 1994, we asked our Eurovision Fan Panel. It includes team members as well as fans from all over the world.
🇬🇷 🇬🇧 Theo V. I was probably too young to appreciate this entry at the time. Evridiki's pop career had exploded since her previous, 1992, Cypriot entry and I guess I had expected something more poppy and less understated for her 1994 Eurovision return. Listening to it as an adult, I think it has aged really well. A really beautiful ballad with poignant lyrics: the more base part of human nature (ironically) getting in the way of people realising their shared humanity. On a more superficial note, I also love Evridiki's styling, which, to me, looks like a wink to Anne-Marie David circa 1979 (France).
Giorgos Theophanous, the lyricist/composer/conductor of Eimai Anthropos Ki Ego (I Am A Human Being, Too) has had a stellar career in Greece and Cyprus with numerous hits penned by him over the years and up to the present.
🇵🇹 Inês M. – This is a timeless song, with class and elegance. I believe that it would be a performance that would go a long way in the contest, if it were placed in the lot of competitors today. The instrumental is traditional and leaves us addicted to the song.
🇫🇮 🇨🇴 Alvaro S. – I like the sound of the accordion and the instrumentals in general, it makes me think this could be a soundtrack for a film of the golden age of Hollywood. Stunning performance.
🇩🇰 Charlotte J. – I like Evridiki. She is a really strong singer with an interesting voice with so many levels. I have always been wondering why she, for Eurovision, never got songs that was strong enough. This is a perfect example of that. For me, it's fine background music, I wouldn't want to turn it off. I AM hooked from the beginning, but after half a minute, I loose interest, and it becomes background music.
🇬🇧 Michael O. – This is a nice sultry wordy little song from Evridiki. Mournful too but good enough to stay fresh all these years later. This was her best entry of the three.
🇹🇷 Gunec G. – Such a magical melody accompanied by the amazing bouzouki and Evridiki's sensational voice. This performance gives me goosebumps every time I listen. 11th place is such a crime to this masterpiece.
🇧🇦 🇩🇰 Elvir P. – Ime Anthropos Ki Ego is my favorite Eurovision entry from Cyprus. It has all the ingredients a great song needs in my opinion: ethnic vibes, ballad, charisma and great vocal. I still can't understand why this song only reached 11th place in the final, because it deserved much, much more.
🇦🇺 Vivienne F. – Fantastic song, I love how she bursts into the chorus full of emotion and with the addition of the T-traditional instruments it makes it wonderful. There were a few good songs that year, and Ireland won again, I think it was River dance that ultimately won Eurovision though.
🇲🇹 Luke B. – Cyprus 1994 is a song full of emotion. Like, really pure emotion that strike you to the core, even though you don't have a clue what the song is about (could be about the bad burger you had last night!). It is impeccably sung and the song is structured really well! Criminally underrated in my opinion.
🇷🇴 Mihai D. – The song from Cyprus from 1994 seems much better to me than the 11th place it occupied at the end of the competition. It has a beautiful, wide melodic line, with the inflections of Greek love songs and that touch of drama so characteristic. I felt transported to a romantic holiday world, from a warm summer evening by the sea. The song was performed without error in an impeccable outfit, everything set up in the smallest details. I don't understand why the jury and the audience saw this song only in the middle of the rankings.
Enjoy Evridiki's performance from the 1994 Eurovision Song Contest in the embedded video. Below the video, you can read more about her.
Evridiki – a mini biography
Evridiki Theokleous aka Evridiki was born on the 25th of February 1968 in Limassol, Cyprus. She was raised in Nicosia and studied music at the National Conservatory of Cyprus. She also studied music in Paris, France and Berklee, USA. In 1989, she moved to Athens, Greece and started her professional music career with her first album Gia Proti Fora. She has represented Cyprus in the Eurovision Song Contest three times:
1992 – Teriazoume finishing 11th
1994 – Ime Anthropos Ke Ego finishing 11th
2007 – Comme ci, comme ça finishing 15th in the semi-final and as such didn't reach the final
She also appeared on the Eurovision stage as a back vocalist in 1983, 1986 and 1987. In 2008, she took the stage for the occasion of Junior Eurovision Song Contest and performed Fun In The Sun with her then husband and musical partner Dimitris Korgialas. Evridiki has released numerous singles and albums throughout her career.