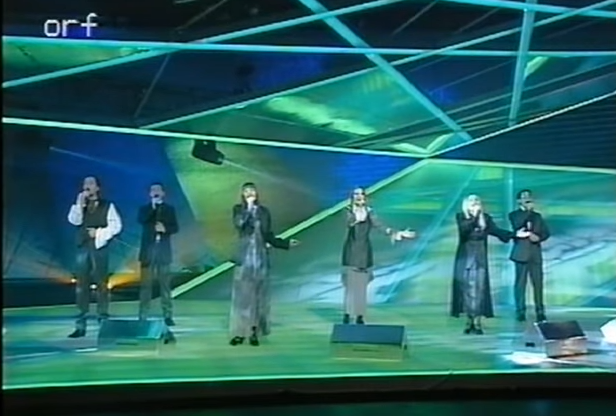 Croatia made their debut as an independent country in the Eurovision Song Contest 1993. Their entry was 'Don't Ever Cry' by the mixed sextet group, Put.
On 28 February 1993, Croatian Television hosted the Dora contest. Fifteen acts competed with the winner being Put. After that, the group had to compete in the Kvalifikacija za Millstreet where the top three of seven European countries would be allowed to enter the Eurovision Song Contest 1993.
On 15 May 1993, Put performed as favourites to win the contest, in 21st position on the stage in Millstreet, Ireland. Receiving their highest marks of 8 points from the United Kingdom, the song ended up with 31 points. Don't Ever Cry finished in 15th place.
Despite the English title Don't Ever Cry, the English version of the song had that lyric changed to Why Should We Cry for no obvious reason.
Don't Ever Cry – opinions from fans
In order to find out what Eurovision fans today think of this Croatian entry from 1993, we asked our Eurovision Fan Panel. It includes team members as well as fans from all over the world.
Michael O. – To me this is the most melodic Eurovision entry of all time. There were lots of great entries in 1993, but this was my favourite that year. Very disappointed in its low marks, this is still in my Top 10 entries ever at Eurovision.
Gunec G. – This is absolutely a lullaby. However, I like the team's effort to give their best while performing this song.
Nihad B. – 1993 was a super emotional year for ex-Yugoslavia countries. The war was still raging and the emotions were at max. Bosnia was represented by Fazla, with a song about the ongoing war, and so were Croatia. The song is amazing…full of emotions, beautiful music, staging…the only negative thing is the music volume, I feel like their voices were drowned in the music…overall beautiful song, and an amazing entry from Croatia. The 90s were their golden age in Eurovision.
Charlotte J. – An emotional and beautiful chorus, but unfortunately the song as a whole tends to be too boring for me. I almost feel ashamed to write it due to its meaning, but I have to be honest… I really like the chorus, but the rest almost makes me fall asleep. Sorry, Croatia.
Enis H. – Probably one of my favourite Eurovision songs from Croatia, I love their voices and the message.
Miljan T. – Croatia's debut in 1993 is surely nothing to write home about – it has the sound of a children's song, but it's not unpleasant. The vocal harmonies are nice and it is worth noting that Croatia chose a song by a songwriting legend – Djordje Novkovic. His son, Boris, a big pop star in ex Yugoslavia himself, went on to represent Croatia in 2005. Also, worth noting is how back in the 90s, with live music, everything sounded better than it does today sometimes – the music, the vocals, the sound mix was just perfect.
Aaron S. – I like this song, I like the combination of the beautiful Croatian language along with some English, I think the vocals are good, I also find the song has a unique Christmas-like magic feel to it with the orchestra. This song deserved a better finish than 15th place for sure.
Josef S. – This is one of those songs I don't know that much about, but exactly in the old style I like. It is very fairy-tale like and if I wouldn't guess it is from Croatia, I would bet it is Switzerland or Austria as it sounds like a folk song from the Alps.
 Alvaro S. – I like lullabies but in this case I felt no interest about this song. I would have forgotten about it very easily.
You can watch the Croatian 1993 entry, Don't Ever Cry below, and read a little about Put after enjoying the song.
Put – a brief biography
Putokazi is a vocal and performance collective from Rijeka, Croatia, now in its 36th year of existence. It was formed in 1984 by Miranda Đaković. In 1993 six members of the group, broke into a choral subset to form Put (The Way) as entrants for Eurovision 1993.
The members of the group were Vivien Galletta, Angela Jeličić, Melita Sedić, Naim Ayra, Petar Cucak Migliaccio and Olja Desic.
Lead blonde singer, Vivien released a CD, Sentiment in 1996 and appeared in the Melodije Istre i Kvarnera 2006 and 2010. She attempted to represent Croatia with her husband, Voljen Grbac in 2007 with the song Riječi dvije.
The man with the long hair, Naim attempted to be Croatia's entry again in 1996 with Dvije ruže and 2007 with Još sam uvijek tvoj.
Olja went on to be a composer, producer and arranger in Croatia. He plays the bass guitar and has written five musical plays for children.
Melita and Peter appear to have retired from singing. Angela has been known to perform now and again at Balkan folk festivals.