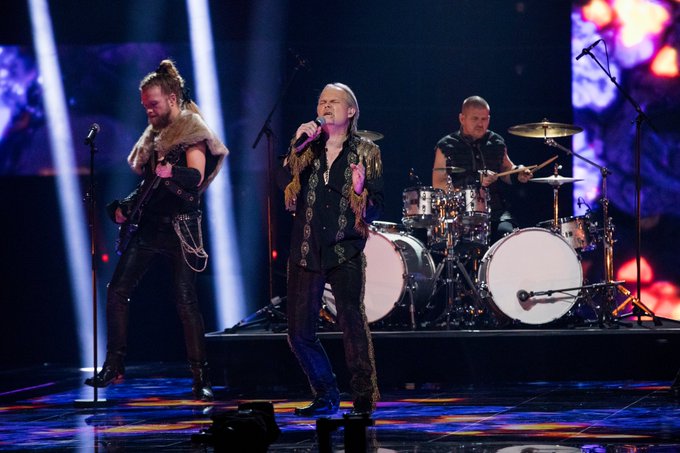 The line-up for Saturday's Norwegian final is now complete. Tonight, the very last act was added through an unusual wildcard selection this evening. 15 acts competed for just one last slot in the final.
They have been through five heats, which have provided just as many winners. However, we haven't seen any losers until this evening. All 15 acts that didn't win their heat went on to this big wildcard round.
In total, 12 acts will compete in the Norwegian Melodi Grand Prix on Saturday the 20th of February. Six of those acts were preselected for the final, another five won their preliminary heat and finally, the last lucky one was the winner of tonight's wildcard round.
Wildcard round
Tonight's show started at 20:00 CET. Contrary to the five heats so far, there were no duels in this wildcard round. Voting was still done online with NRK login. Right from the beginning of the show, it was possible to vote for all 15 acts. Everyone had three votes to cast on either three individual ones or put all three votes on one or two entries. It was possible to vote from abroad too.
If you expected another big show tonight, you were disappointed. The hosts sad around a table in a big radio/TV studio, and the performances from the five preliminary heats was shown on screen with the hosts shown in the studio shown in a smaller image. The hosts didn't interrupt the performances, but really, why even see them during the videos? Why not put all focus on the artists? We'll probably never know, but it did appear awkward.
Last year's Norwegian winner Ulrikke's performance from the 2020 Melodi Grand Prix was shown on screen as well. During the show, we saw clips from former Eurovision entries like Serbia 2007, Russia 2008 and Moldova 2010.
And if anyone should think that a wildcard participant can't win as they already lost once… Denmark 2007 was mentioned as an example, in tonight's show. Drama Queen had lost to four other songs the Danish semi-final, then later won a wildcard to the final – and finally ended up winning the final and represent Denmark at the Eurovision Song Contest.
Melodi Grand Prix 2021 final line-up
TIX – Ut Av Mørket (Direct finalist)
Atle Pettersen – World On Fire (Direct finalist)
Stavangerkameratene – Barndomsgater (Direct finalist)
Kaja Rode – Feel Again (Direct finalist)
Rein Alexander – Eyes Wide Open (Direct finalist)
KEiiNO – Monument (Direct finalist)
Blåsemafian feat. Hazel – Let Loose (Winner of first heat)
Raylee – Hero (Winner of second heat)
Emmy – Witch Woods (Winner of third heat)
KiiM – My Lonely Voice (Winner of fourth heat)
IMERIKA – I Can't Escape (Winner of fifth heat)
Jorn – Faith Bloody Faith (Winner of wildcard round)
Video: Ketil Stokkan – A musical portrait
One of the participants tonight was double Eurovision participant Ketil Stokkan. He didn't manage to win the second heat with his 2021 entry My Life Is OK. And unfortunately, he didn't win tonight's wildcard round either.
With more than 40 years in the music business, this is a man with a lot of experience, and a lot on his mind. Lean back with a glass of wine or a cup of coffee, and enjoy this Ketil Stokkan – A musical portrait in the video below. It includes clips from all his Melodi Grand Prix and Eurovision appearances such as the classic 1986 Romeo song. Included are also other hits from his long career.