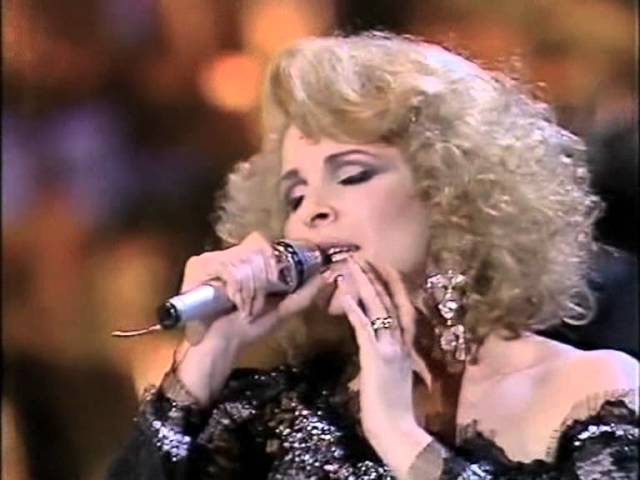 1991 is a year of many controversies in the Eurovision fan base. The hosts weren't the most professional couple; was France really the deserved winner; and how did anyone think that guy could play the Saxophone. Thankfully though Greece's Sophia Vossou took it all in her stride as she gave a rousing performance of her entry I Anixi.
Sophia Vissou's eurovision entry has now become somewhat of a fan favourite over the years despite her 13th placing at the 1991 contest with 36 points.  I Anixi is a rock/opera ballad incorporating scat elements of jazz, written by Vossou's then partner Andreas Mikroutsikos.
The song has gone down in Eurovision history more for its three minute performance, due to a less than competent Saxophone player, 'butchering' the instrumental break and Vossou's face looks miffed during this part. While the song was not a success at the contest, at home it was a major hit being, certified platinum. 
I Anixi – opinions from fans
To get an idea of what contest fans think of this Greek classic we asked some of our team as well as our dedicate fan panel for their opinions below:
Kostas C.
I heard the song for the first time, live at the eurovision stage. I felt awkward as a Greek. I didn't like neither the song nor the stage performance. After the competition, I changed my mind about the song and I still like it a lot. I find the result quite fair for this appearance, especially in a year with many good and interesting entries.
Aaron S.
I liked Greece in 1991, while the song structure was a little unusual, it worked really well, supported by Sophia Vossou's lively vocals and the fantastic orchestra. Not to mention the beautiful Greek language which I have missed in Greece's entries over the past few years. It deserved to finish much higher on the night.
Alvaro S.
It is difficult not to talk about this song without mentioning the epic fail of the sax guy. That was painful to listen. It is also outstanding that even with this big problem Sofia's voice was outstanding and she defend her song during the whole performance.
Michael O.
yuk just didn't like this one at all. What a racket.
Charlotte J.
This is powerful. I have no idea what she sings about (haven't checked out the lyrics), but it comes across as strong and powerful to me, in particular in the chorus. The verses, I am not too keen about. All together, I would place it in the middle, which is also where it ended. Quite right, in my opinion.
Konstancija S.
I think that this Greek performance was a little bit of a chaos. I loved how the orchestra played, especially the saxophone solo – never mind that he made some mistakes and played wrong notes
but the singer was really weak. So it was like an ensemble without the same vision of the performance. But do not forget that it is 1991. It was modern to sing and to play like that in that time! So in conclusion I would say that this music is a little bit strange and looks like an ancient performance for today, but it was amazing 30 years ago!
Ashleigh K.
What a powerhouse from Greece. Sophia Vossou's vocals are superb and she delivered the song really well. I like this a lot. On another note.. Who on earth hired that Saxophonist? I suppose this is a good example of why backing tracks are used these days.
Pawel J.
I am trying very hard but I can't really think of anything I like about that song. With all the respect to everyone involved in that performance – for me it's a bit of annoying chaos. One of those "heard it once and immediately forgot about" songs. Top three of my list of the worst Greek entries ever
William S.
This one is a classic for me, I have adored it from the very moment I first heard it and Sophia has a strong voice that compliments the song so well. Yes, the saxophone player ruins the live performance, but the structure of the song and it boldness to fuse different genres together makes it so much more than a standard entry. Should have done better (even with the dodgy sax man).
Jacques H.
Greece's song Anixi has one of the greatest arrangements by Charis Andreadis. It has a rich orchestral intro and throughout the entire song it sounds marvellous. Sophia Vossou ads one of the best voices of 1991's Eurovision Song Contest, but I don't particularly like the high pitched verses. What a shame the saxophone player completely fails his solo, it deserved so much better. The song itself is a wee bit monotonous and could have done with a bit more oomph. All in all, it deserved more than the 13th place and only 36 points.
Find out more about Sophia's career under this video of her live Eurovision performance.
Sophia Vossou

– A mini biography
Born in Patras on the west coast of Greece in 1961, Vossou studied music in Athens. In 1984 she won the Thessaloniki Song Contest which catapulted her career and started to book more live performances throughout the country before releasing her self titled first album Sophia.
Sophia's career has not been restricted to just music recording, she has also produced many T.V and radio shows including a morning show and reality T.V. In 2006 she became a mentor on the TV reality, talent program Dream Show.
In recent years Vossou has been seen taking to the stage as an actor in theatre productions and on the small screen in sitcom Ola Stin Taratsa. In 2014 she took part in the Greek version of the popular television franchise Your Face Sounds Familiar, among her performances was a rendition of 2007 Eurovision winner Molitva and Marija Šerifović.