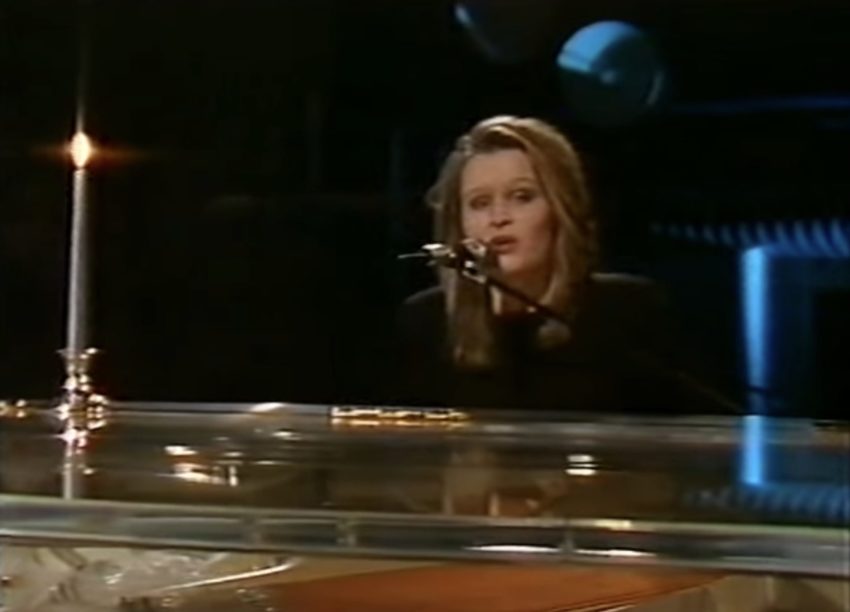 Often mocked for finishing in last place, eleven times, it is sometimes forgotten how many great entries Norway has sent to Eurovision. One of these was in 1988 when Karoline Krüger came to Dublin with 'For vår jord'.
On March 26, 1988, Norwegian Television (NRK), having previously broadcast, four semi finals, held the Melodi Grand Prix 1988 final with ten acts and songs.
Despite competing against favourite Jan Teigen with the song Glasnost, Karoline won the contest by ten points with the song For vår jord, co-written by past Norwegian contestant, and Jan's ex-wife, Anita Skorgan.
On April 30, 1988, Karoline performed 15th out of 21 counties at the Eurovision Song Contest 1988. The United Kingdom jury felt she had the best song, helping her with 12 of the 88 points she received. This meant Karoline finished in 5th place.
For vår jord – opinions from fans
In order to find out what Eurovision fans today think of this Norwegian entry from 1988, we asked our Eurovision Fan Panel. It includes team members as well as fans from all over the world.
Michael O. – of all Eurovision entries, this was the most classy and perfect staging ever. Beautifully performed, a great message, wonderful tune, this should have done even better than fifth place. Excellent stuff.
Alvaro S. – A beautiful song about mother earth and the environment. I like the intimate feeling it has at the beginning of the song when it is just Karoline playing the piano. I actually would have kept the backing vocals out of camera because they took away part of this feeling of closeness with the audience.
Milosav T. – In my opinion, this is a pretty nice song. She does a good job with her voice and the piano, but the chorus is somewhat ruined by the backing vocals. One of them seems to be off, or too high(I mean vocally). I don't remember how this ended up in 1988, but I wouldn't be mad if it ended in the upper half of the scoreboard.
Inês M. – It is a calm song with a beautiful melody. However, I believe that nowadays it would not stand out as much, as we have already seen many options of the style, sung at the piano. The choir worked very well, with a lot of harmony. However, I can't deny that it is, without a doubt, a beautiful song.
Amir B. -I loved the vibe of the song. Give a peace inside. So beautiful, unfortunately competed in the same year that one of my favourite winners. But I loved the song.
Kostas C. – A very emotional and melodic ballad, with a simple but atmospheric stage presentation from a very harmonic voice. What else to like in a song, and especially back in 1988? A well deserved 5th place.
Charlotte J. – I love the Norwegian entries in 1985, 1986 and 1987… as such, it doesn't come as a surprise that I like this one from 1988 too. Not nearly as much as the previous years, but it's still very nice. I have Norway as my favourite Eurovision country, and I often think they score way lower than their songs deserved. 1988 was different though. A 5th place was just right for this one. Switzerland, United Kingdom and Denmark were all better. I would put the Netherlands as 4th – and Norway 5th.
Robert I. – This is one of the Norwegian Eurovision classics. Karoline has a soft and beautiful voice. Although I must admit that the song is melodious and of high quality, I still find it boring and maybe even a bit sad. It lacks something. When it comes to Norwegian piano ballads in Eurovision Song Contest, For vår jord doesn't touch me in the same way as for example Jostein Hasselgård's very good entry from 2003 I'm not afraid to move on.
Josef S. – This is actually really nice piano ballad, not too different from other songs that were popular in the late 80's and early 90's. She looks gorgeous and her voice is very likeable. If I should make a list of the best songs from this decade, it would be included for sure.
John E. – I usually love Norwegian entries but I find this one a little bland. It does not stick in my memory. The singer has a beautiful voice but I find it hard to recall the melody. Interesting to note Anita Skorgan (multiple entrant) is one of the writers. Maybe I hold a minority view as it did achieve 5th place.
Karoline Krüger – a brief biography
Karoline Krüger was born on 13 February, 1970 in Bergen. Although she had appeared as a child performer in the show, Halvsju, it wasn't until 1988 when she received her big break by representing Norway at the Eurovision Song Contest with For vår jord
The song featured on her debut album, Fasetter(Facets). In several countries she also scored a hit with You Call It Love from the film, L'etudiante.
Since then, Karoline has released nine albums, her third, Fuglehjerte (Heart of a Bird) particularly gained critical acclaim. She followed it up with a Christmas and children's album.
Karoline has won many awards in Norway for her music, but also acts too. Her past roles have been in Peer Gent, and later she played Florence in Chess, touring Europe and the USA.