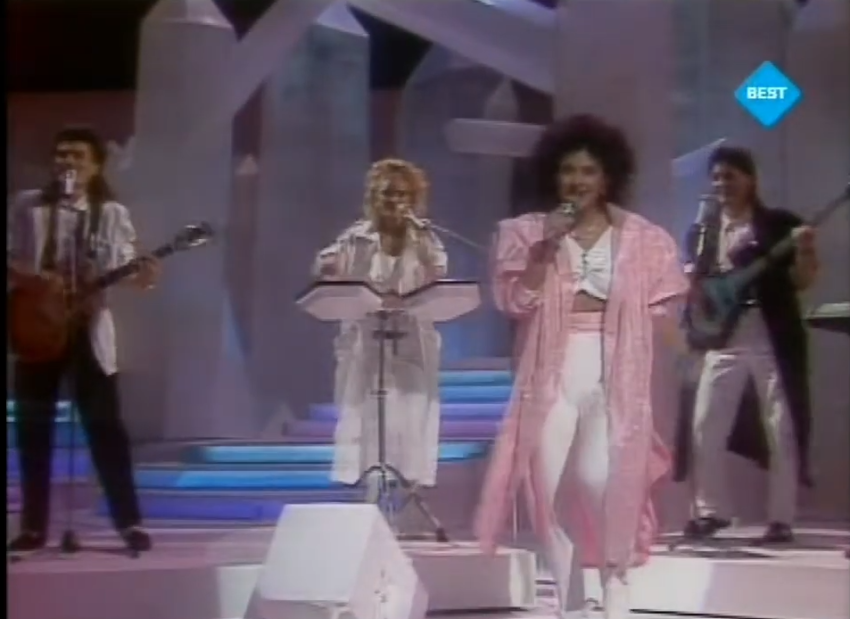 Shoulder pads, high hair and an 1980's sound. We are talking about Ireland's 1986 entry. Could this 4th placed entry have been a winner with a bit more power? Eurovision fans are really split in their opinion on the song 'You Can Count On Me'.
In order to select the Irish entry for the 1986 Eurovision Song Contest, a national final was held in March in Radio Telefís Éireann studios in Dublin. 9 entries competed and among those were well known names such as Linda Martin (Ireland 1984 and 1992) and the folk rock band Loudest Whisper. Northern Irish band Luv Bug however finished on a clear first place with the song You Can Count On Me.
At the Eurovision Song Contest in 1986, the Irish entry finished 4th. The 96 points Luv Bug received included the maximum 12 points from Austria, Denmark and Spain. The situation between Ireland and United Kingdom was quite tense at that time, and indeed in 1986 the two neighbours didn't have any points to give each other.
You Can Count On Me – opinions from fans
In order to find out what Eurovision fans today think of this Irish entry from 1986, we asked our Eurovision Fan Panel. It includes team members as well as fans from all over the world.
🇮🇪 Paul K. – It's a really good song. It's a typical '80's type of song that you would hear but it stills sounds absolutely amazing. Just a nice chill bop that I can enjoy when I'm chilling but to keep me awake. We did a good job, why can't we do that now 😅
🇩🇰 Charlotte J. – My 1986 Eurovision LP has been used quite a lot back then. It's been quite some years since it was last in play though. The Irish entry is one of those I remember best from that contest. It's catchy and easy to sing a long to, something which was important in order to catch my attention in 1986 when I was 10 years old. I loved those catchy entries that easily got stuck in my head, and this is one of them. The adult me is able to hear that in order for this to have been a winning candidate, it would have needed some more power. But still a good enjoyable entry for those who loves the '80's, which I do.
🇨🇿 Josef Š. – The song would have been ok if I didn't look at the performance. The hairstyle, the clothes, the choreography, all of that is so bad, but maybe it's just by our looks 34 years later. But Eurovision is a SONG contest so I see no problem with that. A good song and a good result, well deserved for the music they delivered.
🇲🇹 Luke B. – This song has a great hook in its chorus but other than that… I feel that it gets a bit forgettable in the verses. Nonetheless, it has a really good '80's feel and I believe this was a good attempt by Ireland.
🇬🇧 Michael O. – Well, I feel the lead vocalists vocals are a little weak but by the time the song gets going this is a real sing a long. With a little more power this could have been a winner.
🇩🇰 Alberte B. – It's a classic '80's ballad, and yet something about it feels different to me. I think it's something I would expect to hear outside of Eurovision, but not expect it to actually be an Eurovision entry. The theme of the song is nothing new, of course, but the song is delivered with a great energy, and I really like it.
🇳🇱 Jacques H. – When you look at that Luv Bug singer, you can see the huge shoulder pads in that pink glamour robe. They were much more popular than this song. I don't remember this monotonous tune. What a boring song! But the shoulder pads are huge and so is the hairstyle! Unfortunately, the number is not. Fortunately, Eurovision has grown into much more mature songs and music. Back in 1986, it was more like: let's forget about this awful Irish entry and you can count on me.
🇹🇷 Güneç G. – Another familiar melody back from my childhood which I still remember. June, the lead vocalist, look like an 80's fashion icon on stage but this doesn't shadow her vocal abilities. Good stuff…
🇸🇪 Sara T. – I have been a huge Eurovision fan for over 20 years, but I had never listened to or even heard of this song before this article. And I understand why. This song has not aged well, and I doubt I would have liked it at all if I had been old enough in 1986. The lyrics are childish, the singing is mediocre and the song itself is bland. Definitely not a song in my taste.
🇳🇱 🇩🇰 Wouter V. – The excess of fake smiles in this song is simply too much. You can count on me to never ever want to hear this song again.
🇨🇴 🇫🇮 Alvaro S. – When I checked the lyrics I had this feeling that what she is singing (about a lost love) has nothing to do with her performance that is more cheerful. I should not be this mean, but I have to point out that this is one of the looks from the '80's that would make people think why would anyone would wear something like this outside of her house?
Enjoy Luv Bug's performance from the 1986 Eurovision Song Contest in the embedded video. Below the video, you can read more about them.
Luv Bug – a mini biography
In 1977, Luv Bug started as an amateur teenage band. 5 years later, they got themselves and went professionel. The band from Northern Ireland consisted of sister and brothers June (lead vocals), Hugh (bass) and Max (guitar) Cunningham along with Ricky Meyler (vocals and keyboards) and Majella Grant (drums). Their first single Red Light Spells Danger released in 1984 topped the Irish chart at #15.
Single after single followed until the band won the Irish national final in 1986 and as such went on to represent Ireland at the Eurovision Song Contest. Their entry You Can Count On Me finished in fourth place. Back in Ireland it reached second place on the chart.
In the late 1980's the group released a few singles in the UK under the name Heart By Ice. In 1992, the once again took part in the national Eurovision selection, but failed to come back to the contest.
Luv Bug has continued a four member band, but is mainly available for private gigs. Their setlist includes cover versions and none of their own songs.